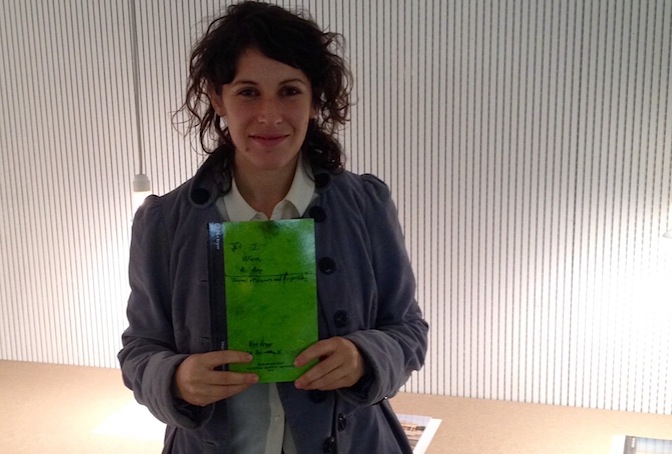 December 8, 2015
"All Quiet on the Eastern Front…" The veterans book project by Monica Haller
Juliet Madsen, Drew Cameron, Zainab Jawhar or Riley Sharbonno are just some of the soldiers, doctors, nurses or regular citizens traumatized by the most recent conflicts in Iraq and Afghanistan. A few of them were injured and almost died, others experienced sexual violence; all of them are victims of brutality and war. "The veterans book project" by Monica Haller makes us feel with them.
The story behind the news, the unknown and untold, that's the field of Monica Haller's interest. The young American visual designer and writer is the creator of "The veterans book project" [shown until 30.1.2016 in "The conflict of Images" curated by Sabine Gamper and Nicolò Degiorgis at Galerie foto-forum Bozen], a collection of 50 books, filled with experiences and pictures of people, who have somehow been affected by conflicts, just as the last Iraq war of 2003. Preceding "The veterans book project" was "Riley and his story" – a book about Riley Sharbonno, Haller's ex-classmate who was stationed in Abu Ghraib Prison, Iraq, from 2003 to 2004. This particular book was the result of three years of conversations and digging through Sharbonno's pictures he had taken during his military service.
"At the time", Haller tells me, "we were two years in the war in Iraq and it felt quite ongoing end endless. We had just reelected President Bush a second term. In the United States it was really a surreal time. So when I reached out to Riley, I myself felt that I needed to know more and to do more. The conversations we were having around those wars seemed ongoing and endless and very quiet. There just wasn't enough – not enough conversation or disagreement. So, when I reached out to him it was a very personal need to know more and even to talk to someone, I might disagree with fundamentally." 
Once the book was published, Haller realized that, although news and magazines were full of images like Riley's, the topic was something people in the US were missing in their conversations and lives in general. That was the moment, she decided to continue the project with other veterans and soldiers and their personal stories and memories about the war. At the beginning Haller went to different cities and universities, spending months ahead of time reaching out to several organizations, but at some point people started to contact her and to travel with her from one workshop to another: "A lot was word of mouth. Ultimately they choose me as much as I choose them for the project. It was really very much a mutual thing." The stories in the collection deal with traumatizing and heart breaking events, just as the adventure of Alah Ali, a young girl from a town in Iraq full of sectarian violence. Because of the fact that she didn't want to accept her living conditions as a norm, she decided to leave her country with 18 years, to be able to have a higher education. Due to a series of very miracles events – mostly getting a passport and enough funds together – she was able to escape to Syria. Alah had refugee status there and eventually received a full rights scholarship to study in the United States. At the moment she is completing her college education in the US. Her family still lives in Iraq.
The process of writing down their memories and sharing pictures of their journey obviously was very cathartic for the participants. Every author wanted to share his story with a particular audience in mind. Pamela Wilsons's audience, for example, was her family as well as the Veterans community. Wilson, as a young woman, was a victim of sexual violence, while she was stationed in Puerto Rico in the 1980′s. For over twenty years she kept silence about this rape, until she participated at Haller's project: "Pamela Wilson had been denied benefits for twenty years. She had never really given compensation by the Veterans Administration, this arm of the government that is supposed to support people in the military. But after she wrote that book they had to. For so many reasons her scene was invisible. It's so much easier to push away this rape within the military than actually dealing with it. In a way it was a kind of successful activism."
Although there would be much more stories to tell, the library of 50 books is more or less complete. Monica Haller, in fact, is already working on other projects, a lot of them involve soil, the geologic time and the things we can cover in the ground. She feels related to this topic: "It's all about the ground underneath our feat – were we stand on every day and what lives there. It can tell us about how we can live in our current world and how we survive here. These projects, however, are very similar to "The Veterans Book Project" because the archives and stories of the people were also right underneath our feet but no one was talking about them."
Monica Haller's project is a unique framework that gave people the opportunity to remember the past and to get rid of some of their traumas and (mental) injuries. Her intention was to create a connection between what we won't talk about and what people really experienced. A collection of both frightening and moving stories; stories of victims we see in the news everyday, but forget the moment we change the program.
What remains in the end, that might be "The veterans book projects" message, is the certainty that wars and conflicts do always create indefinable pain; or to say it with the words of J. F. Kennedy:" Mankind must put an end to war, or war will put an end to mankind!"
Monica Haller (born in the United States) works in a long- term collaboration with individuals and small groups of people using photography, video, sound and design. Haller splits her time between her hometown of Minneapolis and her partners of Berlin. She has a BA in Peace and Conflict Studies and a MFA in Visual Studies. She has received the Guggenheim Fellowship support from the National Endowment for the Arts and the Jerome Foundation among others.
Photo (c) franzmagazine/Maximilian Mayr