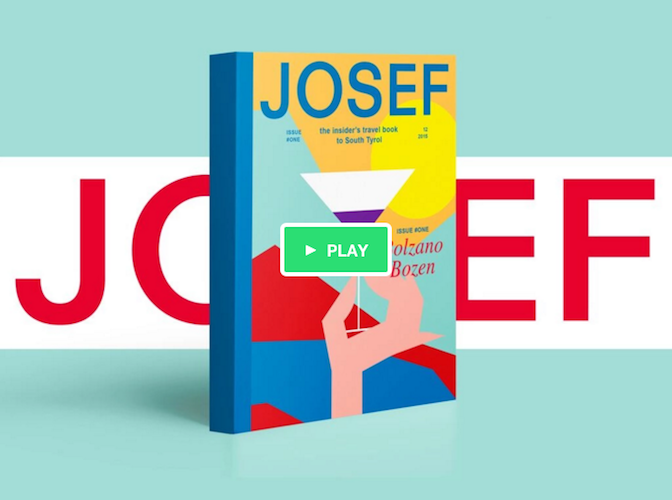 October 29, 2015
Josef goes Kickstarter: crowd, where are you?
Join our crowdfunding campaign + help us to realize the coolest travel book ever! 
Ehi amici, cugini, parenti, vicini di casa, colleghi, amanti, mogli e mariti, Josef ha bisogno di voi! 
Mentre noi lavoriamo alacremente per scrivere, fotografare, disegnare, immaginare, organizzare Josef, il primo insider's travel book su e per un Alto Adige more than apples and cows, voi potete darci una mano, contribuendo alla campagna di crowdfounding che abbiamo lanciato sulla piattaforma Kickstarter. 
Bastano pochi minuti, qualche clic e tutti gli euro che vorrete metterci.
Andate qua www.kickstarter.com/projects/1261062884/josef-travel-book-issue-1-bolzano-bozen e decidete cosa volete avere per voi (e dare a noi): Josef fresco di stampa? Un Josef in limited edition con sacchettino personalizzato? Un paio d'ore di passeggio a Bolzano con la Josef crew? Un servizio fotografico?
Ci sono tante possibilità, scegliete quella che preferite e noi vi ringrazieremo molto, per avere aiutato Josef a vedere il mondo!
Hallooo, ihr alle, da draussen, Josef braucht euch, ja, genau euch!
Ihr könnt uns bei unserer Crowdfunding-Kampagne auf Kickstarter unterstützen. Wir buckeln und schnaufen, schreiben und laufen, fotografieren und layouten inzwischen, damit ihr Anfang Dezember 2015 das erste Insider-Reisebuch über Bozen in euren Händen haltet. Südtirol #morethanapplesandcows ist die Devise!
Es geht ganz schnell und ist isibisi-einfach: Klickt hier www.kickstarter.com/projects/1261062884/josef-travel-book-issue-1-bolzano-bozen und entscheidet euch dann, wie viel ihr uns spendieren wollt und was wir euch im Gegenzug für eure Unterstützung übergeben dürfen. Darf's Josef frisch aus der Druckerei sein? Eine Tasche mit Siebdruck und Josef drin? Ein Postkarten-Set? Ein Rundgang durch Bozen inklusive Aperitivo mit der Josef Crew? Oder ein Foto-Shooting mit Martina Jaider? 
Beeilt euch, damit euer Lieblingspaket nicht aus ist. Wir bedanken uns herzlichst, merci vielmals, dass ihr helft, Josef zu ermöglichen!