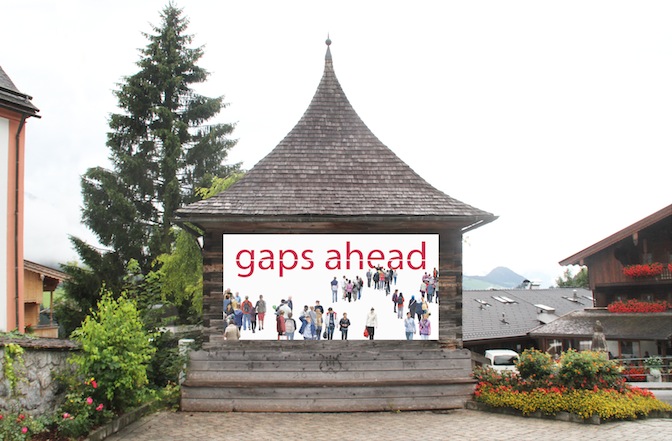 September 3, 2015
Christine S. Prantauer for 'inEquality' Art Show @ Forum Alpbach 2015
On the occasion of 10 years of CASA and 70 years of EFA, Club Alpbach Südtirol Alto Adige CASA, Südtiroler Künstlerbund SKB, franzmagazine.com, European Forum Alpbach EFA and Studio Calas invite to 'inEquality" art show [19.8–30.9.2015] with Irene Hopfgartner, Giancarlo Lamonaca, Jacopo Mazzonelli, Christine S. Prantauer, Peter Sandbichler and Anna Scalfi Eghenter in Alpbach.
Wer?
Christine Susanna Prantauer, Künstlerin. 
Wie?
Ich arbeite mit unterschiedlichem visuellen Material: eigene Fotos, Bilder aus Printmedien und aus dem Internet werden zu digitalen Collagen zusammengefügt. Globalisierung, Sozialabbau, Migration, Widerstand und Arbeitskämpfe sind Themen meiner Montagen. Mit der Montage als künstlerischem Verfahren versuche ich die Logik der Verhältnisse in Frage zu stellen.
InEquality?
Zu meiner Arbeit: "gaps  ahead", Outdoorplakat, 330 x 170 cm, 2015. 
"gaps  ahead" – gap englisch für Lücke, Abstand, Kluft, Diskrepanz, Riss…
"gaps  ahead" thematisiert Ungleichheit als Missstand auf vielen Ebenen. Gap in die Mehrzahl gesetzt: income gaps, culture gaps, gender gaps, generation gaps…
Der Titel weckt bewusst Assoziationen zur Warnung in der Londoner U-Bahn: Mind the Gap.
Als Feststellung und Verweis auf eine weltweit wachsende soziale Ungleichheit, die ungleiche Teilhabe und ungleiche Möglichkeiten bedeutet, betrifft "gaps  ahead" uns alle. 
Gleichheit?
Soziale Gleichheit ist eine der maßgebenden Ideen einer modernen Gesellschaft und eng verknüpft mit sozialer Gerechtigkeit. Der französische Soziologe Pierre Bourdieux hat zu Recht darauf hingewiesen, dass formale Gleichheit nicht automatisch zur Aufhebung von sozialer Ungleichheit führt, wenn damit nicht auch eine Veränderung der gesellschaftlichen Verhältnisse einhergeht.
Migration?
Menschen verlassen ihre Heimat aufgrund existenzieller Nöte, fliehen vor Verfolgung, politischer Unterdrückung, Krieg und fehlender Existenzsicherung.
Der global entfesselte Kapitalismus mit Arbeitslosigkeit, Lohndumping, Senkung der Rohstoffpreise, Freihandel, Landgrapping… in Zusammenhang mit Krieg und Intervention sind Hauptursachen für Flucht. 
Flüchtlinge sind Betroffene einer destruktiven "Globalisierung von oben". Für deren Konsequenzen trägt nicht zuletzt Europa – das heißt wir alle – Verantwortung. 
Christine S. Prantauer: Diplom für Malerei, Akademie der Bildenden Künste, Wien
Medienklasse bei Peter Weibel, Hochschule für Angewandte Kunst, Wien. Geb. in Zams/Tirol, lebt und arbeitet in Innsbruck.
Ausstellungen / Projekte im öffentlichen Raum (Auswahl):
2007 Un/fair Trade. Die Kunst der Gerechtigkeit, Plakatprojekt und Ausstellungsbeteiligung, Steirischer Herbst, Neue Galerie Graz
2008 Cella.Strukturen der Ausgrenzung und Disziplinierung, Ausstellungsbeteiligung, Complesso Monumentale, Rom
2008 Arrivée, Plakatprojekt am Vorplatz des Innsbrucker Hauptbahnhofs
2011 Demokratie, Plakat und Postkarte Demokratie am Tableau, Demokratie-Kongresses Tirol
2012 Raison d'agir, Ausstellung im Tiroler Landesmuseum Ferdinandeum und Installation am Vorplatz des Tiroler Landesmuseums Innsbruck
2013 Gegenwelten, Ausstellungsbeteiligung Schloss Ambras, Innsbruck
2015 Stadt.Kunst.Innsbruck, Ausstellungsbeteiligung, Stadtsäle Innsbruck
2015 Gaps ahead, Plakatprojekt im Rahmen von InEquality, Eurpäisches Forum Alpbach
www.christine-prantauer.net
Foto: Christine Susanna Prantauer