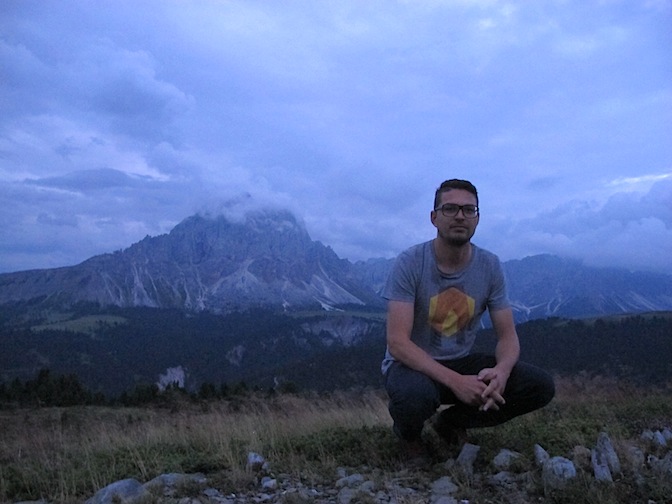 August 24, 2015
pop up people Michael Moling: If you can't be positive, then at least, be quiet
Wer bist du? 
Ich bin Michael Moling aus Sankt Martin in Thurn und habe an der Uni Bozen an der Fakultät für Design und Künste studiert. Meine Interessen liegen vor allem im Bereich Kultur: Ich bin in verschiedenen Kulturvereinen tätig und Präsident vom Gadertaler Ladinerverein. Mir liegt die Dorfgemeinschaft sehr am Herzen und ich helfe deshalb gerne mit, wenn es um interessante Projekte geht. 
Wieso bist du zu franz pop up gekommen? 
Zu franz pop up bin ich eigentlich aus Zufall über Freunde gekommen. Ich freue mich jetzt aber über die Gelegenheit, ein Interview zu geben und bin gespannt, was rauskommt.
Was hast du uns mitgebracht? 
Ich habe eine Portion Kultur aus Sankt Martin in Thurn mitgebracht. Wir stellen heuer im Sommer zwei Projekte vor: eines ist SMACH, ein internationaler Kunstwettbewerb, welcher dieses Jahr zum zweiten Mal ausgeschrieben wurde [www.smach.it]. Und das zweite Projekt ist die Coletiva, eine Ausstellung von verschiedenen Künstlerinnen und Künstlern aus dem Gadertal zum Thema Grenzen.
Was willst du den franz-LeserInnen noch mitteilen? 
"If you can't be positive, then at least, be quiet." Zum Glück gibt es junge Menschen, die mit viel Energie und Idealismus Neues schaffen. Deswegen lasst sie arbeiten, lasst sie schaffen, denn sie sind die Realität von Morgen!