May 24, 2015
"A full-on noise attack with a very human manifesto": NAPALM DEATH
It is a matter of fact that I usually don't listen to that kind of music genre but anyway I know them: NAPALM DEATH. Actually, introductions are unnecessary for the grind core pioneers of the UK and US. For more than 30 years now they pass on their music to the masses with an 'in your face' sound, fully loaded with sociopolitical messages. I interviewed Marc Greenway, vocalist and frontman of Napalm Death, exclusively for franzmagazine about their new album 'Apex Predator – Easy Meat' (great respect for those who are strong enough to listen through it all at once) and their gig at the Full Tension Festival in Bolzano, Friday 29. May 2015. 
Your 15th Album "Easy meat" was released in January. What were the reactions like?
Absolutely amazing – better than we ever could have expected. We're just trying to make the most creative albums possible, both musically and lyrically – finding new angles on extremity without losing the intensity. Our albums are getting more sonically extreme yet more popular – that concept is quite amusing when you think about it.
 What was the creative idea behind the title of your new album "Apex Predator – Easy Meat"?
'Apex Predator' is the evolutionary term for that which is at the top of the food chain of course. We wanted to transpose that onto the concept of modern slavery to where the enslavers are at the apex, and those subject to their actions are the 'easy meat'. This could apply to companies enforcing slave labour conditions, or even just the imbalance of a world where some lives are considered cheaper than others. The catalyst for this was the Rana Plaza building collapse in Bangladesh a couple of years ago – a major event you might think when you consider that it was sweatshop factories contained in a known-to-be-unsafe building. But of course the general response was pitiful and no real change in business supply chains since, so we really wanted to highlight that.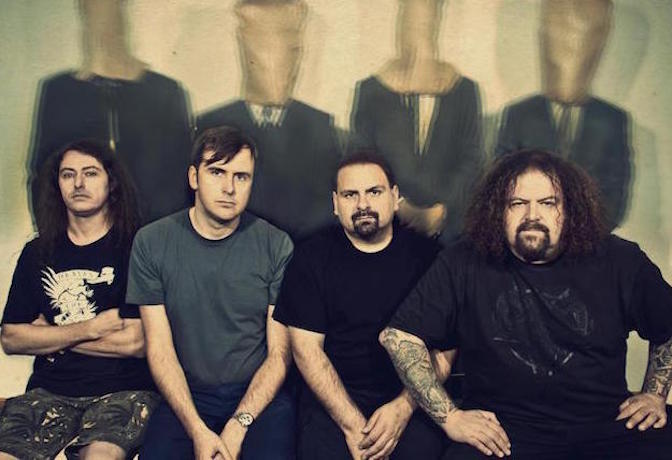 What are the perfect conditions for creating a new album?
Spontaneity. But also both individualistic creativity and collective creativity in equal measure. Life certainly provides plenty of opportunities for lyrical resistance, so no problems there. I don't know – our albums seem to just come together very organically without too much robotic planning.
What is the message you are trying to convey?
It's more than a message – it's an exposé of inequality and modern slavery. We realise that it's quite comfortable to turn a blind eye, but there's a motivation with Napalm Death to lay these things bare. It's only a small step, but it these things aren't dealt with on any level things will never change.
Do you have something special you would like to communicate?
Be human and understand the fundamentals of humanity.
You will play in Bozen on May 30th at the Full Tension Festival. How are you feeling about that? Is it your first time playing in Italy?
We play quite a few festivals of course, so the elevating factor of the festival here would probably be the beautiful South Tyrol. I'm sure the bands and the people will be lovely too! I've been coming to Italy and playing since 1990 – a variety of memories and some very weird and wonderful gig situations. 
What can we expect from your performance at the Full Tension Festival?
We will go for it, as ever – it'll be a full-on noise attack with a very human manifesto. We definitely always want to mess with people's ears.
Photo: Cindy Frey