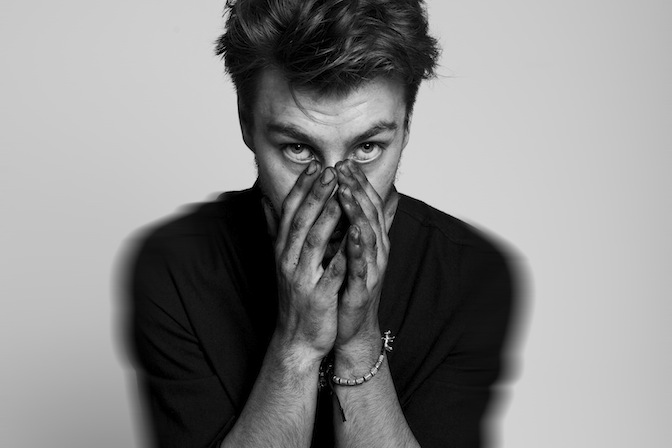 April 22, 2015
Benjamin Yellowitz on tour: energetic, emotive, mind-blowing
Great and remarkable singer-songwriter Benjamin Yellowitz www.benjaminyellowitz.com is touring throughout Europe with a new self-titled mini-album and making also a few gig stops in South Tyrol and Trentino. His combination of "acoustic singer-songwriter style with urban beats and electronic production" is driving his audience crazy. We caught up with the multi-faced, outstanding musician for a few words…
How are you? I've heard that you speak a little bit of German too, so: Wie geht's? 
Hallo! Mir geht's gut; aber bitte nicht, mein Deutsch ist nicht gut! Entschuldigung!
How is your tour going? What should people be expect or not expect from your shows?  
The tour is amazing, we have met so many people, and seen so many places so far. It was wonderful to go back to some of the cities I have already played, and see that the crowds are growing – Paris and Berlin especially!  I like to think that my shows are very energetic and emotive, but it is up to the audience to decide! I combine acoustic singer/songwriter style with urban beats and electronic production, so it is a bit different to the usual genres.  You are singer, songwriter, producer. What's the best part of your musician life? …and the not so good parts?
The best parts are the travelling, being on the road with my incredible band – Hilda Sibeck (keyboard/backing vocals), Josh Fowley (drums/electronic percussion) and Terry Downs (5 string bass). We meet new people, from all over the world everyday, they all have different stories to tell, and different places to show us. Everyone is interpreting each city in their own way, and we get to see that! The bad points aren't very strong. Although there is a lot to think about whilst touring, I think the recording is far more stressful, its easy to start thinking negatively once you have spent 6 months working on the same songs! 
You already played different times in South Tyrol. What wil be different this time? 
Yeah, I love it here, the crowds are so, so welcoming and the mountains are beautiful. I am excited to bring my new full band for the first time! Many people asked me to bring a band when I played here before, and now I can! They are excellent musicians, they can't wait either.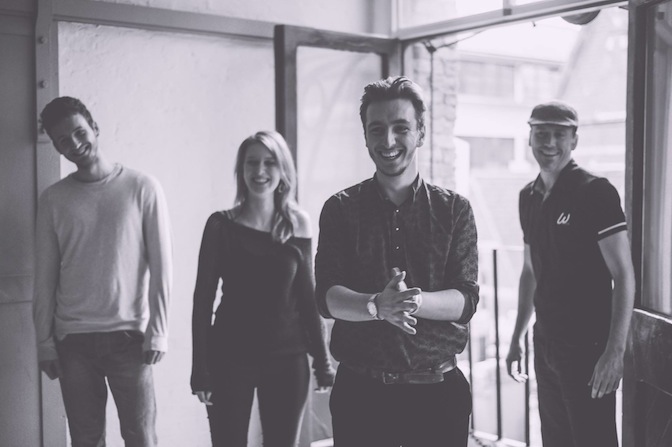 Street versus stage – what's the difference? 
Actually, I had a slightly negative outlook on busking until this tour. In England it is not so accepted because there are so many people playing Oasis outside shopping centres. But since we have been busking in Germany and Netherlands for fun on the streets, I have come to understand that the skill is not so much a musical one, but more to do with performance, general entertainment and keeping up the energy and communication with the audience. I would say, busking is harder on the voice though, whilst we can play quiet, intricate songs when on stage. 
What are your songs talking about?   
The songs on my new self-titled mini-album (releasing on the 27th April, available for buying pre-sale at shows) differ a lot, whether it's about religion in society, an argument with someone, there is even a song that was half written about Germany, and half about Südtirol – it mentions lots of my friends here – I call them 'the mountain men'.Life with music is…
A roller-coaster! I never know what the next day will entail. When I released my demo CDs, I was studying, working and touring at the same time, now my 'work' is focussed on promoting my music, not such a bad job to have.
What do you want…?
I would love to continue on the path I am already on. I would like to grow in popularity slowly, to play across the world in small venues full of people who make each show different to the night before, who help me sing my songs and dance with us!
For sure we do and say: Good luck, Benjamin!
Italian shows:
25 April – Ost West Club, Merano, 8pm
26 April – Point Unplugged, Neumarkt, 7pm
27 April – Sudwerk, I Love Mondays, Bolzanom, 8pm
28 April – H-Demia, Trento, 8pm
29 April – Bunker Pub, Ritten, 7pm
1 May – Mandrea Music Festival warm-up, Garda, 7pm
2 May – Astra la Vista, Brixen, 10pm
www.benjaminyellowitz.com 
www.facebook.com/benjaminyellowitz 
www.twitter.com/benyellowitz