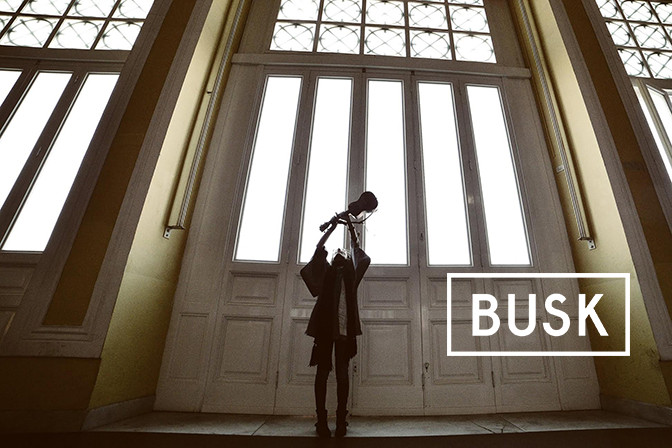 April 13, 2015
BUSK 2015: Camilla Furetta
Nach und nach stellen wir euch alle KandidatInnen für das BUSK SINGER-SONGWRITER FESTIVAL BOLZANO-BOZEN 2015 (15.+16.5.) vor. Ihr könnt auch mitstimmen – klickt dafür einfach auf den Facebook-Like-Button am Ende des Artikels. || Mano a mano ogni giorno vi presentiamo i candidati per il BUSK SINGER-SONGWRITER FESTIVAL BOLZANO-BOZEN 2015 (15+16/5). Per votare i vostri preferiti cliccate il bottone Facebook Like in fondo alla pagina.
Name/Nome/Name
Camilla Furetta
Musikrichtung/Genere/Genre
Cabaret anti-folk
Herkunftsort/Luogo di provenienza/Hometown
Livorno, Toscana, Italia
Alter/Età/Age
27
Dein erster Kontakt mit der Musik?/Il primo contatto con la musica?/Your first contact with music?
Le ninne nanne della mamma
Warum spielst du gerne auf der Straße?/Che cosa ti piace del suonare per strada?/What do like about playing music on the street?
Il contatto con le persone, le risate, l'interazione. Per la strada non sei mai solo ma tutti quanti si possono esibire insieme a te!
Welches Konzert hat dich besonders beeindruckt und warum?/Il concerto che ti ha colpito di più e perché?/Which concert impressed you particularly and why?
Amanda Palmer (scontato) che canta una canzone intera sdraiata sul pubblico che la porta in giro per tutta la sala con il suo strascico lungo e largo decine di metri senza prendere una stecca. Però anche i Gwar che sparano sangue sul pubblico non sono stati male. Mi piacciono le cose scenografiche, detesto chi va sul palco sta fermo e non dice una parola.
Der Soundtrack deines derzeitigen Lebens?/La colonna sonora della tua vita ora?/The soundtrack of your current life?
La voce degli annunci dei treni alla stazione.Was bedeutet es MusikerIn zu sein?/Cosa significa essere un musicista?/What does it mean to be a musician?
Spero di incontrarne tanti a Bolzano, magari qualcuno me lo spiega.
Was sagt deine Familie zu deiner Entscheidung, Musik zu machen?/Cosa ne pensa la tua famiglia della scelta di fare musica?/What does your family think of your choice to be a musician?
Dato che continuo a essere disoccupata come psicologa, mia madre continua a dirmi che dovrei puntare sulla musica. Ma io sono una ribelle, sogno un lavoro di ufficio.
Wunschkonzert – mögliches unmögliches Konzert: Wen würdest du gerne mal hören?/Concerto dei sogni – concerto impossibile: chi vorresti sentire?/Dream concert – impossible concert: who would you like to hear?
Mi è rimasto sul gozzo di non essere andata a vedere Dalla-De Gregori che fanno il tour di celebrazione di Banana Republic. Le mie esatte parole "ma no, non ce li spendo 30 euro tanto mi ricapiterà un milione di volte"…che idiota.
Erzähl uns eine Anekdote aus deinem Musikerleben, was war die schönste oder schlimmste Erfahrung?/Aneddoti: la migliore o peggiore esperienza della tua carriera musicale?/Best or worse experience of your musical career?
Sono ruffiana se dico il Busk dell'anno scorso? Un po' sì… Facciamo così, dico il busk, ma non dico se è stata la migliore o la peggiore.
Kontakt/Contatti/Contact
www.facebook.com/camilla.furetta
www.youtube.com/channel/UC1S_dZIUWDCZLipbO75YCLA