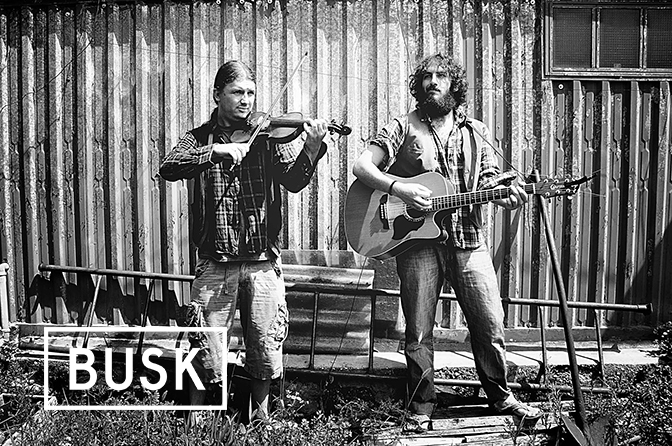 April 9, 2015
BUSK 2015: The Aroostercrats
Nach und nach stellen wir euch alle KandidatInnen für das BUSK SINGER-SONGWRITER FESTIVAL BOLZANO-BOZEN 2015 (15.+16.5.) vor. Ihr könnt auch mitstimmen – klickt dafür einfach auf den Facebook-Like-Button am Ende des Artikels. || Mano a mano ogni giorno vi presentiamo i candidati per il BUSK SINGER-SONGWRITER FESTIVAL BOLZANO-BOZEN 2015 (15+16/5). Per votare i vostri preferiti cliccate il bottone Facebook Like in fondo alla pagina.
Name 
The Aroostercrats
Genre 
Folk Americana/Celtic
Hometown 
(Mark) Perth, Australia – (Lukasz) Radom, Poland
Age 
(Mark) 26 – (Lukasz) 32
Your first contact with music? 
We've always been involved with music since we were both very young.
What do like about playing music on the street? 
The unknown! Hah, it's always going to be a different show each time you play. You have complete freedom to do what you want and the crowd always changes.The soundtrack of your current life? 
There isn't just one, each day it changes.
What does it mean to be a musician? 
Musicians are who we are. We've played and studied all of our life to get where we are today and we don't plan on stopping any time soon!
What does your family think of your choice to be a musician? 
They've always been very supportive of what we do.
Dream concert – impossible concert: who would you like to hear? 
To hear Freddy Mercury sing or share a pint with Luke Kelly.
Best or worse experience of your musical career? 
One of the most memorable experiences was our European Road Trip in 2014, packing up the car with a tent, our instruments, a few change of clothes and playing shows throughout Europe including Germany, Sweden, Norway, Czech Republic and Italy.
Contact
www.thearoostercrats.com
www.facebook.com/thearoostercrats
www.youtube.com/thearoostercrats
www.twitter.com/Aroostercrats
soundcloud.com/thearoostercrats
info@thearoostercrats.com