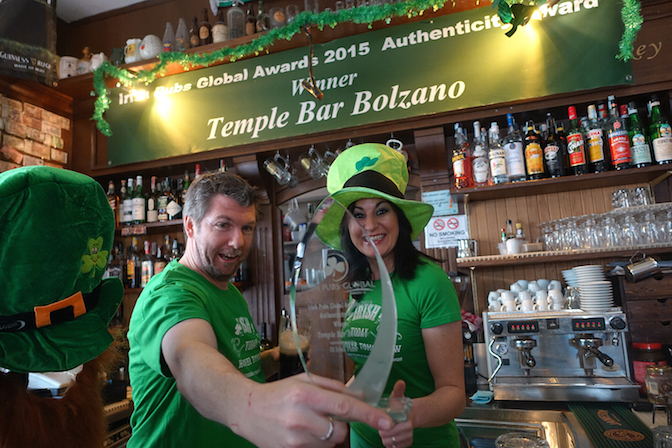 March 23, 2015
Going great guns: Stephen + Tanya @ Temple Bar Bolzano
Anfang März wurde in Dublin das authentischste Irish Pub der Welt gekürt. Im Rahmen des Irish Pubs Global Authenticity Award 2015 wurde unter 6.500 Bewerbern ausgewählt – stolzer und, wie wir finden, wohlverdienter Sieger: die Temple Bar in Bozen. Die Betreiber – Stephen Tierney und Tanya Cregan – "are going great guns" im irischen Pub-Getummel. franz hat aus diesem Anlass mit Stephen ein Interview geführt.
What does it mean to you and for the Temple Bar to be the winner oft the Authenticity Award?
It's an extraordinary achievement for such a small pub located in a small city where we have very few expats. It shows you what myself and Tanya have created over the past eight years is a real genuine Irish Pub. From the start we wanted our pub to be recognised for it's character and warmth and feeling, for the connection it has with it's customers, by creating a 2nd home for them. This award is not just for our efforts but for the customers who have stepped through our doors over the past eight years. Whether they are tourists passing through, students on erasmus, foreginers working in Bolzano, or as the majority of our customers are, locals just looking for a place to relax and enjoy a drink, they have all helped in one way or another build Temple Bar to what it is today.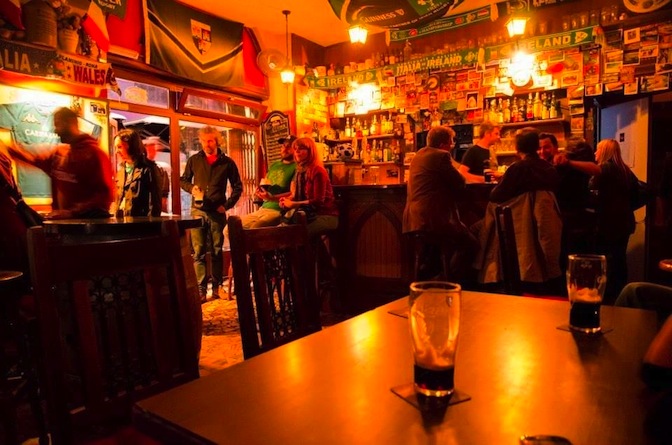 Why do you think that exactly the Temple Bar was chosen the most authentic Irish Pub in the world?
First you have to ask what makes an authentic Irish Pub. The Owners? The design, atmosphere and service. Secondly after meeting such criteria what makes the difference between ours and another pub in another part of the world. 
Why do people like our pub: Our objective for the bar was to create the feeling of stepping into a pub in Ireland when you enter the pub. We are both from Dublin and have worked the bar scene in Dublin for many years as well as abroad. So we have the experience of the Pub scene and what is required to run a successful pub. All the pictures and mirrors and bric à brac, they all have a story and have all been sourced from various 2nd hand shops, pubs and even a priests home no less. The bar has grown with the customers of the years. We have jerseys from the local hockey, football and rugby club, we also have an Italian signed rugby jersey from the Italy v. France 2012 game and also the official rugby ball from the famous Italy v. Ireland victory from 2013. Our customers appreciate these efforts that we go through. It makes them feel proud and they are happy to show off to their friends the connection they have with the pub. We now need a second shelf for our Award and the Winning Cup from Lana Hornets for winning their hockey league.
We have also created  a unique atmosphere in Bolzano where all nationalities of all ages feel comfortable drinking at Temple Bar. There are no boundaries or discrimination. This is mostly evident when the football tournaments are on: you'll see all the fans waving their flags, all the different colours, all sitting and drinking together  and enjoying the atmosphere, a bit like the rugby stadiums!!!
It is also important to recognise our staff: They are an essential factor as well. They need to  have a personality, the ability to have a chat with a stranger, talk about travelling, sports, movies, music etc. They must also feel pride when representing the bar and most importantly be able to take the piss!!
But above all communication is key, communicating with the customers and communicating amongst ourselves, this is what makes it click.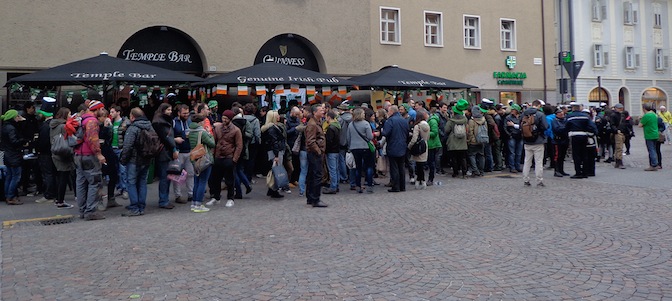 Let's talk about Bozen. What should stay the way it is? What would you change?
Bolzano is an amazing city, I call it a hidden treasure because not many people know about it, but when they do visit, they always come back. It has everything, great food, fantastic scenery and the outdoor lifestyle is second to none. Sunny blue skies in the winter, just does not happen anywhere else. Now married to a beautiful local girl, Petra Putz, and our second child on the way, I'm a very happy man.
Underage drinking is becoming a big problem and you cannot always blame the kids. Parents need to be made more responsible for their childrens actions. With the state controlling more and more our lives it is not making things any better because our sense of community is being taken away. Try to organise a simple street party with your neighbours and you have to cut down a tree with the amount of bureaucracy needed to comply with all the permits. I'm sorry if a few neighbours may be disturbed but surely uniting the local community and involving your neighbours is better overall.
Whether people like it or not, Bolzano is becoming a multicultural city and a lot needs to be done to help everyone accept this. It is no longer a German/Italian city. People need to look at how the young generation interact with each other. They lead the way, they embrace the differences of other cultures and learn new things from them. This is the way forward.
And if I may, we do not need a super mega-store shopping centre as proposed by Benko, we have Twenty and that is enough.  
Last but not least: What are your plans for the future? Why should we all go to the Temple Bar?
Wouldn't it be great to have an Irish Pub up in the mountains, Guinness and Irish Coffees and plenty of live music, while everybody enjoys real Irish cuisine. 
Also, myself and my friends have been talking about a family festival in the mountains close to BZ. Good food and good music, but most importantly entertainment for the kids. Theatre, face painting, treasure hunt etc. etc., but also camping in the tent. Alcohol can be restricted at the festival cause we certainly would not need drunks wondering around, pissing in the bushes. Re-engage the kids with the wild.
So why go to Temple Bar. Why Not!! Check us out at  www.facebook.com/templebarbz