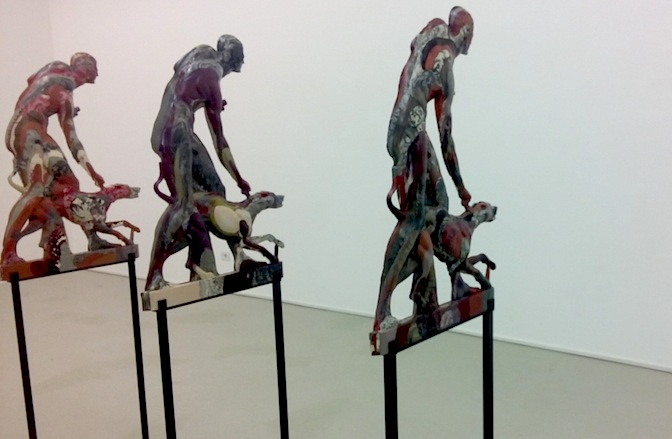 January 21, 2015
Oliver Laric: Aneignung durch Kopie und Transformation ist eine Tugend
Oliver Laric gehört der Post-Internet-Generation an. Das Internet ist für ihn eine anonyme Ressource: er bedient sich, sammelt, verarbeitet, verdaut und gebärt. Zwischen Gefundenen, Angeeigneten und Erinnertem zieht er Parallelen. Eines seiner letzten Projekte 2014 ist zum Beispiel 圆明园 3D bzw. Yuanmingyuan 3D, wo es um 3D-Scans von Marmorsäulen des Old Summer Palace in Beijing geht. Von seiner Website  kann mensch die  3D-Models downloaden und frei verwenden. 
Für die Galerie ar/ge kunst in Bozen (bis 24.1.2015) in Koproduktion mit dem New Museum Triennial in New York (Ende Februar 2015) und Tanya Leighton in Berlin (Ende Januar 2015) hat er zwei Arbeiten produziert: Im vorderen Teil steht The Hunter and His Dog (2014) als Flachrelief in dreifacher Ausgabe – Oliver Laric hat eine Skulptur von John Gibson (1838), in 3D gescannt und dann gegossen: Ein Junge hält seinen Hund am Halsband fest  – der Mensch kontrolliert das Tier. 
Für die Ausstellung ließ ar/ge-kunst-Kurator Emanuele Guidi ihm freie Hand, fragte anfangs zunächst nur nach, woran Oliver Laric, den er seit drei–vier Jahren beobachtete, gerade arbeite. – 2013 Hatte der Künstler einen 3D-Drucker gewonnen, mit dem er nachher eine Reihe von Projekten verwirklichte. 
Im hinteren Teil der Galerie läuft ein Video (Untitled 2014), in dem der Künstler das dualistische Kategorien-System (Mensch-Tier, Mensch-Gegenstand, Mann-Frau) weiter hinterfragt: Szenen aus Abbildungen und Animationsfilmen vom 19. Jahrhundert bis heute waren der Ausgangspunkt und sind von drei Grafikern bearbeitet bzw. abgezeichnet worden. Metamorphose in Schleife. Und Gender und Identitäten werden nebensächlich.
Als Teil der Ausstellung hat Oliver Laric der Philosophin und Theoretikerin des Feminismus Rosi Braidotti den Auftrag gegeben, einen Text zum Thema "Metamorphose" zu schreiben: "Metamorphische Andere und nomadische Subjekte" ist der Titel und hier ist der Text zu lesen.