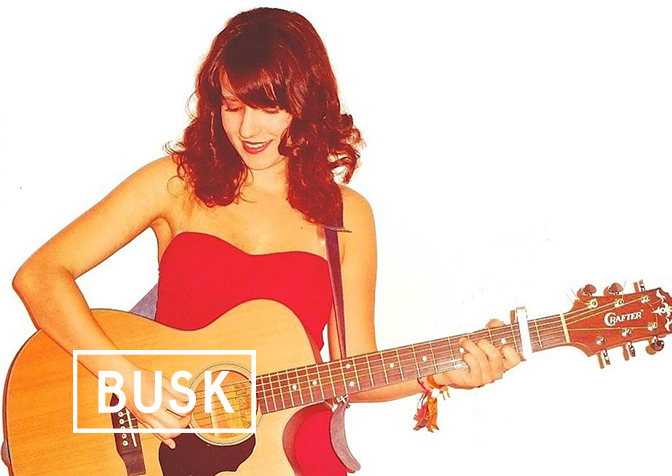 May 9, 2014
BUSK 2014:
Giulia Martinelli
Nach und nach stellen wir euch alle KandidatInnen für das BUSK Singer-Songwriter Festival Bolzano-Bozen 2014 vor. Ihr könnt auch mitstimmen – klickt dafür einfach auf den Facebook-Like-Button am Ende des Artikels. || Mano a mano ogni giorno vi presentiamo i candidati per il BUSK Singer-Songwriter Festival Bolzano-Bozen 2014. Per votare i vostri preferiti cliccate il bottone Facebook Like in fondo alla pagina.
Name/Nome/Name
Giulia Martinelli
Musikrichtung/Genere/Genre
cantautorato/pop acustico
Herkunftsort/Luogo di provenienza/Hometown
Merano

Alter/Età/Age
20
Dein erster Kontakt mit der Musik?/Il primo contatto con la musica?/Your first contact with music? 
I miei genitori amano la musica, quindi, anche quando ero piccola, avevamo sempre lo stereo acceso e io amavo cantare sopra a qualsiasi canzone, soprattutto sopra ad Elisa, traducendo ogni suo brano per imparare a cantare e a scrivere in inglese come lei.
Warum spielst du gerne auf der Straße?/Che cosa ti piace del suonare per strada?/What do like about playing music on the street?
Del suonare per strada mi piace la libertá di potersi esprimere e la  possibilità di condividere le proprie emozioni e la propria storia con perfetti estranei, che magari stanno passando soltanto per caso per di là.
Welches Konzert hat dich besonders beeindruckt und warum?/Il concerto che ti ha colpito di più e perché?/Which concert impressed you particularly and why?
Pochi mesi fa sono stata a  sentire Elisa live a Milano. È stato un concerto incredibile, pieno di energia, che mi ha regalato molte emozioni e che per due ore e mezzo mi ha trasportata in un altro mondo, nel mondo di Elisa. E quella di riuscire a trasportare chi ascolta nel proprio mondo é, secondo me, una delle capacità che fa di un musicista un vero artista.
Der Soundtrack deines derzeitigen Lebens?/La colonna sonora della tua vita ora?/The soundtrack of your current life?
L'anima vola – ElisaWas bedeutet es MusikerIn zu sein?/Cosa significa essere un musicista?/What does it mean to be a musician? 
Significa sentire la necessità di esprimere i propri sentimenti e di  raccontare la propria storia attraverso la musica, perché essa é il mezzo di comunicazione più diretto e  più sincero che un musicista sente di avere.
Was sagt deine Familie zu deiner Entscheidung, Musik zu machen?/Cosa ne pensa la tua famiglia della scelta di fare musica?/What does your family think of your choice to be a musician? 
Credono in me, nei miei sogni, nelle mie passioni. Mi hanno insegnato che nella vita é importante seguire il proprio cuore, quindi mi sostengono sempre nella realizzazione dei miei sogni.
Wunschkonzert – mögliches unmögliches Konzert: Wen würdest du gerne mal hören?/Concerto dei sogni – concerto impossibile: chi vorresti sentire?/Dream concert – impossible concert: who would you like to hear?
Amy Winehouse… Rimpiango di non avere avuto modo di sentirla live!
Erzähl uns eine Anekdote aus deinem Musikerleben, was war die  schönste oder schlimmste Erfahrung?/Aneddoti: la migliore o peggiore esperienza della tua carriera musicale?/Best or worse experience of your musical career?
L'anno scorso ho avuto l'occasione di suonare a  due festival di strada, uno a Torino e uno a Bolzano… Sono state due esperienze bellissime, ma  così diverse tra loro! Suonare per strada è un' esperienza sempre nuova, che ti regala ogni volta nuove emozioni.
Kontakt/Contatti/Contact 
www.facebook.com/giuliamartinellipage
www.youtube.com/user/giuliamartinelli
instagram.com/giulia09ye
For more info about the festival click this
Photo: Giulia Martinelli