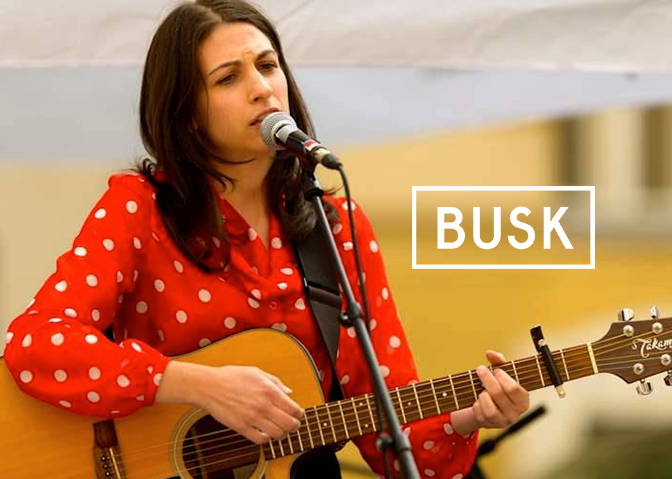 May 7, 2014
BUSK 2014: Hanna Palme
Name/Nome/Name
Hanna Palme
Musikrichtung/Genere/Genre
Pop/Folk/Acoustic "Rock"
Herkunftsort/Luogo di provenienza/Hometown
Wien (ursprüngl. Linz)
Alter/Età/Age
26
Dein erster Kontakt mit der Musik?/Il primo contatto con la musica?/Your first contact with music?
Als Kind (von ca. 4 Jahren), waren das Singen mit meinem Vater und in einem Kinderchor und der Blockflöten- und Klavierunterricht meine ersten Kontakte mit der Musik.
Warum spielst du gerne auf der Straße?/Che cosa ti piace del suonare per strada?/What do like about playing music on the street?
Um die Wahrheit zu sagen, habe ich noch nie auf der Straße gespielt! Ich war bis jetzt einerseits nicht mutig genug und andererseits ist es in Wien nicht so einfach, auf der Straße Musik zu spielen. Aber ich möchte es jetzt doch für mich entdecken, weil ich mir vorstelle, dass das Fehlen eines "festen" Raumes und das "zufällige" Publikum ein ganz neues und besonderes Erlebnis beim Spielen beschert!!
Welches Konzert hat dich besonders beeindruckt und warum?/Il concerto che ti ha colpito di più e perché?/Which concert impressed you particularly and why?
Das war mit Sicherheit das erste Konzert, das ich in Wien besucht habe – vor ca. 10 Jahren The Frames aus Irland. Mich hat beeindruckt, wie dynamisch sie auf der Bühne waren, was für eine tolle Verbindung sie zum Publikum aufbauen konnten. Außerdem ist mir zum ersten Mal so richtig bewusst geworden, was ein Live-Konzert ausmacht, im Vergleich zum Hören einer CD, und die Gleichzeitigkeit des Musik-Machens und -Hörens hat mich fasziniert.
Der Soundtrack deines derzeitigen Lebens?/La colonna sonora della tua vita ora?/The soundtrack of your current life?
Ich bin immer noch begeistert von Kanye Wests Yeezus Album : ) Außerdem habe ich gerade auf einer Italien-Reise Fabrizio De Andrè entdeckt!Was bedeutet es MusikerIn zu sein?/Cosa significa essere un musicista?/What does it mean to be a musician?
Die Möglichkeit zu haben, Gefühle, Gedanken, Stimmungen… durch mehr als nur Worte auszudrücken.
Was sagt deine Familie zu deiner Entscheidung, Musik zu machen?/Cosa ne pensa la tua famiglia della scelta di fare musica?/What does your family think of your choice to be a musician?
Solange ich mein Studium abschließe, freuen sie sich sicher darüber : ) Immerhin komme ich aus einer Familie, in der gerne musiziert wird und Musik einen hohen Stellenwert hat.
Wunschkonzert – mögliches unmögliches Konzert: Wen würdest du gerne mal hören?/Concerto dei sogni – concerto impossibile: chi vorresti sentire?/Dream concert – impossible concert: who would you like to hear?
The Beatles! Und Edith Piaf.
Erzähl uns eine Anekdote aus deinem Musikerleben, was war die schönste oder schlimmste Erfahrung?/Aneddoti: la migliore o peggiore esperienza della tua carriera musicale?/Best or worse experience of your musical career?
Eines der "schlimmsten" oder einprägsamsten Erlebnisse war für mich mein allererstes Konzert – einfach weil ich mich vollkommen verausgabt habe, jegliche Energie verschwendet habe und danach komplett kaputt war. Es hat noch ein bisschen gebraucht, bis ich gelernt habe, meine Kräfte besser einzuteilen : )
Kontakt/Contatti/Contact 
Facebook.com/hannapalmemusic
Soundcloud.com/hannapalme
hanna.pa@gmx.net
For more info about the festival click this
Photo: www.ColinVickers.com