January 22, 2014
Startups, energy, passion, networks – Pekka Abrahamsson about the Entrepreneurship Evening 2014
Tomorrow, Thursday January 23rd 2014, h 18:00–23:00, will take place the third Entrepreneurship Evening at the University of Bozen Bolzano, for promoting entrepreneurship, innovation and startup economy in South Tyrol. The venue   brings together business and academia, young entrepreneurs and seasoned experts to see, celebrate and challenge the bright minds of the students who present their tested business ideas in front of global audience. The students come from the lean startup course, which is open to all students of the university. Students work in multi-disciplinary   teams together with experienced mentors locally and internationally. This year there are 9 business ideas and teams – also technology innovations targeted to Farmer's of the region.  The event is open for everyone by registration, but sold out by now. (You may still participate via live stream at www.inf.unibz.it/live). We had an interesting talk with Professor Pekka Abrahamsson, Dean of the faculty of computer science of the Free University of Bozen Bolzano about the evening and here we go with the interview: 
Please tell us first what is the Entrepreneurship Evening?
Entrepreneurship Evening (EE) is about startups, energy, passion, excitement, networks and like minded people meeting on yearly basis to celebrate the works of young student teams who present their startup ideas to public audience. We welcome anyone having an entrepreneurial mindset to meet the future leaders of South Tyrol. For the third time, EE will be globally broadcasted live from Bolzano (www.inf.unibz.it/live).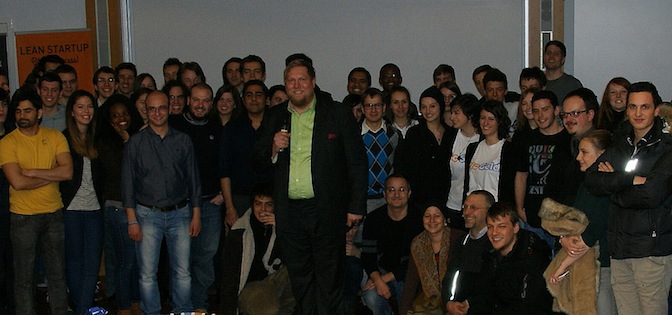 Why should someone participate at the event?
Clearly one wants to be there for all the reasons startups are so important for the economy and spirit of our region. However, EE also wants to demonstrate how the University of 2020 feels like. You can almost feel the seamless interplay between a theory and practice in a novel way, and of course you get to hear great startup pitches, meet experienced mentors and have pizza and fun! – One should not underestimate the power of pizza and fun in today's competetitive work environment.
2014 brings some novelties to the EE event. The pitches are presented loosely following the Dragon's Den (e. g. global tv-format, www.youtube.com/watch?v=YGDQOW78io8) format. Another novelty are the first year students' breakthrough ideas regarding the farming innovations in South Tyrol. 
Why is it so important to support young startuppers? 
Startups are engines for the economic growth. Boosting young startuppers in their startup endeavors brings new dynamics in the local entrepreneurial settings. While very few startups grow global, the learning and understanding gained from these efforts give valuable experiences to all the stakeholders. And yes, failing is ok. In fact, it is a necessity before success.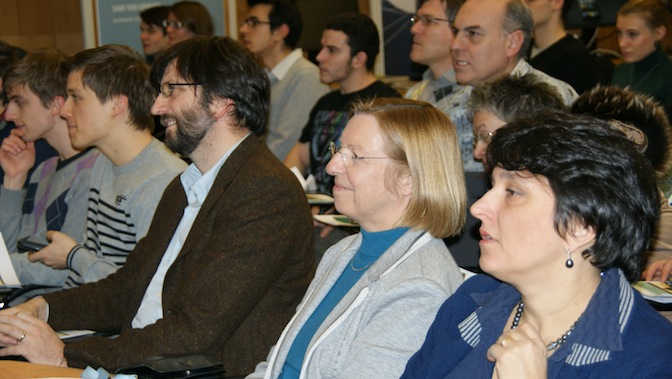 Are there interesting new young projects in South Tyrol? Do you think  some of those can be successful and grow?
Yes there are! There is a good chance that some of them can become successful and grow, but the lift-off face is very difficult in our region since the support mechanisms are just being developed.
Could you please list some of the stories – of this year and of the passed two  events?
The 2 previous versions of EE were also broadcasted. 
1st edition:
2nd edition – video starts at 07:48:In the 2nd edition, a very interesting young man presented his idea of Calligraphy in which he had invented a method by which you can turn machine written text into authentic hand-writing. He was followed up by the patent evaluation and quite a few contacts.
There was also a very nice idea on South Tyrolian time banks, which now goes in production. 
One of the members of "likeMyFood" team (1st edition EE) has made a well-selling IOS app and he was invited by Apple to San Francisco.
Finally, GuideSavvy from the 2nd edition showed huge business potential in the way the tourists get to visit places.
All of the above mentioned ideas can be found in the old course website at leanstartup.abrahamssonlive.com -> follow the names to watch their promotional videos.
There are several great ideas in this year's course. These ideas are in the new course website found at leanstartup.bz.
By the way: During the event, you can tweet using the #fubee hashtag. Tweets will be projected on a live Tweet-Wall in the room. Feel also free to ask questions to the speakers using #fubee.