December 10, 2013
– 03 Tage zur SKB Kunstauktion: Martin Kargruber + Christian Piffrader + Thomas Sterna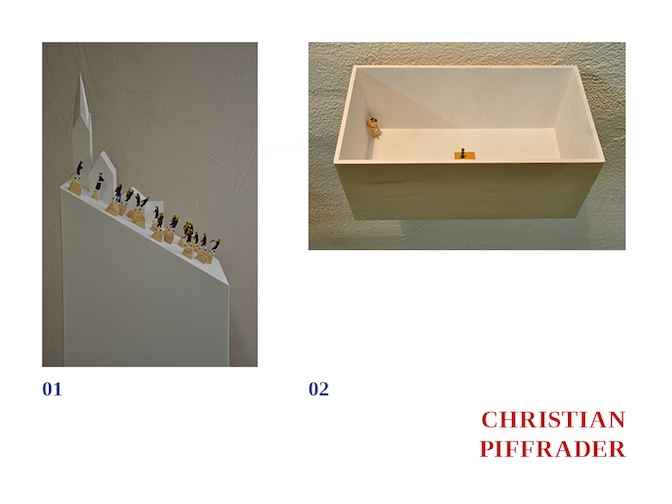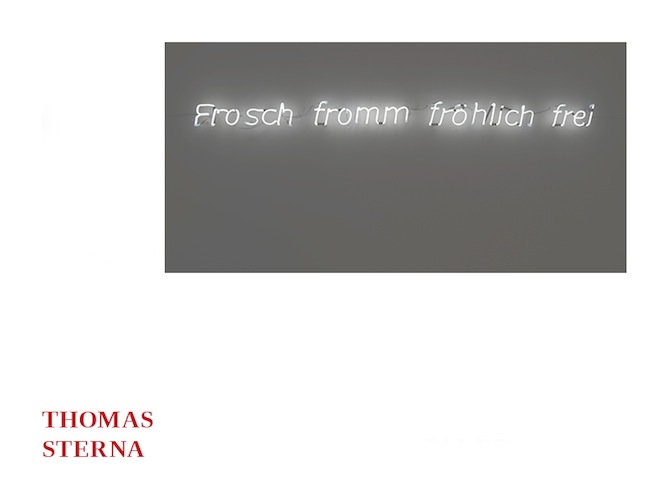 MARTIN KARGRUBER, *1965
Die Skulpturen von Martin Kargruber haben sich aus einem Rückgriff auf den gegenständlichen Objektcharakter der vorindustriellen "volkstümlichen Schnitzerei" entwickelt. Neben der handwerklichen Herstellungstechnik beziehen sich seine Arbeiten vor allem auf das formal und inhaltlich schlichte Erscheinungsbild dieser "Volkskunst".  
Die Motive stammen aus einem Fundus von Erinnerungen. Für diese subjektiven Erinnerungsbilder sucht der Bildhauer eine skulptural materialisierte Form. So ist auch das vorliegende "kleine Denkmal 2011" der Versuch eine Erinnerung bildhaft zu vergegenwärtigen.  
Kleines Denkmal 2011, 2013
Zirbelkiefer
13 x 5 x 4 cm
235,00 €
Jung & Neu
(Foto Harald Fersch)
CHRISTIAN PIFFRADER, *1969
"Ich schnitze vorwiegend in Miniatur, weil es für mich eine Möglichkeit ist, die Beobachtungen von Alltagsszenen, plastisch festzuhalten. Es sind Momentaufnahmen des Tagesgeschehens."
Die auf den ersten Blick als aufgesetzt erscheinenden Figuren entpuppen sich bei näherer Betrachtung als fein detaillierte Darstellungen der Gesellschaft und eröffnen die Möglichkeit zur eigenen Interpretation.
01
″Aufmarsch″, 2011
In Lindenholz geschnitzt und bemalt
Höhe 157 cm
1.200,00 € 
02
O.T., 2013
In Holz geschnitzt und bemalt
20,5 x 11 x 9 cm
300,00 €
Jung & Neu 
THOMAS STERNA, *1958
"Die heute alle Lebensbereiche bis in die feinsten Verästelungen durchdringende Ökonomie zwingt den Künstler, der seine Freiheit noch ernst nimmt, sich mit den gesellschaftlichen Rahmenbedingungen auseinander zu setzen unter denen er arbeitet.
Die Flucht in die Produktion leicht verdaulicher "Kunstwaren" für ein gehobenes Kunstpublikum, wie sie inzwischen unter dem Druck kommerzieller Galerien, von vielen, gerade auch jüngeren Künstlern praktiziert wird, vergrößert schließlich nur die Macht des Marktes und die Unfreiheit der Kunst. Bite the hand, that feeds you, sagen die Engländer. Zu Deutsch: Beiß in die Hand, die dich füttert. Hunde, die dies tun, werden schlimmsten Falls eingeschläfert, Künstler, die dies tun, laufen Gefahr ökonomisch zu scheitern. Es ist paradox sich auf diese Weise zu verhalten und doch, nach meiner Überzeugung, die einzige Möglichkeit autonomen Schaffens."
Frosch fromm fröhlich frei, 2013
Neonschrift
210 x 1 x 13 cm, Wandabstand ca. 5 cm
2.250,00 € 
Wir zählen den Countdown: Noch sind es 3 Tage bis zur diesjährigen Kunstauktion des Südtiroler Künstlerbundes: Am 13. Dezember 2013, Punkt 18 Uhr kommen dann über 80 beeindruckende Arbeiten von 55 Gegenwartskünstlerinnen und -künstlern unter den Hammer. Mitsteigern kann jede und jeder. Deshalb stellen wir euch hier nach und nach alle Künstlerinnen und Künstler vor. Live können die Originalwerke ab 6. bis 13. Dezember in der Galerie Prisma besichtigt und bewundert werden. Also: zum 1., zum 2. und zum 3. 
Weitere Infos zur SKB Kunstauktion 2013 gibt es hier: www.kuenstlerbund.org