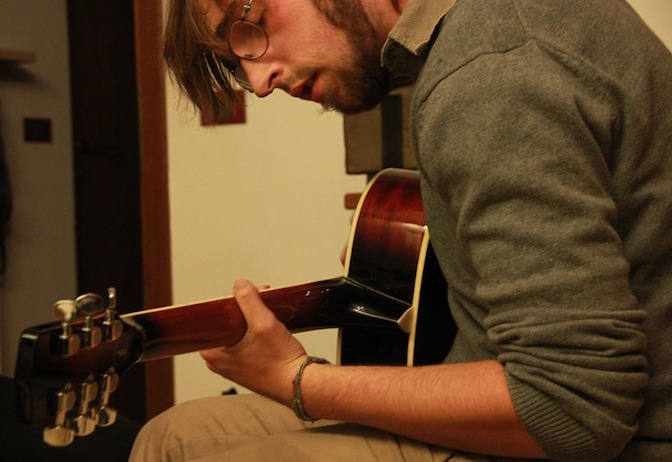 August 7, 2013
BUSK Singer-Songwriter Festival Bolzano-Bozen: Matthias Prieth
Nach und nach stellen wir euch alle KandidatInnen für das BUSK Singer-Songwriter Festival Bolzano-Bozen vor. Ihr könnt auch mitstimmen – klickt dafür einfach auf den Facebook-Like-Button am Ende des Artikels. || Mano a mano ogni giorno vi presentiamo i candidati per il BUSK Singer-Songwriter Festival Bolzano-Bozen. Per votare i vostri preferiti cliccato il bottone Facebook Like in fondo alla pagina.
Name/Nome/Name 
Matthias Prieth
Musikrichtung/Genere/Genre 
Liedermacher
Herkunftsort/Luogo di provenienza/Hometown 
Bozen
Alter/Età/Age 
23
Dein erster Kontakt mit der Musik?/Il primo contatto con la musica/Your First contact with music?
Mein Vater ist Dirigent. Deswegen habe ich schon Kontakt mit Musik, seit ich geboren bin.
Was gefällt dir an der Idee, auf der Straße zu spielen?/Che cosa ti piace del suonare per strada?/What do Ilke about playing music on the street?
Man kann viele graue Gassen mit Musik bemalen und Menschen an ihren gestressten Tagen einen Platz schaffen, wo sie ihn Ruhe stehen können, um Musik zu genießen.
Welches Konzert hat dich besonders beeindruckt und warum?/Il concerto che ti ha colpito di più e perché?/Which concert Impressed you particularly and why?
Es war nicht wirklich ein Konzert, es war eine Jam-Session in der Krone (Laas) mit Domenik Plannger, Thomas Lamprecht, Daniel Ferrara. Das sind die Personen, an die ich mich noch erinnern kann. Es war für mich total faszinierend, wie schnell und einfach Musik gespielt werden kann, wenn sie von Herzen kommt und so auch vorgetragen wird. Es war für mich ein unbeschreiblicher Abend.
Der Soundtrack deines derzeitigen Lebens?/La colonna sonora della tua vita ora?/The soundtrack of your current life?
Poll allz anuan Korrn ziacht von Opas Diandl
Was bedeutet es, Musiker/in zu sein?/Cosa significa essere un musicista?/What does it mean to be a musician?
Für mich ist Musiker zu sein, eine Ehre. Ich kann und darf durch ein wundervolles Medium meine eigenen Ideen vortragen, ohne Grenzen.
Was sagt deine Famile zu deiner Entscheidung, Musiker/in zu werden?/Cosa ne pensa la tua famiglia della scelta di fare musica?/What does your family think of your choice to be a musician?
Es gab für mich nie die Entscheidung, ich bin Musiker oder ich werde Musiker. Ich kann nicht sagen, was meine Familie dazu sagen würde, doch ich glaube, sie würde nichts dagegen sagen.
Das Konzert deiner Träume – ein unmögliches Konzert: wen würdest du gerne mal hören?/Concerto dei sogni – concerto impossibile: chi vorresti sentire?/Dream concert – impossible concert: who would you like to hear?
Blues King BB King
Deine schönste oder schlimmste Erfahrung im Laufe deiner Musikkarriere?/Aneddoti: la migliore o peggiore esperienza della tua carriera musicale?/Best or worse experience of your musical career?
Die schlimmste war, als ich Straßenmusik in Bozen gemacht habe und mir jemand vom Fenster aus Wasser über den Kopf geschüttet hat. 
Die schönste war dieses Jahr bei einem Konzert, wo das Publikum unser selbst geschriebenes Lied nach dem Ende des Liedes sicher noch 2–3 Minuten weiter gesungen hat.
Kontakt/Contatti/Contact
matthias_prieth@hotmail.com
Alle weiteren Infos zum Festival findet ihr hier.