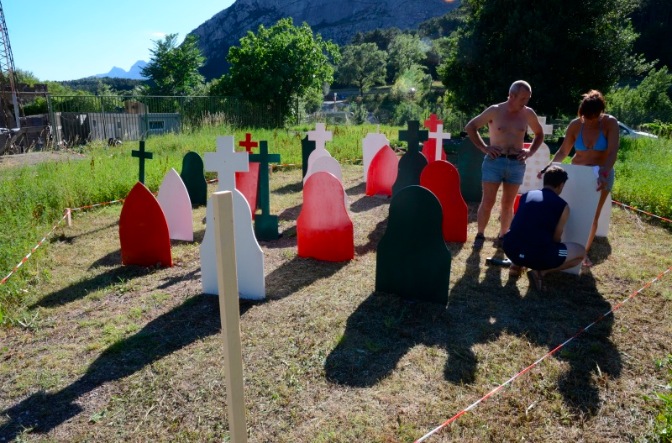 August 2, 2013
Mein Herz beats at Drodesera: Franco Ariaudo, Emanuele De Donno e Luca Pucci
Dal 26 luglio al 3 agosto, Drodesera, edizione 33. Emozionati, con il cuore che batte, all'unisono con quello delle appassionate anime che riempiono Centrale Fies, già pronti ancora una volta a farci rapire, stupire, turbare, stravolgere mente membra meningi. E allora, eccoli, i protagonisti di Mein Herz, eccoli a raccontarci il loro cuore, le loro immagini, i loro ritmi. E a regalarci un pezzo di sé.

Cosa farai a Drodesera? // What are you going to do in Drodesera?
Pucci: Con Emanuele De Donno, Franco Ariaudo, Fabio, Fernando, Rosanna, Stefano e tanti altri amici porteremo un progetto dal titolo "Ex Aequo".
De Donno: Un playground a più corsie con l'intento di far giocare la gente della Val di Sole, di coinvolgere  il pubblico e produrre un bello spareggio.
Ariaudo: Lavorerò con gente in gamba.
Mein herz. Cosa ti fa battere il cuore ogni giorno? // Mein herz. What does it make your heart pound every day?
Pucci: Questo.
De Donno: Lavorio e produzione.
Ariaudo: Le cose ancora da iniziare, quelle ancora da finire e in sospeso.
Cosa, se accadesse, lo farebbe smettere di battere? // What could make it stop beating?
Pucci:
De Donno: L'apatia.
Ariaudo: Ogni pedina al suo posto
Il cuore non è solo un organo anatomico. Dov'è e cos'è il cuore per te? // Heart is not only an anatomical organ. Where and what is the heart for you?
Pucci: La posizione se non fosse per qualche film è indefinita. E' atomico.
De Donno: Il cuore non è solo e baricentrico, è fatto di arterie periferiche e  altre anatomie.
Ariaudo: Lo parcheggio spesso in posti assurdi, qualche volta ce lo lascio e torno a piedi.
Il cuore accomuna uomini e animali. Se il tuo cuore battesse nel corpo di un animale, che animale sarebbe? //  Heart equates humans and animals. If your heart could beat in an animal's body, which animal would it be?
Pucci: una fenice o una farfalla di quelle bianche.
De Donno: Lupo appenninico o pipistrello.
Ariaudo: In Spike, morto nel 2001, mio cane per sempre.
Drodesera e Fies incrociano i linguaggi. Se tu fossi un film/video/storia che film/video/storia saresti? // Drodesera and Fies use to intersect different languages​​. If you were a movie / video / story, which movie/ video / story would you be?
Pucci: Pollicino.
De Donno: Storia familiare del lavoratore impiegato nelle turbine tra radici e socialismi.
Ariaudo: Alex l'ariete.
Se tu fossi invece una canzone/musica/ritmo che canzone/musica/ritmo saresti? // If you were a song / music / rhythm, which song / music / rhythm would you be?
Pucci: I've Got A Feeling dei Beatles
De Donno: Ritmi sincopati che confluiscono nello scroscio delle cascate poi in loop. 
Ariaudo: Un pezzo di Janacci cantato da Nick Drake.
Ci regali un'immagine che ti racconta più di mille parole? // Could you choose an image that tells something about you more than thousands of words?
Pucci: Se vi regalo un immagine così non avrebbe senso tutto quello che ci siamo detti ne quello che potrei dire poi.
De Donno: John Cage che chiude la tastiera del piano.
Ariaudo: René Higuita che fa la "Mossa dello scorpione".
Dai una forma al tuo cuore e regalalo a qualcuno. Che forma? A chi o cosa? // Give a form to your heart and give it to someone. Which form? Who? What?
Pucci: Il cuore ha quella forma lì, due ali attaccate. In regalo, a poco a poco a chi verrà, parteciperà al nostro progetto.
De Donno: Una pagnotta di pane fresco e caldo e sesamo.
Ariaudo: A frisbee che vola lento, boomerang alla bisogna…a chi li sa intercettare.
Photo by B-fies