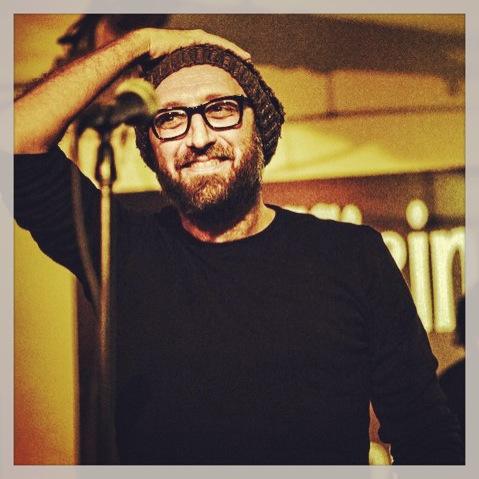 July 26, 2013
Meet the Locals #17: Paolo, poet and performer from Verderio Superiore
I met Paolo during a poetry slam a couple of years ago. He was wearing a woolen hat and was occupying the whole scene. I can't remember if he actually won that night, but he certainly is a very powerful performer, very funny when he needed to be funny, very dramatic when drama was needed. And he is a great poet. The fact that he lives in the countryside makes him an even more intense personality. Ladies and Gentlemen, please meet Paolo Agrati.
Your name (with or without last name), age and job?
My name's Paolo Agrati. I'm 39. I am a poet and a performer.
Where are you from?
I am from Verderio Superiore, Brianza, Italy.
What would you be if you were not a poet?
Being a poet is good, you can be anything else at the same time.
What do you want to be when you grow up?
I would like to be happy.
How long have you lived in Verderio and why did you first come?
I lived in Milan for a while, then I bought an apartment in a farmhouse just outside of the city. Cheaper and quieter.
What is the best thing to do (what do you like doing ) in Verderio?
It's a small town, near the river, good for walking, enjoying the nature, riding your bike, reading books, growing plants on my balcony.
Is there something you don't like about Verderio?
My neighbors are so stupid.
What is the craziest thing you have done in Verderio?
Buy a house. My house is good, but I should move deeper into the countryside. Without stupid neighbors.
Where would you live if not in Verderio?
I have a plan; I would like to buy a mobile home soon or later. And a big car to move it everywhere.
Have you ever been to Italy OR Bolzano/Bozen – South Tyrol/Suedtirol/Alto Adige?
Of course I've been to Sudtirol. I like it there. My girlfriend is German, from Munich, and she has shown me a lot of interesting places I didn't  know. I do not like Bolzano, they gave me a ticket for my car that was not right and when I protested they just ignored me, but it's a long story.
What did you like / did not like about it?
I said I do not like Bolzano, why do you ask me again?
Anything else you would like to add?
I wrote three books, if you speak Italian why don't you read some good poems of mine?