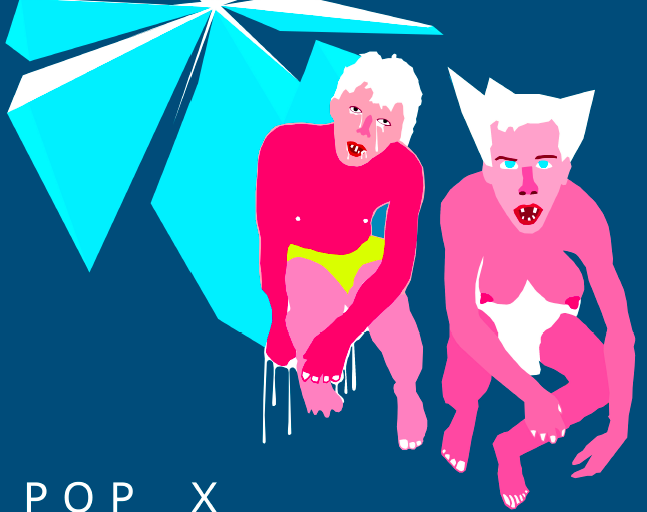 July 25, 2013
Mein Herz beats at Drodesera: Pop_X
Dal 26 luglio al 3 agosto, Drodesera, edizione 33. Già emozionati, già con il cuore che batte, all'unisono con quello delle appassionate anime che riempiono Centrale Fies, già pronti ancora una volta a farci rapire, stupire, turbare, stravolgere mente membra meningi. E allora, eccoli, i protagonisti di Mein Herz, eccoli a raccontarci il loro cuore, le loro immagini, i loro ritmi. E a regalarci un pezzo di sé.

Cosa farai a Drodesera? // What are you going to do in Drodesera?
A Dro presenterò insieme ai miai amici uno spettacolino che si intitola: PITERPAN E I RAGAZZI PERDUTI
Mein herz. Cosa ti fa battere il cuore ogni giorno? // Mein herz. What does it make your heart pound every day?
Solo un buon gelato di GROM oppure della gelateria bologna di Mori.
Cosa, se accadesse, lo farebbe smettere di battere? // What could make it stop beating?
Sicuramente l'infarto, ma anche il vedere bambine che muoiono di fame in giro per l'Africa e l'Italia del Sud.
Il cuore non è solo un organo anatomico. Dov'è e cos'è il cuore per te? // Heart is not only an anatomical organ. Where and what is the heart for you?
Il cuore é il e nel motore del Volkswagen Westfalia di Andrea Agnoli, ronza nel tuo corpo, talvolta rallenta allora sei costretto ad accasciarti al sole in attesa dei soccorritori che si spera abbiano un defibrillatore. Il cuore accomuna uomini e animali.
Se il tuo cuore battesse nel corpo di un animale, che animale sarebbe? // Heart equates humans and animals. If your heart could beat in an animal's body, which animal would it be?
Gli animali hanno cuori arrugginiti, deboli, il loro sistema cardivascolare non é nemmeno paragonabile a quello dell'essere umano, gli animali sono cattivi e ne approfittano della bontà degli uomini, sfruttandoli e facendosi mantenere alle loro spalle, io sono contro la vita degli animali, fosse per me gli animali andrebbero addomesticati per lavorare in catene lungo le autostrade desertificate del sud Italia, con ciò non intendo offendere chi ama gli animali e per sua natura vorrebbe metter su famiglia con una trota salmonata.
Drodesera e Fies incrociano i linguaggi. Se tu fossi un film/video/storia che film/video/storia saresti? // Drodesera and Fies use to intersect different languages. If you were a movie / video / story, which movie/ video / story would you be?
Se fossi un film sarei un documentario sui fiori del Monte Baldo e sulla busa della Prea.
Se tu fossi invece una canzone/musica/ritmo che canzone/musica/ritmo saresti? // If you were a song / music / rhythm, which song / music / rhythm would you be?
Sarei Io centro con i Missili, una canzone da me scritta e composta in un garage di Trento nord nell'inverno dell'anno 2009.
Ci regali un'immagine che ti racconta più di mille parole? // Could you choose an image that tells something about you more than thousands of words?
Vedi sopra
Dai una forma al tuo cuore e regalalo a qualcuno. Che forma? A chi o cosa? // Give a form to your heart and give it to someone. Which form? Who? What?
Il mio cuore non é sicuramente come quello rappresentato sui volantini del festival drodesera trentatreesima edizione. Il mio cuore é in cielo accanto alla mia nonna. Il mio cuore é in cielo che vola sopra la sede di franzmagazine, in zona Bolzaneto. Il mio cuore é dentro gli animali e nel vino del viticoltore indipendente di Calliano, Pio. Ora il mio cuore é nel libro di Edmondo che cerca Ernesto il ragazzino dei ragazzi della via pal che poi incontra gianburrasca che gli ruba dalla tasca quattro soldi per mangiar pane vino e scorazzàr.
La performance di Pop_X la potete vedere sabato 3 agosto, alle 24, nella turbina 1 di Centrale Fies.
Per il programma completo del festival, andate qui