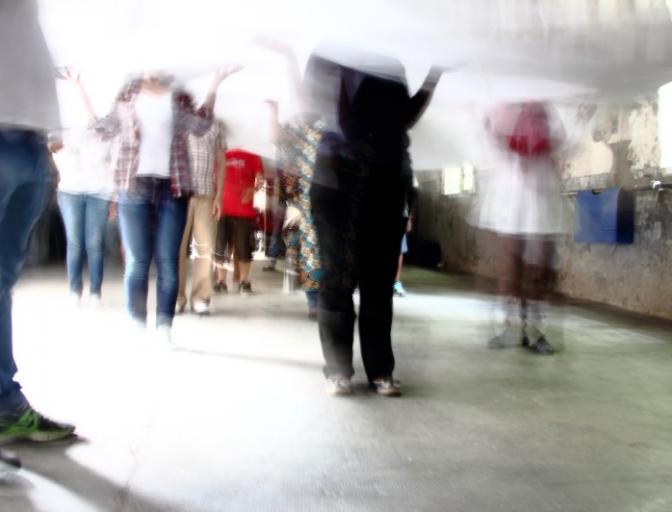 July 23, 2013
Mein Herz beats at Drodesera: Giovanni Morbin
Dal 26 luglio al 3 agosto, Drodesera, edizione 33. Già emozionati, già con il cuore che batte, all'unisono con quello delle appassionate anime che riempiono Centrale Fies, già pronti ancora una volta a farci rapire, stupire, turbare, stravolgere mente membra meningi. E allora, eccoli, i protagonisti di Mein Herz, eccoli a raccontarci il loro cuore, le loro immagini, i loro ritmi. E a regalarci un pezzo di sé.
Cosa farai a Drodesera? // What are you going to do in Drodesera?
Presento 
Blu oltremare
 - ibridazione 9, un nuovo progetto che trae spunto dalle tristi vicende che da anni ormai si ripropongono inarrestabilmente. Mi riferisco alle traversate clandestine, barconi-uomo che tentano di raggiungere le nostre coste per fuggire o raggiungere e che spesso finiscono in tragedia. Blu e' il colore che misura il viaggio da compiere, il colore che si beve quei corpi che cadono in acqua.
Mein herz. Cosa ti fa battere il cuore ogni giorno? // Mein herz. What does it make your heart pound every day?
L'attesa: pensare che non devo per forza produrre idee ma aspettare che esse si fermino-formino in me.
Cosa, se accadesse, lo farebbe smettere di battere? // What could make it stop beating?
Non so ma credo che ognuno di noi non muoia mai interamente. Probabilmente non sopporterei l'idea di non ritrovarmi mai fuori dal mio corpo.
Il cuore non è solo un organo anatomico. Dov'è e cos'è il cuore per te? // Heart is not only an anatomical organ. Where and what is the heart for you?
In tutte le esperienze vissute perché per ognuna d'esse ho perso un battito.
Il cuore accomuna uomini e animali. Se il tuo cuore battesse nel corpo di un animale, che animale sarebbe? //  Heart equates humans and animals. If your heart could beat in an animal's body, which animal would it be?
Un pettirosso
Drodesera e Fies incrociano i linguaggi. Se tu fossi un film/video/storia che film/video/storia saresti? // Drodesera and Fies use to intersect different languages​​. If you were a movie / video / story, which movie/ video / story would you be?
I sette samurai di Akira Kurosawa.
Se tu fossi invece una canzone/musica/ritmo che canzone/musica/ritmo saresti? // If you were a song / music / rhythm, which song / music / rhythm would you be?
Quattro minuti, trentatre secondi di John Cage.
Ci regali un'immagine che ti racconta più di mille parole? // Could you choose an image that tells something about you more than thousands of words?
Per piu' di trent'anni mi e' rimasto in mente un racconto di mio padre. Ho sempre saputo che ne avrei fatto qualcosa ma non sapevo come e quando. Dopo la sua morte ho trovato una forma al mio ricordo.
Dai una forma al tuo cuore e regalalo a qualcuno. Che forma? A chi o cosa? // Give a form to your heart and give it to someone. Which form? Who? What?
Un'arancia, una spremuta per chiunque abbia sete
 * Il lavoro di Giovanni Morbin fa parte del progetto di premio per la performance Live Works e potrete vederlo martedì 30 luglio a Centrale Fies.