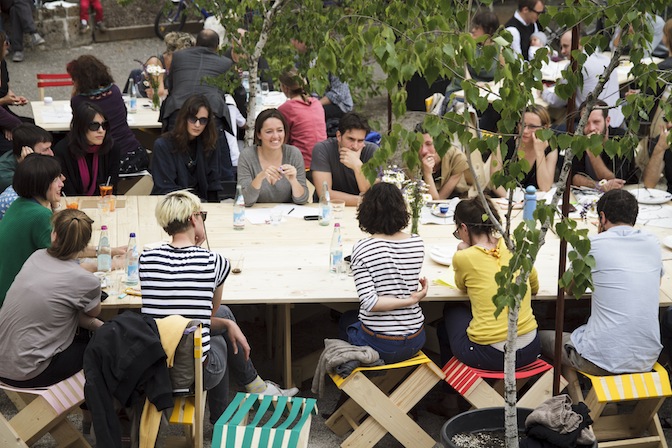 June 25, 2013
Welcome to Lungomare Gasthaus.
Filipa Ramos
From 1st to 30 June 2013, on the occasion of its 10th anniversary, Lungomare opens the "Lungomare Gasthaus", a temporary space for thought and action, with discussions, talks, workshops, spatial interventions, a screening program, performances and actions. franz is happy to introduce to you the Lungomare Gasthaus people.
Filipa Ramos (b. 1978 in Lisbon) is an art critic based in London. A lecturer at the Department of Visual and Performing Arts of IUAV – University of Venice and in the Experimental Film MA program of Kingston University, London, Ramos was also guest curator at several public and private art spaces and is a regular contributor to numerous international publications. She is currently the curator at Vdrome. 
Who are you?
My name is Filipa Ramos, I was born in Lisbon, and I am an art writer.
What are you going to do in the Lungomare Gasthaus? 
I am joining the Lungomare team in conceiving the programme of the Gasthaus. I am developing a weekly film programme of artist's films and videos, entitled This is My Land, and I am curating a series of open encounters with artists, curators, thinkers, and publishers to discuss the future of Lungomare and that of similar institutions, which is called The Sunday Brunch.
What does Gasthaus mean to you?
A place where I feel at home in someone else's home.
What does this town mean to you?
I am unable of perceiving Bolzano as an isolated town. It is deeply rooted within a complex territory whose richness lies across boundaries and thresholds, and that is what is so fascinating about it.
What does house mean to you?
House is the place I left.
Meals will be served in the Gasthaus. What does food mean to you?
It means history, memory, affection, culture, and time spent with my beloved ones.
The Gasthaus is a place for exchanging ideas and experiences. What are you going to exchange?
I feel I am exchanging my nationality.
The Gasthaus is located beneath a mountain, but at lungomare. What is your relation to these contrasts?
The sea is always behind the mountains. I don't see any contrast.
The Gasthaus is in Bolzano. Close to a border. What does border mean to you?
A line to erase.
What is your wish for the next 10 years of Lungomare?
The next 10 years of Lungomare.