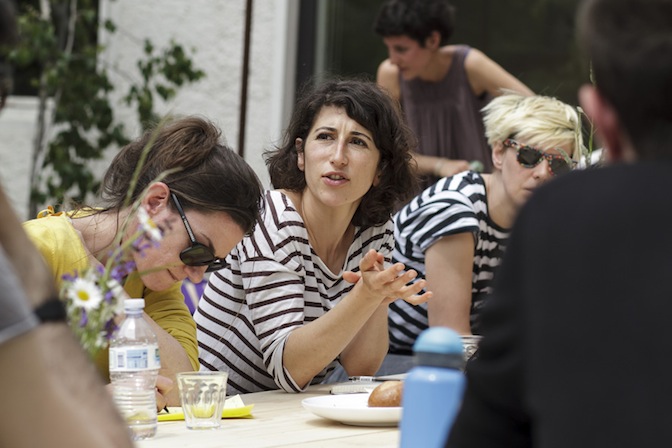 June 5, 2013
Welcome to Lungomare Gasthaus.
Céline Condorelli
From 1st to 30 June 2013, on the occasion of its 10th anniversary, Lungomare opens the "Lungomare Gasthaus", a temporary space for thought and action, with discussions, talks, workshops, spatial interventions, a screening program, performances and actions. franz is happy to introduce to you the Lungomare Gasthaus people.
Céline Condorelli is a London-based artist. Her practice combines a number of approaches from developing structures for "supporting" (the work of others, forms of political imaginary, existing and fictional realities) to broader inquiries into forms of commonality and discursive sites. She is a founding member of Eastside Projects.
Who are you?
I am an artist based in London.
What are you going to do in the Lungomare Gasthaus?
I am having Sunday brunch, and expect to be in conversation with whoever turns up.
What does Gasthaus mean to you?
Radical hospitality 
What does this town mean to you?
I have never been to Bolzano, but seem to like a number of people who come from here, and their work very much. So I am looking forward to discover more meanings of this town.
What does house mean to you?
An incredibly resilient model of domesticity.
Meals will be served in the Gasthaus. What does food mean to you?
Food is everything from the most enormous systems of production, through to the conviviality of cooking and eating together, to the piece of fruit that you're munching on. It is one of the most difficult to understand, and yet incredibly immediate, essential thing.
The Gasthaus is a place for exchanging ideas and experiences. What are you going to exchange?
I am invited for a conversation, and "I think conversation works best when the second thing that is said is not in the mind of the person who said the first thing." As said John Cage (1987)
The Gasthaus is located beneath a mountain, but at lungomare. What is your relation to these contrasts?
Highly contrasted environments are much more familiar to me than their opposites. It is when everything is ordered as it should be that I get worried.
The Gasthaus is in Bolzano. close to a border. What does border mean to you?
Borders are strange things, they seem to be so abstract and arbitrary, and yet bread is different from on one side to the other, people speak with a different accent, sometimes even language.
What is your wish for the next 10 years of Lungomare?
I wish Lungomare all the best!