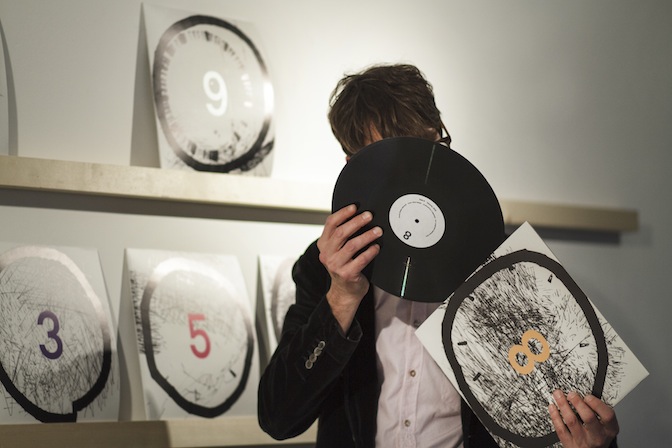 June 3, 2013
Welcome to Lungomare Gasthaus.
Stefano Bernardi
In occasione dei primi dieci anni dalla sua inaugurazione, dal 1 al 30 giugno 2013 apre il "Lungomare Gasthaus", uno spazio temporaneo di riflessione e di azione e una trattoria aperta al pubblico con incontri, discussioni, workshop, installazioni, film, performance e azioni. franz vi presenta le persone del Lungomare Gasthaus.
Stefano Bernardi, operaio sonoro (nato nel 1970 a Bolzano, dove vive e lavora). Membro di ziZ (no rock band), The Comfort Zone (gruppo di libera improvvisazione musicale) e Secret-Media-Lab (circuit bending).
Chi sei? 
Stefano Bernardi – operaio sonoro
Cosa farai a Lungomare Gasthaus? 
Espongo un'installazione "We stripped out all this time in vinyl and paint covers. Just for you". 10 dischi, 10 copertine disegnate da Heinz Mader che contengono 10 vinili da 12″. Un archivio sonoro analogico, una selezione di progetti realizzati in 10 anni di LM (27 progetti raccontati attraverso, voci narranti, suoni, discussioni e musiche). Il mobile di questa console da dj è di Daniele Lupo. I visitatori sono parte integrante del lavoro perché saranno loro a suonare i dischi durante la mostra.
Cosa significa Gasthaus per te? 
Un luogo di ritrovo e scambio in cui fermarsi per mangiare e bere qualcosa.
Cosa significa città per te? 
Confusione e ordine.
Cosa significa casa per te? 
Calore, famiglia, a volte una possibilità di tranquillità.
Al Gasthaus si mangia. Che rapporto hai con il cibo? 
Meraviglioso.
Il Gasthaus è un luogo di scambio. Che esperienze speri di scambiare in questa occasione? 
Mi lascerò sorprendere.
Il Gasthaus è sotto una montagna, ma in un lungomare. Il tuo rapporto con questi due ambienti? 
Ottimo con entrambi, ho lavorato per 10 anni sul lungomare e non sono obiettivo. Le persone che lo hanno percorso e lo percorrono mi hanno arricchito moltissimo.
Il Gasthaus è a Bolzano. Terra di confine. Cos'è un confine? 
Una linea su una cartina geografica.
Un augurio a lungomare per i suoi prossimi 10 anni? 
Altri 100 anni così intensi e poi basta!
Foto: Daniel Mazza