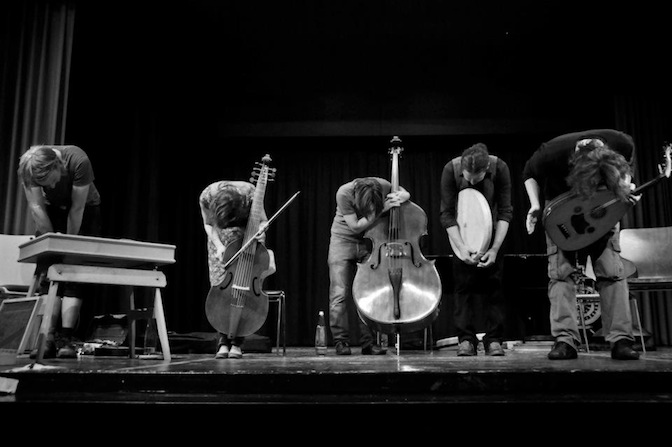 June 3, 2013
Thursday 6.6.2013
Con Ian Tweedy riprende vita la facciata mediale di Museion, Play it again, Oswald mit Opas Diandl & Marcello Fera, un documentario su libri e nuvole in Perù, Nunzia Coco, Masses & Motets al Lungomare Gasthaus, Markus Wasmeier
H 18.00 | BOLZANO | PIAZZA DEL GRANO + PRATI DEL TALVERA + PIAZZA MATTEOTTI + LUNGOMARE
Esercizi di coralità politica al LUNGOMARE GASTHAUS: MASSES & MOTETS sono tre performance musicali incentrate sulla presa di parola, la resistenza alla società dello spettacolo e dei consumi, la testimonianza, la proposta e la visione politica. Gli artisti coinvolti provengono da famiglie musicali e performative differenti come hip hop, letteratura performativa, canto polifonico, teatro, poetry slam, musica leggera e musica sperimentale. Le performance saranno eseguite prima in alcuni spazi pubblici della città e poi a Lungomare Gasthaus in una performance collettiva. Anche domani 7.6.13.
H 18.15 | GOLDRAIN | SCHLOSS GOLDRAIN
Anlässlich einer Tagung zum Thema "Museum und Theater", organisiert vom Touriseum gemeinsam mit der Bayerischen Museumsakademie, ist heute der bekannte Skistar und zweifache Olympiasieger MARKUS WASMEIER in Goldrain zu Gast. 
more
H 19.00 | BOZEN | UNI
Zur offenen Lesung Get inspired, start with people: observing users to design interactions an die Design-Uni lädt heute NUNZIA COCO, Iuav Università di Venezia.
more
H 19.30 | STEINHAUS | BERGBAUMUSEUM KORNKASTEN
Heute eröffnet UNTER TAGE vom Schneeberg bis zum Rettenbach (Prettau) mit Bildern und Objekten von PETER KASER.
more
H 20.30 | BOLZANO | FILMCLUB
Un bel documentario da vedere LIBROS Y NUBES: in uno sperduto villaggio delle Ande Peruviane una ragazzina sta aspettando da giorni l'arrivo dei nuovi libri che una bibliotecaria trasporta a piedi, sulle proprie spalle. Le Biblioteche Rurali del Perù sono formate da poche decine di libri che una volta letti vengono scambiati fra le comunità. Messaggio e messaggero viaggiano insieme, in un paesaggio primordiale a pochi passi dalle nuvole; i libri camminano come camminano le persone. Saranno presenti il regista Pier Paolo Giarolo e i produttori locali Valerio Moser e Andreas Pichler.
more
H 20.30 | LENGMOOS | KOMMENDE
Der Tiroler Weltbürger Oswald von Wolkenstein steht im Mittelpunkt des Konzertes von OPAS DIANDL & MARCELLO FERA: Auf der CD PLAY IT AGAIN, OSWALD wurden 13 Lieder Oswald v. Wolkensteins von der Südtiroler Gruppe Opas Diandl und dem aus Genua stammenden Komponisten/Violinisten Marcello Fera unter Beibehaltung der Originalmelodien neu interpretiert, arrangiert und eingespielt. Die mittelhochdeutschen Texte wurden dabei von Siegfried de Rachewitz in den Südtiroler Dialekt übersetzt.
more
H 21.00 | BOLZANO | LUNGOMARE GASTHAUS
Il Lungomare Gasthaus è anche cinema. Oggi da vedere (alla presenza della regista Gaelle Boucand) il film JJA. E anche THIS IS MY LAND di Ben Rivers.
H 21.00| BOLZANO | MUSEION
Riprende vita la MEDIA FACADE di Museion con l'artista americano Ian Tweedy che riadatta la video- animazione CLOUDS, un collage di diversi orizzonti paesaggistici rappresentati durante periodi di pace e momenti di guerra mescolati tra di loro. Le immagini disegnate a matita si susseguono conflagrando una nell'altra, formando così un'animazione astratta che oscilla tra crisi e romanticismo.