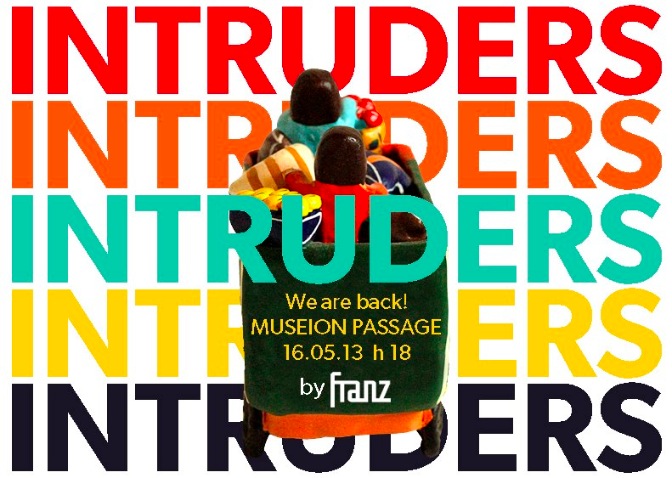 May 13, 2013
Thursday 16.5.2013
INTRUDERS are back!, Giornata mondiale contro l'omofobia a teatro, Professione Transformer con Nicola Farronato e ultima settimana per "Forse tornerai dall'estero"
H 18.30 | BOLZANO | MUSEION
INTRUDERS ARE BACK! Once again there will be music with Madame DJ Postal, drinks and food.
We also have a very special activity planned: Cultural speed "dating"! Don't get scared, don't run off, we don't want you to find a girlfriend or boyfriend (but if you do, even better) our speed dating is all about meeting and chatting with different and new people (same sex, opposite sex, it really doesn't matter) about different subjects, like, cinema, music, books and food.
more
H 18.30 | ROVERETO | THE HUB
Proseguono gli appuntamenti con PROFESSIONE TRANSFORMER per presentare e conoscere i professionisti dell'innovazione creativa, lavoratori la cui identità è di difficile definizione, la cui professione non rientra nelle categorizzazioni standard. Ospite del settimo appuntamento NICOLA FARRONATO che a Dublino ha lanciato la sua startup MySmark che permette alla persone di condividere le emozioni.
H 20.30 | BOLZANO | TEATRO STABILE
Ultima settimana per FORSE TORNERAI DALL'ESTERO di Andrea Montali. Un bar di periferia, alcuni personaggi soli e disperati, alcuni incontri che a loro cambieranno la vita. Da non perdere. Si prosegue fino a domenica. 
H 21.00 | TRENTO | SPAZIO OFF
In occasione della Giornata Internazionale contro l'Omofobia, Spazio Off di Trento presenta lo spettacolo  A NUDO della compagnia SANTIBRIGANTI TEATRO.