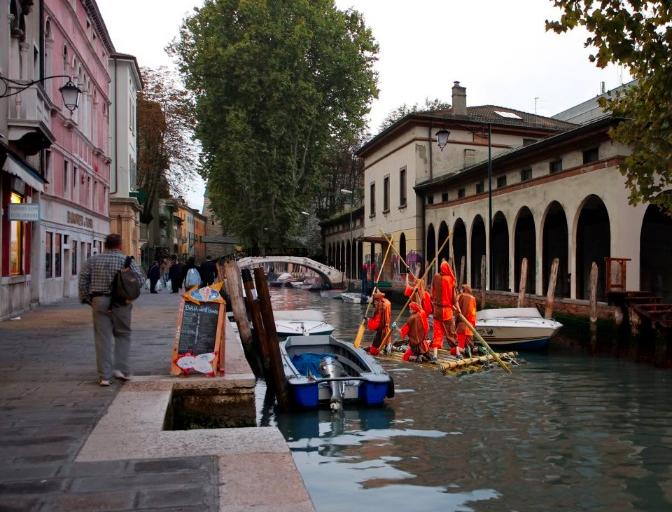 May 13, 2013
Saturday 18.5.2013
Ghosttown Festival, Kulturwanderung mit ALMA, GIVE ME MONEY, GIVE ME SEX_What the hell is happiness?, Festa del Fiume che non c'è a Trento, Die Verwandlung, Lento + Driveby + The Artificial Harbor + Narvalo Project
H 8.30–17.00 | LANA | GASTHAUS TEISS
Vom Gasthaus Teiss in Lana geht's ab nach Mitterbad bei St. Pankraz: KULTURWANDERUNG mit ALMA und dem Wanderführer Markus Breitenberger: Geschichten, Musik von Alma mit uralten Melodien, Jodlern und Liedern, Eigenkompositionen, neuen Arrangements von Bekanntem. 
more
H 9.00 | BOLZANO | CENTRO GIOVANI VINTOLA
39 C GRAFFITI JAM 2013, due giorni dedicati alla trasformazione degli spazi urbani attraverso l'arte. Graffiti art al servizio della città. Dalla cultura per la cultura.
more
H 13.00 | PRAD 
Es ist Zeit für das GHOSTTOWN FESTIVAL 2013. Das bedeutet: 4 Stages, 40 Artists, Workshops, Live Art  an einem speziellen Ort: Mark Foggo and the Skasters, Mungos Hifi, Nocturnal, Klangmassage, um nur einige zu nennen – das komplette Line-up findet ihr hier: www.facebook.com/events/441777409238744.
H 14.00 | TRENTO | QUARTIERE DI SAN MARTINO 
IL FIUME CHE NON C'è torna a Trento. Il quartiere di San Martino si animerà con la grande caccia al tesoro, un concorso di arte bianca, musical, mostre, teatro, musica dal vivo e ristoro del borgo. Con la partecipazione di ristoratori, commercianti, associazioni e residenti. Un'occasione per riscoprire il quartiere, facendo festa e riflettendo sull'importanza degli spazi pubblici.
H 19.00 | LATSCH | SCHIESSSTAND
Heute bei der KOGNITIVen VERWANDLUNG in Latsch 2 Filme: GRENZLAND/TERRA DI CONFINE und PEAK. Beides Filme von Südtirolern über Südtirol.
more
H 19.00 | GIRLAN | BURGUNDER KELLER
BEATPATROL goes Südtirol und bringt das mit: SCHALL & RAUCH, DANIEL ADAM, HIDDEN HYPE und von hier spielen KOLLEKTIV BASSALPIN, BOSSI FUNK, CLE DE, YYK. Aia!
more
H 20.00 | MERANO | SKETCH
Originaria della Serbia, oggi vive a Treviso. E a Treviso fa la cantante/cantautrice, in ambito neo-soul. Che voce intrigante, che basi sinuose! In occasione di UPLOAD ON TOUR, viene a Merano con la sua band, Steven Smirney (synths, pro- gramming) e Pietro Caprioglio (drums). Lei è KAE.
H 21.00 | BOLZANO | MUSEION 
Il progetto GIVE ME MONEY, GIVE ME SEX_What the hell is happiness? (GMGS), di CODICE IVAN, nasce dal bisogno di confrontarsi con un concetto, un motore del fare quotidiano e con la sua spesso ossessiva ricerca: la felicità. Ognuno è portato a lottare per raggiungerla senza però capire né dove né come andare. L' unica certezza è l'(auto)cacciata da un mondo perfetto, e la consapevolezza delle quotidiana difficoltà di scelta. E allora ci chiediamo: come dobbiamo vivere?
H 21.30 | INNSBRUCK | PMK
Im Rahmen des diesjährigen Upload Sounds Event macht die Upload-Tour auch wieder in der p.m.k halt, um den regionalen Nachwuchs zu fördern. Neben DRIVEBY aus Tirol, THE ARTIFICIAL HARBOR aus Südtirol und NARVALO PROJECT aus dem Trentino, gibt es als Draufgabe das Instrumental-Schwergewicht LENTO aus Rom. Der Eintritt ist frei – juhu!
more