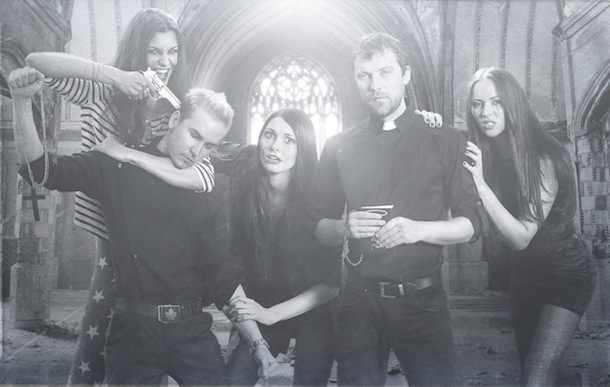 January 3, 2013
You Killing Me @ Love Electro Festival
Since they debuted in the electro scene, the two Russians Belarusians, dressed in robes and equipped with a scarce image as raving priests, kept on surprising through mixing creaking and squeaking electro-sounds with pathos of classical music and a professional approach to being musicians in the internet-age. You Killing Me are going to play on the 5th of January 2013 – the first day of the Love Electro Festival in the Max Club in Brixen/Bressanone. We got them for an interview.
When you took your first steps in the electro-scene with tracks like "Hey!" and "Heroes!" you instantly got support from some of the electro-scenes heavyweights like the Cyberpunkers. How did this help you while setting foot in this scene?
We have started to be published on labels and to play with our other solo projects in 2006. We lived in one city, but we had different projects with which we even went successfully on tour. Having gained experience in music and communications, we have understood that time had create our style of music. So we started You Killing Me with our first tracks Hey, Heroes and a remix for the Cyberpunkers.
This project wasn't founded by young musicians. It was created by producers having already gained big musical experience and communication-channels. And we just did it. It was exciting and people believed in us, so we came to our success and we found our home on Freakz Me Out Records.
Who are the guys behind You Killing Me?
Andrius "Melody-Bass": He is producer, singer and the Pianist. He has a musical education as a pianist. Since 2010 he trained for a new profession as a sacred father inspired by music, aiming to connect to people with music to portray kindness and love.
Andrey "FX-Bass" – Producer and dj: He is the professional musical diagnostician. Also he trained since 2010 for a new profession as a sacred father, inspired by music, aiming to connect to people with music to portray kindness and love.
What is your musical background and education and how is it influencing your actual work? Which artists would you name as influences for the music you're making now?
Our only influence is our musical experience, which we gained for many long years.
As inspiring we'd name: Panic at the disco, Muse, Radiohead, Placebo, Nero, Marlyn Manson and others…
Why did you choose to use all those christianity and bible-related terms and pictures, like the robes you're wearing, for your project "You Killing Me"?
The name You Killing Me reflects aspects of the Bible in many ways. We wanted that after our performances people had killed all malicious in their souls… Thus people left after You Killing Me performances as after a confession. We are ready to accept a confession of people and to release them after performances with an absolutely pure soul. You Killing Me killed all of the malicious in the souls of the people.
You Killing Me is a new style named "Christian Epic Rave".
Christian: Music eulogizing the God. Epic: Always majestic melodies which should eulogize god and give people a happy condition. Rave: Even though most people will tend to think that You Killing Me's music is aggressive, it forces them to utilize AND expel their excess negative energy through thrashing during the dance.
What differentiates You Killing Me from the other countless electro acts?
You Killing Me's music is very hot and aggressive. Commercial music dies during our Live Show.
With which other artists would you like to work together (or with which are you already collaborating)?
We want to be a solo project. But in the world there are many cool artists, who can be an inspiration.
What are your predictions on how Electro as a genre is going to change in the future?
We would like to become more like rock music: Rock music is eternal. New high technologies have allowed to create similar musical atmospheres by means of electronic music. The musical atmosphere of Rock unifies many people at performances! We are very glad that Indie Dance, Nu Rave and Electro House possess a great potential to bring out stars like rock stars. Electronic Music now fills huge halls and incorporates people with one great musical spirit!
We consider Skrillex a rock star in electronic music.
Are you already looking forward to play at the Love Electro Festival?
It's You Killing Me's debut in Italy. It is exciting and very interesting for us!
Anything else you want to have said?
Go to clubs! Follow all musical actions; your support is necessary to artists. Also believe in God. We Pray For You. You Killing Me.