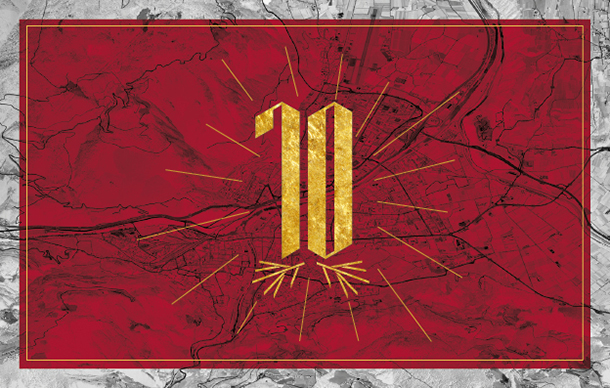 December 10, 2012
AdventsKalender #10
Il calendario d'avvento più rock, una collaborazione tra Franz e papperlapapp, per prepararsi all'arrivo del CD BZ – Under the Ground II, che racconta 20 band del territorio che hanno selezionato una canzone per festeggiare i primi gloriosi 20 anni del centro giovani più amato di Bolzano. 
Apri la tua finestrella e… discover the next band!
1. Nome del gruppo SHANTI POWA
2. Genere musicale Dancehall/Rap
3. Eventuali gruppi (locali) che hanno influenzato il genere musicale Sisyphos
4. Data di fondazione 20.09.2010
5. Membri del gruppo e strumento
Michael Monteleone – voce
Simone Codazzi – voce
Bertrand Risè – voce
Olavo Lachner – DJ
6. Da quali gruppi (storici) provengono i singoli membri del gruppo e in quali gruppi hanno continuato a suonare (in caso di scioglimento), o se esistevano/esistono "side-projects" contemporaneamente

Nesuno & Berise, Get BZ, Complesso Turntablism
7. Indirizzo (quartiere) della/e sala/e prove principale del gruppo
 Völser Aicha
7. Quale ruolo aveva il "papperlapapp" nella storia della band
Diversi concerti al papperla e al Pippo!
8. Aneddoti, esperienza più bella e più brutta durante la vita del gruppo, miglior/peggior concerto, gossip, ecc.


Concerto più bello: con il Shanti-Powa-Orchestra al Miracle Hill 2012 davanti a un pubblico che spaccava troppo e alla festa del 20° compleanno del papperlapapp (13.10.2012) nella storica sala concerti, gremita di gente cha ballava!!
Siamo troppo positivi per esperienze brutte!
9.Contact
bertrandrise@hotmail.de
soundcloud/ShantiPowa
333 5265182 (Berti)
Ascolta la canzone make a move
Dal 14 dicembre puoi acquistare qui il CD Bz – Under the ground