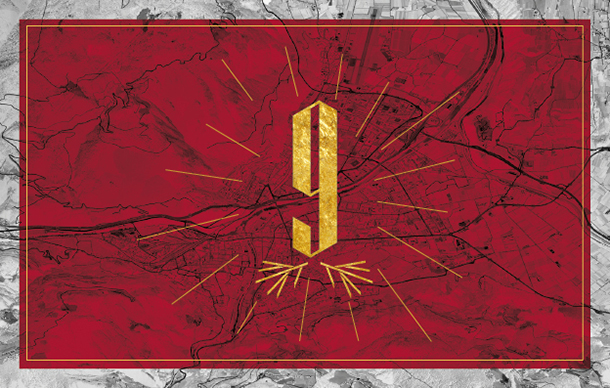 December 9, 2012
AdventsKalender #9
Franz und Papperlapapp haben ihn, für euch! Den einzigartigen Rock-AdventsKalender! Denn der Jugendtreff in Bozen wird heuer 20 Jahre alt oder jung und wir öffnen hier jeden Tag bis zum 24. ein Rock-Fensterchen. Hinter jedem verbirgt sich eine Südtiroler Band inklusive Song, die von 2002 bis 2012 im Papperlapapp Geschichte geschrieben hat. Alle Songs gibt es übrigens auch auf der CD BZ – Under the ground – die gibt's ab 14. Dezember hier zu kaufen. Also dann, viel Spaß in der stillen Zeit mit lauter Rockmusik!
1. Bandname MY BOY IS OUT OF TOWN
2. Musikrichtung Female Punkrock
3. (einheimische) Bands, die die Musikrichtung beeinflusst haben Ramones, Misfits, Bikini Kill, Distillers, Stereototal
4. Gründungsdatum 2005
5. Datum der Bandauflösung (sollte es die Band nicht mehr geben) 2010
6. Grund der Bandauflösung Persönliche Diskrepanzen
7. Bandmitglieder und Instrument
Verena Telch – Schlagzeug
Siegrun Plattner – Bass
Alexandra Oberhofer – Gitarre, Stimme
Laura Pilloni – Stimme (2008–2009)
Jenny Friso – Stimme (2009–2010)
8. Aus welchen "historischen" Vorgängerbands stammen die einzelnen Musiker und in welchen (neuen) Bands haben sie weitergemacht (im Fall einer Bandauflösung), oder gab es zeitgleich Nebenprojekte
Verena: Bierbillys;
Alex: Moonstruck.
9. Adresse (Stadtviertel) des Haupt-Proberaums der Band Vittorio-Veneto-Str. (No Choice), Rombrücke, papperlapapp, Leifers
10. Welche Rolle spielte das "papperlapapp" im Leben der Band Probenraum, 1. Konzert (mit BOUND-Reunion)
11. Anekdoten: schlimmste und schönste Erfahrung im Laufe des Bandlebens, bestes/schlechtestes Konzert (warum?), Klatsch und Tratsch Der Bandname war eine schwere Geburt! Anfangs spielten wir nur so zum Spaß und brauchten keinen Namen, als das Ganze dann aber konkretere Formen annahm, musste ein Name her!
Wir hatten so viele verschiedene Ideen und Vorstellungen, dass wir uns nicht einigen konnten und das erste Konzert namenlos spielten (2008 im papperla als Vorband bei der einmaligen Bound-Reunion).
Am selben Abend bekamen wir ein Angebot kurz darauf ein Konzert mit der Band Headed Nowhere im Juze Lengmoos zu spielen, das war sicher eines unserer lustigsten Konzerte.
An dem Tag waren wir schon am frühen Nachmittag ohne unsere Freunde dort und hatten einen Riesenspaß.
Alex hatte einen Button an der Jacke mit dem Schriftzug "My boyfriend is out of town" und Laura fand den Spruch für diesen Nachmittag sehr passend (es kam nämlich sehr selten vor, dass nicht wenigstens einer unserer Freunde als Support dabei war) und auch so lustig, dass sie ihn als Bandnamen vorschlug und Alex daraus ein Plakat für den Abend gestaltete und so war unser Name geboren.
Später kürzten wir den Namen auf "My Boy Is Out Of Town".
12. Info www.myspace.com/myboyisoutoftown
Song do or die anhören.