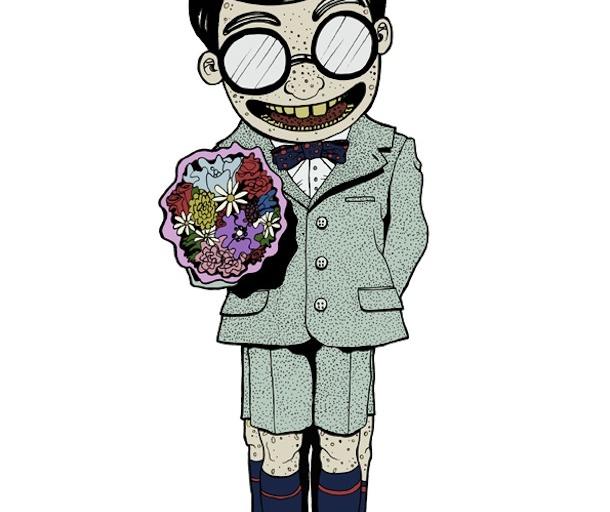 October 15, 2012
Sons of Chernobyl, Vernissage am 18. Oktober @ Aretè, Bozen
Macabri, inquietanti con un pizzico d'ironia. Così si presenteranno le piccole creature della giovane illustratrice Silvicius, allestiti dal 18 al 28 ottobre presso il ristorante Aretè in piazza parrocchia a Bolzano. La mostra Sons of Chernobyl fa parte del progetto Art è donna // Art ist Frau, promosso dall'Assessorato alle Pari Opportunità del Comune di Bolzano. Tra settembre 2012 e maggio 2013 saranno esposti i lavori di 9 giovani artiste under 30 della zona: Arianna Burato (20/9-30/9), Silvicius (18/10-28/10), Guoda Taraskeviciute (15/11-25/11), Emanuela Laurenti (13/12-23/12), Petra Caldonazzi (24/1-3/2), Lara Rasom (21/2-2/3), Maria Elena Luciani (21/3-31/3), Giulia Milan (18/4-28/4), Elisa Grezzani (16/5-26/5).
Sons of Chernobyl è la metafora di ciò che potremmo diventare o di ciò che forse già siamo, nata dal fatto che molto spesso, dietro ad un apparente benessere, si cela qualcosa di subdolo e malsano ma necessario per sostenere il nostro stile di vita. Il titolo della mostra riprende il nome di un EP dei Kyuss (Sons of Kyuss), gruppo rock californiano degli anni 80 e 90, conosciuto anche sotto il nome Katzenjammer.
Ein Jammer wird die Ausstellung wohl nicht sein. Silvicius ist eine Allrounderin: Allrounderin im physischen, als auch im künstlerischen Sinn. Die 26jährige lebte in Bozen und Leifers, Bologna, Berlin, Florenz und London und ließ sich dort hauptsächlich von der jeweiligen Street Art inspirieren. Abseits ihrer Begabung, erlernte sie das Handwerk an der academia delle arti digitali NEMO in Florenz. Ihre künstlerischen Arbeiten bewegen sich in den Bereichen des Comic-Designs und der Illustration, der Fotografie, Animation und Street-Art
Vernissage: 18. Oktober / ottobre / Oktember, ore 17.00 Uhr, Restaurant & Bar Aretè, P.zza Parrocchia Pfarrplatz 28, Bozen Bolzano Bulsan.