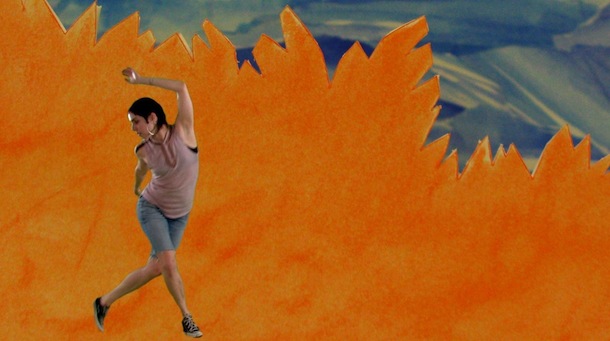 August 16, 2012
Willkommen im Hotel Amazonas, Elizabeth Ward
Elizabeth Ward aus den USA lässt in ihr Schaffen blicken:
Born June 9, 1977 in Detroit, Michigan. Currently based in Brussels, Belgium. Elizabeth Ward works as a choreographer, performer, and teacher.
Her work centers on questions of how the dancer (or citizen) is produced. Dance training is one of the many ways that bodies are produced in society. When a child attends a dance class they learn much more that how to spin or jump. Notions of the body, what is deemed normal and beautiful, both in terms of acceptable proportions and the manner in which these bodies move, in addition to attitudes around authority, hierarchy, and discipline are underlying lessons being transmitted. Beginning with the assumption that ideologies are embedded in aesthetics, central to her current research is the question of how do we wish to be with one another? Influenced by the disparate lineages of classical ballet, postmodern dance the emmerged from New York's Judson Church, and contemporary conceptual dance, Elizabeth aims to amalgamate a dance practice that is rooted in the intelligence of the dancing body passed down through western dance training without blindly reproducing elements of disciplinary control historically embodied in it.
"My desire at the Hotel Amazonas is to continue in a daily movement practice and engage in a writing practice as a means to plan for my upcoming working period. From the Hotel Amazonas I go to Sweden to continue working with my collaborators Liv Stand and Andrea Creutz on a workshop around the embodied nature of everyday capitalism. Immediately before coming to Italy I will have just completed a three week Choreographer's Venture with Claudia Bosse entitled "Your Energetic Democratic Body!" These projects have a great overlap and I wish to use the time in the Amazonas to document my thoughts around the Energetic Democratic Body in preparation for the work in Stockholm. I would also love to share my movement practice with any and all interested parties!"
Hotel Amazonas ist eine temporäre einmonatige KünstlerInnen-Residenz, installiert auf dem Aspmayr-Hof in Wangen am Ritten in Südtirol. Der ehemalige Bauern- und Gasthof wird ab Montag, 6. für den gesamten August umfunktioniert und zum Unterschlupf für Kunstschaffende und -forschende – parallel zur Residenz werden wir sie und ihre Arbeit in den kommenden Wochen auf Franz vorstellen. Zum Residenz-Tagebuch geht's hier: hotelamazonas.tumblr.com.