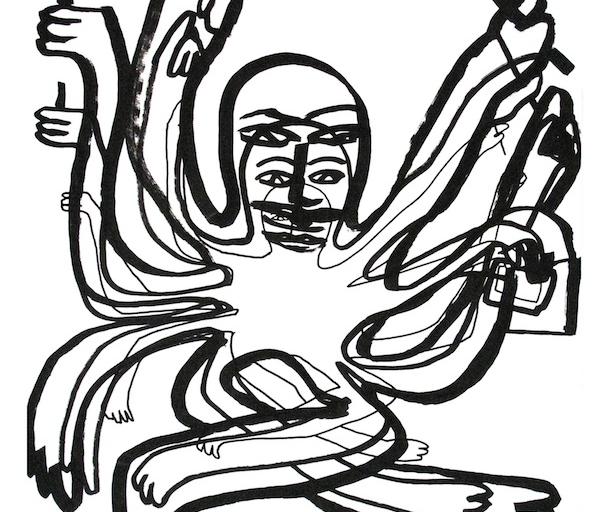 August 10, 2012
Willkommen im Hotel Amazonas, Amélie de Brouwer
Das Wort an Amélie de Brouwer aus Belgien:
"My work is based upon the tradition of painting. The notion of Painting, the concept of being an Artist and the discontinuity of history of Art are all different reflexions who are involved in my visual work. This goes beyond the use of the medium and are stimulations for small observations. The pictorial medium is not the goal, my work is more a combination of observations, questions and plastic experiments. I don't want to make photography with the pictorial medium, I am more intrigued by the deformation/translation of my personal vision of the world.
Every form that i observe, every idea, every question can be a start for a new visual game. Afterwards these different materializations confront each other and create a new hierarchy within the pictorial space. My view is attracted by small things who can be funny, incongruous or appealing by plastic qualities. Looking for these small memories and the necessity of fixing them with paint, act simultaneously in my working process.
How to be a romantic (painter) during global warming?
The project of this residency, in this environment takes me directly in a reflexion about the impossibility of being a painter «d'après nature» today.
Not in the idea of finding a result but more in the process and its obstructions as a result.
Some examples of questions who can be a start for experiments: How to fix a support/ paper without professional material in an outside space? How to be a contemporary painter in pure nature?
How can i work without controlling natural light? Like in the dark, the rain, the storm…, and the consequences to the work. How can i hang in an inside space a work made outside? What was the impulse of Matthew Barney's «drawing restraint»? What does «the energy of Nature» mean and how can it influence my work who starts as a game with the impossibility of working outside? How will be the work of Cezanne if he was living now in a city like Shanghai? How to be a romantic (painter) during global warming?"
Born in 1980 (Belgium). Lives and works in Brussels and Antwerpen. Mastered visual Arts, option Painting at E.N.S.A.V. La Cambre in 2009 (Brussels). She participated in several group exhibitions: "Taxandria, a feast of friends", Turnhout 2011; "Kapsaloniki", s'Hertogenbos 2012; "so far, so good" with Lieven Segers and Walter Swennen in Amsterdam 2012; "Pop-up and artistic link" Brussels 2012.
Hotel Amazonas ist eine temporäre einmonatige KünstlerInnen-Residenz, installiert auf dem Aspmayr-Hof in Wangen am Ritten in Südtirol. Der ehemalige Bauern- und Gasthof wird ab Montag, 6. für den gesamten August umfunktioniert und zum Unterschlupf für Kunstschaffende und -forschende – parallel zur Residenz werden wir sie und ihre Arbeit in den kommenden Wochen auf Franz vorstellen. Zum Residenz-Tagebuch geht's hier: hotelamazonas.tumblr.com.