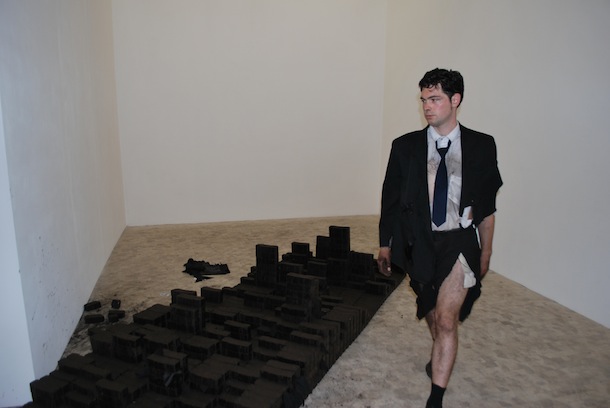 August 9, 2012
We are Panorama4: Leander Schwazer
Born 1982 Sterzing/Vipiteno (I). 2012–2014 California Institute of Art, Los Angeles (US). 2005–2008 University of the Arts, Zurich (CH). 2007–2008 Central Academy of Fine Art, Beijing (CN). 2008 Bachelor of Fine Arts in fine Art, Unversity of the Arts, Zurich (CH). 2012: The Alphabet I got dry with (1989-2010), Kunstraum B, Kiel (D); The Rape of Europe, ar/ge Kunst / Galerie Museum, Bolzano (I); A Symbol of Freedom, Placentia Arte, Piacenza (I). 2011: Leander Schwazer: Das Kapital, Alumix, Transart Festival, Bolzano (I) [Performance]. 2010: Characters, Goethe2 Gallery, Bolzano (I) [Cat.]; Aither, with Garret Nelson, Van Horbourg Art in Space, Basel (CH). 2007: Besitzen, Goldbarren Zürich (CH).
Deine erste Erinnerung, was Kunst betrifft? Kasperletheater, Kindergarten Wien.
Welche (Kunst)Veranstaltung hat dich am meisten beeindruckt und dein Leben verändert? Heilige Messe.
Wo hast du deine Ideen? Im Herzen.
Kulturelle Freuden? Dialog.
Dein Lieblingskünstler? Wolfgang Voigt.
Was heißt es, Künstler zu sein? Lebenskünstler zu sein.
Kunst ist? Leben.
Deine erste Ausstellung? Transfer, 2003, Künstlerbund Bozen.
Liest du? Welche Zeitungen? Spex.
Welche Musik hörst du? Gute Musik.
Wenn dein Leben ein Film wäre, wer würde Regie führen? Ich.
Was gefällt dir an Südtirol? Die Berge.
Was gefällt dir an Südtirol nicht? Das Meer.
Was bedeutet es, Südtiroler/Südtirolerin zu sein? Näher dem Himmel zu sein.
Welche Ausstellung oder welchen Künstler möchtest du in Südtirol sehen? Erkki Kurenniemi.
Von hier aus ist die Welt… so gross und schön.
Was macht dich glücklich? Bescheidenheit.
Was macht dich unglücklich? Dummheit und Neid.
Panorama4, Neue Kunst in Südtirol, Arte nuova in Alto Adige, Ert nueva de Südtirol, www.provinz.bz.it/panorama. 
Foto: reKords, Stadtgalerie Kiel 2011