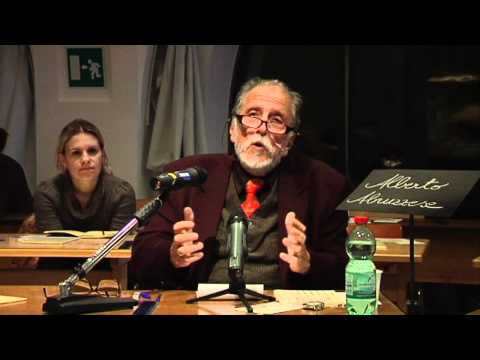 November 14, 2011
La Classe dell'arte. Per rivivere il terzo appuntamento
LA CLASSE DELL'ARTE
Terzo appuntamento:
Mercoledì  26 Ottobre  2011
L'arte è un linguaggio universale? Racconta la tua storia, identifica le tue origini, ti appartiene? Quanto costa e quanto vale l'arte? Se tuo figlio volesse fare l'artista, cosa penseresti?

Sono intervenuti
Alberto Abruzzese, professore di sociologia dei processi culturali e comunicativi, saggista, Milano, Roma.
Stefano Baia Curioni, professore di storia economica, Vice Presidente del centro ASK,
Laboratorio di ricerca sulle istituzioni artistiche e culturali, Milano.
Ugo Morelli, professore di Psicologia del lavoro e dell'organizzazione
e di Psicologia della creatività e dell'innovazione, direttore del Master of Art and Culture Management di Trentino School of Management, Bergamo, Trento.
Padre Urban Stillhard, superiore del convento Muri Gries, referente musicale della diocesi di Bolzano, critico culturale del quotidiano Dolomiten, Bolzano.
Modera:
Paola Tognon
A FRANZ PRODUCTION
Direction: Anna Quinz
Shooting: Matteo Berto, Ermanno Zanella
Editing: Eugen Cela
Motion graphic: Matteo Moretti