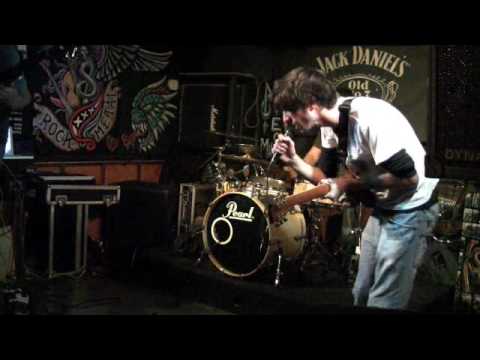 November 9, 2011
Dove il rock alternativo diventa post
Oscure atmosfere fra psichedelia e post rock, granitici riff sludge, incursioni nel math rock, nel jazz e nel post-hardcore. Sembra che sabato ci sarà molta carne sul fuoco al Vintola 18: l'agenzia di bo
oking locale Poison For Souls ci propone due delle realtà più interessanti del panorama post italiano, reduci entrambe da un'intensa attività live e, non per ultima, da una memorabile performance allo scorso AntiMtvDay bolognese.
I Valerian Swing sono un giovane trio attivo dal 2005 che, forte del proprio ultimo lavoro "A Sailor Lost Around The Earth" (fra l'altro registrato a Seattle da Matt Bayles, già collaboratore di Mastodon, Isis, Botch, Pearl Jam), ci catapulta in un caotico scontro fra aspri riff alla The Dillinger Escape Plan, echi alla Russian Circles, e atmosfere che spaziano fra ambient, jazz ed elettronica, il tutto scandito da un eclettico susseguirsi di dissonanze, cambi di tempo e di velocità. La rottura degli schemi musicali in salsa italiana forte di una produzione americana di tutto rispetto.
A seguire gli Ornaments, una spirale di psichedelia post rock fra Godspeed You Black Emperor!, Cult Of Luna e Pelican. La band modenese, da poco riunita, sforna con l'ultimo validissimo EP (scaricabarile gratuitamente dal loro sito) quattro monolitiche tracce che disegnano atmosfere cupe, ipnotiche e riflessive, forti di suoni densi e coinvolgenti, incanalati in una sempre più crescente tensione espressiva. Un "must see" live. In apertura, da non perdere, la sinergia fra violino, piano e percussioni del trio jazz-folk-rock strumentale bolzanino VeryShortShorts.
Valerian Swing + Ornaments + VeryShortShorts
Sabato 12 novembre
Vintola18, via Vintola 18, Bolzano
Open Doors: 20:30
Entrata: 8,00 €
info@poisonforsouls.com