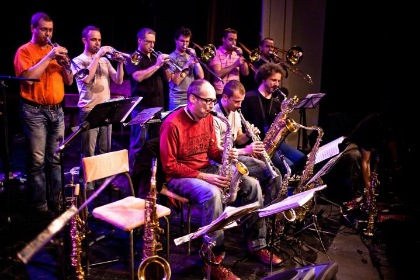 October 28, 2011
Collectiv Le Bocal: Zappa (e non solo) di alto livello
L'Anreiterkeller di Bressanone, sede del Gruppe Dekadenz, ha ospitato giovedì 26 un concerto memorabile sotto diversi punti di vista, che ha visto l'afflusso di un pubblico tanto selezionato quanto privilegiato. Il piccolo palco della cantina sita in via Angelo Custode ha ospitato i ben 12 componenti del collettivo Le Bocal, una big band francese, che senz'altro è da annoverare nel novero delle formazioni più interessanti dell'intero panorama europeo del "jazz and other".
Le proposte jazzistiche del Dekadenz, curate da tempi ormai immemorabili da Norbert Dalsass, offrono spesso vere e proprie chicche che spaziano, grazie a dio, nel vastissimo panorama della musica improvvisata internazionale. Le Bocal – nello specifico – è una formazione che fin dalla sua nascita si rifà ad un approccio "progressive" sia del repertorio per big band, che del modo di "stare" nella musica e sul palco. E' attraverso questa traiettoria, tutt'altro che frequentata, che i musicisti francesi sono giunti alla decisione, intrapresa già nella prima fase della loro attività, di confrontarsi con uno dei repertori più difficili ed affascinanti, oggi sempre più un vero e proprio "classico" della sperimentazione e creatività. Stiamo parlando delle composizioni di Frank Zappa, il musicista americano scomparso 18 anni fa, che fu una vera e propria bandiera dell'iconoclastia, praticata sia nelle forme musicali praticate che nel modo di "essere" musicista.
La cosa più interessante di Le Bocal è che, fin dai primi secondi delle loro performance, si capisce che per la formazione l'incontro con la musica di Zappa è stato un passo obbligato, ma anche una sfida da vivere fino in fondo. L'approccio con le 6 composizioni del musicista di Baltimora proposte al Dekadenz è risultato assolutamente solido, perché giustamente e significativamente "libero" come l'autore originario avrebbe naturalmente raccomandato. Dunque The Idiot Bastard Son, Cosmik Debris, King Kong, Mr. Green Genes, Zoot Allures e The Duke of the Prunes hanno deliziato i presenti, diventando l'ideale prologo ad una seconda parte della performance dedicata invece alle composizioni originali del gruppo, molto interessanti e varie. L'insieme, la sintonia e l'ironia sul palco hanno fatto il resto, andando di pari passo con l'encomiabile approccio dei solisti durante i brani. Lo dobbiamo dire a chiare lettere: nei soli – con la sola eccezione del formidabile chitarrista Cyril Moulas, giustificato – non hanno mai fatto capolino tecnicismi e pattern. Ogni nota dunque è stata messa sul piatto, tra lo stupore del pubblico, con una sincerità davvero fuori dal comune e senza fare ricorso al "mestiere".
Insomma: speriamo davvero che il collettivo Le Bocal abbia occasione in futuro di ritornare alle nostre latitudini per sciorinare un po' del suo modo di fare musica, tanto maturo da essere – oggi – quasi stupefacente. Con i tempi che corrono non è poco. Anzi è molto. Moltissimo.