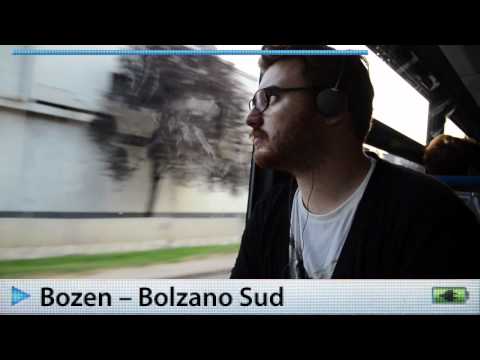 September 23, 2011
How to get to franzPlatz #4
Wie groß ist Bozen? Wie weit sind die einzelnen Plätze in der Stadt voneinander entfernt? Unterstehen räumliche Distanzen einer objektiven oder subjektiven Vorstellung? Franz verbindet Bozner Plätze miteinander und verwandelt sich von einem virtuellen Platz im Web in einen echten, erlebbaren Platz. Am 24. September veranschaulicht FranzPlatz im Ex-Alumix, wie einfach es ist, Orte und Personen einander nahe zu bringen. Online auf franzmagazine.com wird Franz aufzeigen, wie man und frau im Takt der Musik ins Ex-Alumix zum Clubbing kommen. Wieder zurück nach Hause hingegen können alle mit dem Franz-Shuttlebus fahren.
Quanto è grande Bolzano? Quanto distano tra loro le piazze cittadine? Le distanze geografiche tra i luoghi sono una realtà oggettiva o relativa? Franz collega tra loro le piazze di Bolzano, e si trasforma, da piazza virtuale nel web a vera e propria piazza fisicamente fruibile. La FranzPlatz si troverà, nella serata del 24 settembre, all'interno dell'Ex-Alumix, e testimonierà, attraverso installazioni video, quanto poco ci voglia per avvicinare luoghi e persone. Franz racconterà su franzmagazine.com come arrivare, a tempo di musica, fino alla location del clubbing, e metterà a disposizione di tutti i partecipanti un servizio Shuttle per tornare a casa a fine serata.
How to get to the clubbing?
Check it out on franzmagazine.com
How to get back home?
With our Shuttle Bus Service
Tutti i "parteciperò" su Facebook, sono in lista Franz: ingresso ridotto a 10 €!
Mit "Ich nehme teil" auf Facebook bist auf der Franz-Liste und zahlst nur 10 € Eintritt!
Concept: Elisa Bergmann, Simon Cazzanelli, Anna Quinz, Kunigunde Weissenegger
Video performance: Gloria Abbondi, Elisa Bergmann, Simon Cazzanelli, Isacco Chiaf e Tobia De Marco
Space design: David Duzzi
Thanks to Gärtnerei Schullian, Lorenzo Greco, Sarah Orlandi