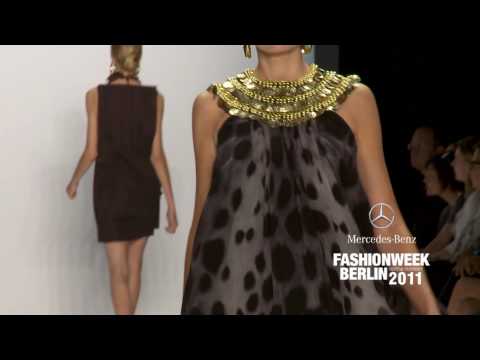 July 9, 2010
Dimitri: da Merano alla Berlin Fashion Week
D'accordo, Berlino non è Parigi, non è Milano, non è New York. E d'accordo, ormai quasi ogni città nel mondo ha la sua fashion week, dunque come decidere quale è su e quale è giu?
Resta però il fatto che Berlino è il centro dell'Europa, è una città dove tanto succede e tanto succederà. Berlino è povera, si, ma anche e soprattutto sexy, come ha ironicamente dichiarato il suo visionario sindaco. Ed allora, Berlino, può essere città perfetta anche per la moda, perché la moda, che povera non è certo, è comunque sexy, o se non altro uno dei mondi in cui l'essere sexy conta di più.
Questa premessa, per dire che,sfilare a Berlino, durante la Mercedes Benz Fashion Week (ecco la prova che anche in una città povera, la moda è ricca: la fashion week qui, e non solo qui, porta il nome glorioso di un brand che non ha bisogno di presentazioni, per fama e per economia…), non è niente male. Lo sa bene Dimitri Panagiotopoulos, stilista meranese di origine evidentemente greca, che oggi, alle ore 15.00 ha presentato, davanti a un prestigioso parterre (Anna Wintour non c'era. Ndr), la sua collezione per la primavera/estate del 2011.
La donna di Dimitri, è un po' gipsy, una moderna gitana metropolitana, che sa coniugare dettagli, accessori e stoffe etniche, con elementi strutturati e decisamente "urbanizzati". Insomma, un po'Kusturica un po' Sex and the city. Forse l'ispirazione non è particolarmente innovativa, ma si sa, nella moda come nella vita, nulla si crea nulla si distrugge, e tutto si trasforma. Dunque, perché no? Se poi i tagli, le forme, i colori, e soprattutto la fattura dei capi è di buon livello, tanto meglio, ed in questo caso, lo è. Dunque welcome back ad un altra interpretazione di  Esmeralda , che con sensualità e raffinatezza "per scherzo girò la sua gonna e si mise a danzar" (cantava Vinicio Capossela…).