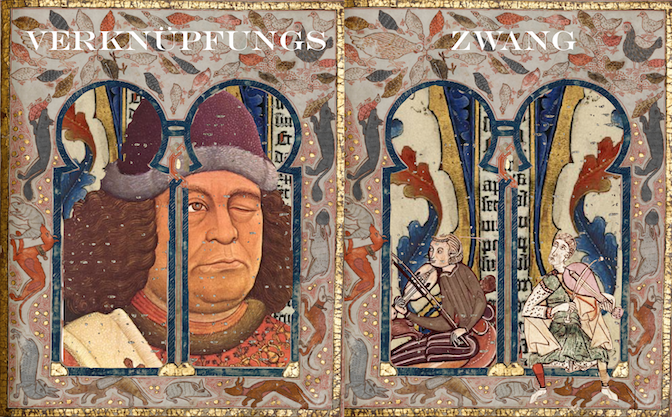 December 27, 2018
Verknüpfungszwang #09: Der Einaug wolt besehen, wie die Welt wer gestalt
I narremi londinesi della compulsione scorsa sono già lontani. Stiriamo insieme le pieghe del caos per rendere l'anelito alla conoscenza di oggi un'ordinata nevrosi. Scendiamo nuovamente al secondo piano della biblioteca, sezione 'poesia in lingua tedesca'. Riacciuffiamo il controverso libro in questione. Leggiamo.
Oswald von Wolkenstein, nacque intorno al 1377 probabilmente a Castel Schöneck presso Falzes. Discendente di una nobile famiglia originaria di Silandro, Oswald trascorse il primo decennio della propria vita presso Castelvecchio. Da un suo lungo componimento apprendiamo, seppur con l'aggiunta di coloriture di sapore mitico-fantastico, molte informazioni circa la sua avventurosissima vita. Eccone il primo e l'ultimo paragrafo.
 I.
Es fuegt sich, do ich was von zehen jaren alt,
ich wolt besehen, wie die welt wer gestalt,
mit ellend, armuet mangen winckel, haiss und kalt,
hab ich gepaut bey cristen, kriechen, haiden.
Drey pfenning in dem pewtel und ain stucklin prot,
das was con haim mein zerung, do ich loff in not.
Von fremden freuden so hab ich mangen tropfen rot
Gelassen seider, das ich wandt verschaiden.
Ich loff ze fiess
Mit swerer puess,
pis das mir starb
mein vater zwar,
vol vierzen jar
nye ros erwarb,
wann ains raubt, stal
ich halbs zu mal
mit valber varb
und des geleich schied ich davon mit laide.
Zwar renner, koch
so bas ich doch
und marstaller,
auch an dem rue-
der zoch ich zue
mir, das was swer
in kandia
und anderswa
auch wider här
vil mangen kytel was mein pestes klaide. 
VI.
Ich han gelebt wol vierzigk jar, leicht mynner zway,
mit toben, wüeten, tichten, singen mangerlai,
es wer wol zeit, das ich mein aigen kindes geschray
elichen hört in ainer wiegen gellen.
So kann ich der vergessen nimmer ewigkleich
die mir hat geben muet auf diesem erterlich
in aller werlt kund ich nit vinden iren gleich,
auch furcht ich ser elicher weibe pellenn.
In urtail, rait
vil weiser hat
geschätzet mich,
dem ich gevallen
han mit schallen
liederlich.
Ich wolkenstain
leb sicher klain
vernünftlich,
das ich der werlt also lang begynn zu hellen.
Und wol bekenn
ich waiss nit, wenn
ich sterben sol,
das mir nit scheiner
volgt wann meiner
werche zol.
Het ich dann got
zu seinm gebot
gedient wol
so vorcht ich klain dort haisser flamme wellen. 
All'età di dieci anni Oswald abbandonò l'Alto Adige e partì per un viaggio che lo condusse dai paesi scandinavi a quelli arabi. Fece ritorno a casa intorno al 1400 quando morì suo padre. Dopo essere stato nominato gonfaloniere del duomo di Bressanone fu al servizio dell'Imperatore Sigismondo che lo condusse al Concilio di Costanza e gli affidò numerose missioni diplomatiche. Oswald si ritirò nel prolifico ozio del componimento poetico e musicale trascorrendo gran parte della sua maturità presso l'Abbazia di Novacella. Morì a Merano nel 1445. Secondo il suo volere, venne sepolto nel chiostro del duomo di Bressanone, dove ancora oggi una lapide lo ritrae in abiti cavallereschi.
Al di là dello spirito goliardico delle canzoni di Oswald risuona un amaro riso. Se è vero che l'irrefrenabile desiderio di viaggiare contraddice la prospettiva di una vita oziosa, è vero anche che alla frenesia Oswald preferì la quiete dell'Alto Adige, terra alla quale fece ritorno per musicare e morire.
Come per tutti gli eroi, anche numerosi dettagli della vita di Oswald sono più leggendari che legittimi. Un esempio é la leggenda che lo vorrebbe privo di un occhio a causa di un colpo di freccia subito durante un carnevale. Questo mito valse a Oswald l'appellativo di "Einauge" o "Der mit dem einen Auge". In realtà, Oswald era nato con l'orbita destra anomalamente piccola e con il tempo l'occhio si chiuse a causa dello sforzo. Il mito, caro lettore, è sempre un esteta. Il mondo, invece, puzza.
Concludo suggerendo di ascoltare la musica di Oswald ai seguenti indirizzi.
Oswald von Wolkenstein: "Songs of Myself" 
Knightly Passions: The Songs of Oswald von Wolkenstein  
The Cosmopolitan: Songs by Oswald von Wolkenstein 
Alla prossima connessione! Alla prossima compulsione! La conclusione.
Immagine: Allegra Baggio Corradi/franzmagazine