November 30, 2017
Performance on the road: Grand Tourtours durch Schwaz, Innsbruck, Bozen …
Achtung, das ist keine Kaffeefahrt, hier wird dir keine Matratze dargeboten und du bekommst auch kein billiges Gratis-Buffet. Oh nein, hier geht's ums Drehen (Tour) und Verrenken (Tortur). … ein bisschen geht's dann doch um Abgenutztes … Die länderübergreifende Performance-Reihe "Grand Tourtours" fährt alte Handelsrouten ab, rollt durch die Städte Wien, Schwaz, Innsbruck, München, Bozen und Graz und ist ein Kunst- und Kooperationsprojekt, initiiert von der Galerie der Stadt Schwaz in Kooperation mit der Klasse Stephan Dillemuth an der Akademie der bildenden Künste in München und der Fakultät für Design und Künste der Uni Bozen – anlässlich des 10-jährigen Bestehens des Fachbereichs Performative Kunst von Carola Dertnig an der Akademie der bildenden Künste in Wien – die Tiroler Künstler*schaft sowie die Halle für Kunst und Medien im Künstlerhaus Graz wirken auch mit.
Staunst du? Diesen Samstag, 2.12. rollt der Kunstsalon auch durch Tirol (Abfahrt um H 11:30 beim Kunstpavillon) und Südtirol (Ankunft um H 16:00 im Uni-Innenhof, um H 18 Performance in Raum C4.06 der Uni, 19:30 Bozen-Bus-Tour). (Am Sonntag, 3. auch nach München.) Immer inkl. Rückfahrt. Bis du bereit? Wir haben die Kuratorin des Ganzen (und Galerie-Schwaz-Direktorin) Cosima Rainer für ein paar fixe Statements erreicht.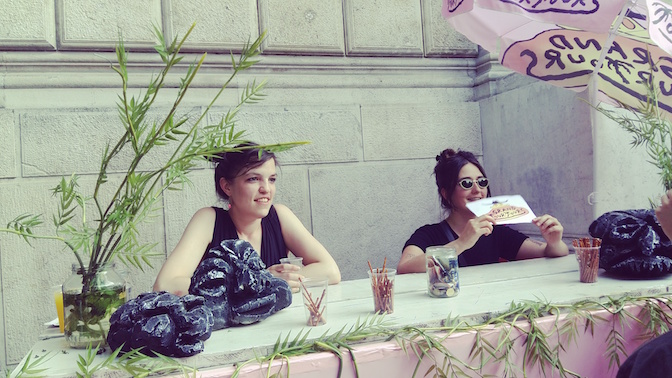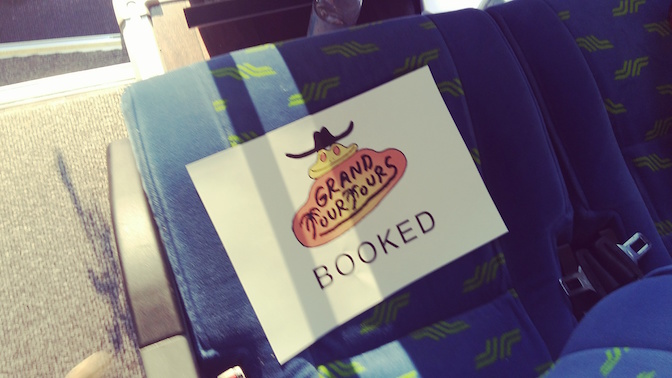 Ist Grand Tourtours eine große Tortur? Warum, wieso, weshalb tut ihr euch und uns das an? 
Grand Tourtours ist eine länderübergreifende Performancereihe, die im Unterwegssein produziert und erfahren wird. Der Innenraum des Performance-Busses selbst ist künstlerisch gestaltet und bietet eine Tour mit Performance-Programm, Musik und Video-Beiträgen. Der Titel ist eine klangliche Verbindung zwischen "Tortur" und "Grand Tour". Er adressiert das Spannungsfeld zwischen introspektiver Selbstfindung und Erfahrungssuche im Außen. Durch die Form der Busreise werden verstärkt Gruppenerfahrungen ins Zentrum gestellt. 
Mit der Performance-Kooperation soll sowohl der sozialen und körperlichen Eigenart von Performance-Kunst entsprochen, als auch ein Europa der Regionen im Bereich der zeitgenössischen Kunst gefördert werden. Das Projekt ist als Auftakt möglicher institutioneller Kooperationen geplant, welche eine alte Transitroute über die Alpen wieder mit künstlerischem Leben füllet. Bereits Anfang des 15. Jahrhunderts war diese Nord-Süd-Route Europas eine der zentralen Handelsrouten zwischen Venedig und Augsburg und blickt auf eine bewegte Geschichte zurück. Im Partnermix sind sowohl Kunstakademien als auch Kunstinstitutionen engagiert. Zur Teilnahme an den Fahrten wird jeweils auch das öffentliche Publikum vor Ort eingeladen.
Was geschah bisher?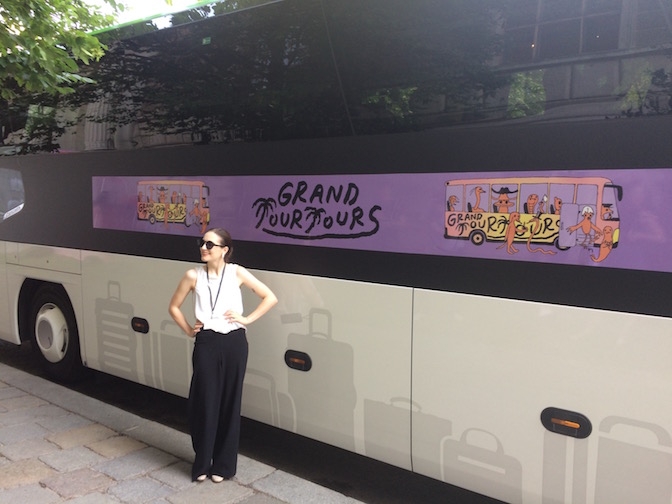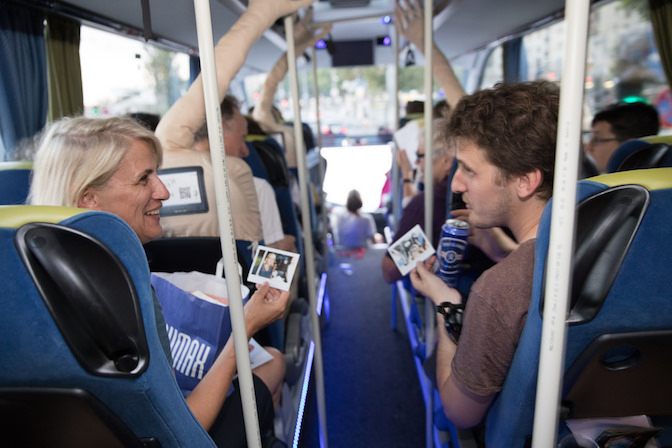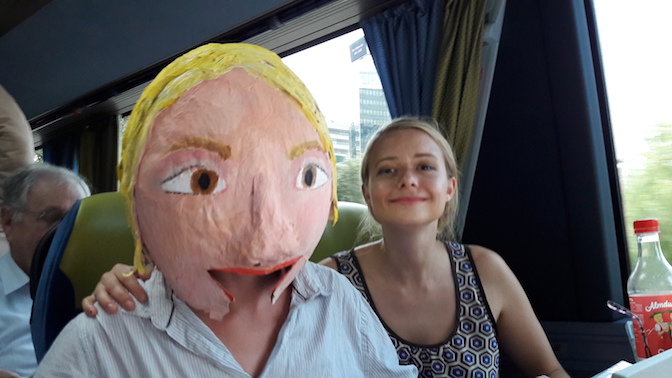 Der Projektauftakt fand am 21. Juni 2017 im Rahmen der 325-JahrE-Feierlichkeiten in der Akademie der bildenden Künste in Wien statt. Der Performance-Bus fuhr dabei vom Hauptstandort der Akademie am Schillerplatz zu den neuen Standorten, die während der aktuellen Umbauphase bezogen werden. Es wurden drei Touren für die Öffentlichkeit angeboten. Nun geht's durch  
Worauf sollten wir beim Zustieg in Innsbruck (Samstag, 2.12. H 11:30 Treffpunkt: Kunstpavillon, Rennweg 8a) und in Bozen (16:00 Ankunft Darwin-Platz Uni-Innenhof, H 18:00 Performance von Nicholas Hoffman "Word of Daucus, World of Doubt" in Raum C4.06 der Uni und 19:30 30-Minuten-Bus-Tour in Bozen mit Treffpunkt im Uni-Innenhof) gefasst sein?  
Auf ein gemeinsames Erlebnis mit: Hypnose, Bang-bang-Bar, Drinks, Live-Radio, Face-Reading, Songs, Begegnung mit der Milchstraße, Gruppenfoto, Fremden, Grenze als Erfahrung etc.
Wer fährt alles mit?
Die Studentinnen der Klasse für performative Kunst Carola Dertnig: Karolin Brägger, Charlotte Gash, Ella Felber, Felix Holzmair, Denise Palmieri, Barbara Pelzelmayer, Titus Probst, Karin Schedlbauer, Stephanie Geneviève Skakkebaek & Maiken Staehr, Mario Strk, Sigrid Mau Thomsen mit Mette Riise Kristensen, Pia Wurzer.
Die Studentinnen der Klasse Objekt-Bildhauerei Julian Göthe: Jamie-Lee S. Gucci-Boss, Cecilie Heldt, Laura Hinrichsmeyer, Line K Meyer, Ann Muller, Stine Olgod.
Die Studentinnen der Klasse von Stephan Dillemuth und Karolin Meunier: Franziska Lütke, Jonas Beutlhauser, Tanja Hamester, Sophie Kuhn, Maria Obermaier, Simone Ganserer, Ashley Lamm, Martin Bogisch, Sophia Köhler, Lorenz Mayr, Elena Haas, Julian Momboisse. 
Anna Haifisch und Nicholas Hoffman mit Laura Pudelek.
Kuratorin Cosima Rainer und Dramaturgin Stefanie Sourial. 
Illustration: Anna Haifisch
Fotos: (1) eSeL.at/Lorenz Seidler; Barbara Pelzelmayer