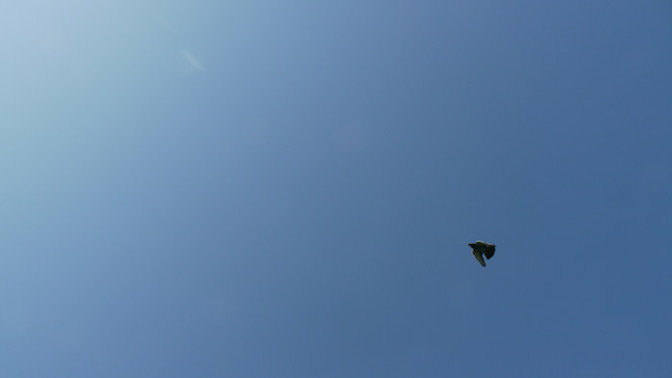 October 22, 2017
Realitäten. PoolPlay taucht nach Pokemons (5/5)
Die interdisziplinäre Sommerakademie PoolPlay taucht dieses Jahr nach Pokemons, ganz traditionell nach den Ortsgeistern hier in Bozen. Am fünften Tage dann die Realität: 
Philosoph Matthias Abram getroffen um 16:02 und bis 16:36 folgende Geister besucht:
//01 Dr. Streiter
Einer der wenigen Liberalen des XIX. Jhd., im Zeitalter des katholischen Obskurantismus, ab 1861 Bürgermeister von Bozen, der die Gasbeleuchtung brachte. Er geistert heute bestimmt noch in der Dr.-Streiter-Gasse, denn sie kamen nachts mit viel Geschrei und Lärm vor sein Haus, um ihn davon abzubringen, nach Frankfurt in die Paulskirche als Abgeordneter zu gehen.
//02 unbekannt
Neben dem Haus des Dr. Streiter ein mit Todsünden und Tugenden bemaltes Haus des XVI. Jhd., welches erst vor kurzem wieder aufgedeckt wurde, und damit auch der Geist des Auftraggebers, der nun den richtigen Moment abpasst, um uns zu erschrecken.
//03 Ludwig Pfenter
Ein in der Kunstgeschichte völlig unbekannter Maler aus Bozen, der in Rom lebte. 1607 ist sein Fresko im Kreuzgang der Franziskaner Kloster datiert. Ein tolles Kunstwerk eines Künstlers im Clinch mit den Boznern, die keinerlei Interesse an ihm und seinenm Wirken zeigen. Während der Pest hatte man das Gemälde zugekalkt aus Angst vor Ansteckung und nun freigelegt ohne jegliche Neugierde. Wann wird man dazu eine Doktorarbeit schreiben? Sein Geist jedenfalls wartet dort auf Aufmerksamkeit!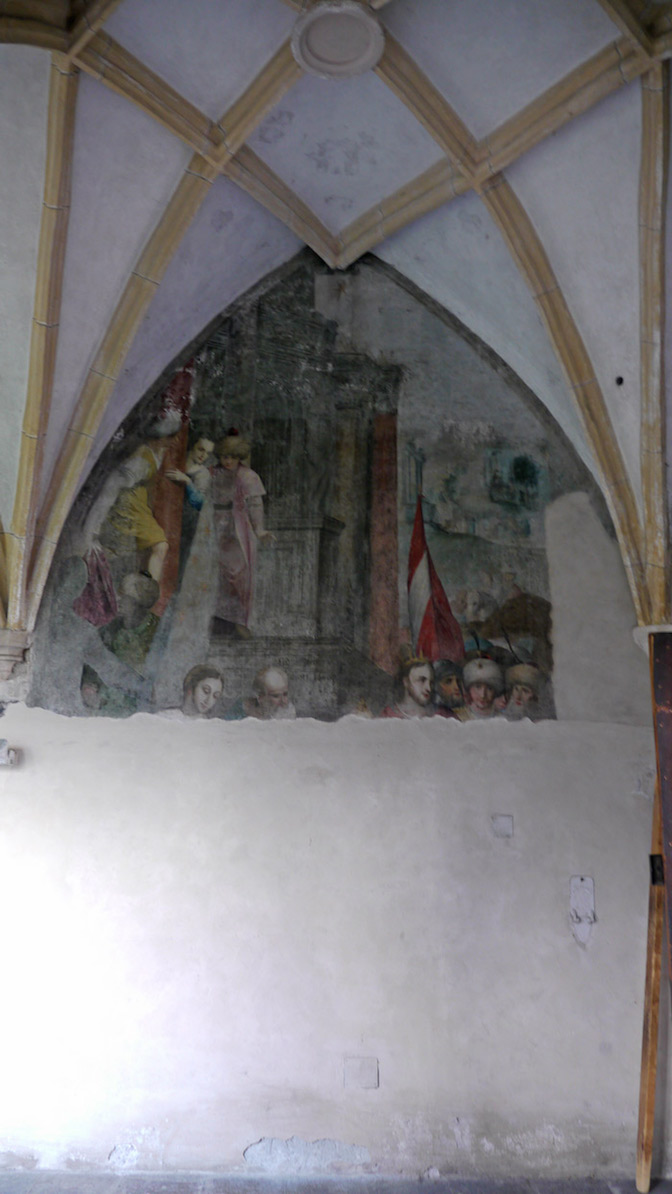 //04 Franz von Assisi
Seine Kapelle im XIII. Jhd. erbaut, angeblich als er mit zwei Begleitern aus Assisi nach Bozen gekommen ist und die Kirche gründete. Sie gilt als Kreuzungspunkt vieler Energien voll von Geistern. Und die Tür geht auf!
UHHUUUUH!
//05 Nationalsozialisten
Das Kloster liegt auf der als "Rattenlinie" bekannte Fluchtroute und diente als Brückenkopf für die heimliche Ausreise von Nationalsozialisten am Ende des Zweiten Weltkrieges. Nach Unterschlupf und Wartezeit auf vatikanische Pässe aus Rom eines tschechischen oder ungarischen Bischofs verließen sie in Franziskaner-Kutte die Stadt 'gen Genua, um sich dort nach Argentinien abzusetzen. (Literaturverweis "Nazis auf der Flucht" von Gerald Steinacher)
//06 Anna von Menz
Zur Zeit, in der Tiroler Bauern gegen die Franzosen kämpften, tanzten die gutbürgerlichen Bozner mit den französischen Offizieren. So auch die reichste Erbin von Bozen Anna von Menz, die sich in einen französischen Offizier verliebte und in die Geschichte als Franzosenbraut einging. Heiraten konnte sie ihn aber nicht, da der Familienrat ihn an die Front schickte, wo er kurz darauf starb. Sie wurde unglücklich verheiratet mit einem älteren Grafen von Sarnthein. Ihr Geist torkelt noch liebestrunken um den Palais Toggenburg.
//07 Andreas Hofer
Gegenüber vom Naturkundemusem war Andreas Hofer eine Nacht im Erker im ersten Obergeschoss eingesperrt, bevor er nach Mantua transportiert und erschossen wurde. So schwebt der Geist unseres guten Andreas Hofer noch heute über die Bozner.
//08 "Fiffi"
In der Bar Sabina verkehrte ein Philosoph, Prof. Dr. Hermann Eichbichler, ein kleines Männchen, unverheiratet, immer in einen Regenmantel gegürtet. "Gehen Sie mit auf ein Glaaaaasl?" fragte er in einem geziertem und antikem Deutsch gerne seine Schüler und nahm sie mit in die Bar Sabina. Er war der Professor, über den man gelacht und den man auch verehrt hat, während man die anderen verlacht und gehasst hat. Sein Geist wirkt hier immer noch, "damit Sie verstehen, was Sie sagen, und sagen, was Sie verstehen … was nicht immer dasselbe ist."
//09 Der verdammte Bürgermeister
Anfang des XIX. Jhd. verkaufte ein Bürgermeister Bozens mit zu dickem Bauch die zu enge Ritterrüstung aus dem XVI. Jhd., welche für die Prozession des Heiligen Georgs einmal im Jahr diente. Eine sehr prachtvolle Rüstung, wahrscheinlich  mit Silberelementen, ein Geschenk des damaligen Landesfürsten Leonhard von Völs, ist heute in einem Museum in Amerika zu sehen. Der Geist des dicken Bürgermeisters muss hier auf dem Rathausplatz rumgeistern und sühnen und hoffentlich heizt der Drachen ihm so richtig ein.
//10 spitzfindiger Bürger von Bozen
Während der Reformation war Bozen eine reiche Handelsstadt mit jährlich drei Messen, wo die Schriften von Luther und Melanchton ihren Weg über oder unter den Ladentischen zu Verbreitung fanden. Am 9. Mai 1525 sollte in Brixen am Dorfplatz der Peter Pässler hingerichtet werden, weil er die Bauern aufgewiegelt hatte. Die Bauern aus der Umgebung von Brixen schafften es aber ihn zu befreien. Am 10. Mai kamen die Bauern auch in Bozen zusammen und fielen aus allen Richtungen in den Rathausplatz ein. In den Lauben standen schon die reichen Geschäftsleute mit großer Angst um ihr Hab und Gut – und mit einem Fass Wein. Nachdem die Bauern schon etwas angetrunken waren, hat ein spitzfindiger Bürger: "Deutschhaus, Deutschhaus" gerufen. Der Deutsche Orden war bei den Bauern besonders verhasst und sie sind alle dorthin, um alles kurz und klein zu schlagen. Das Hab und Gut der Laubenkönige war gerettet und sein Geist freut sich heute noch darüber.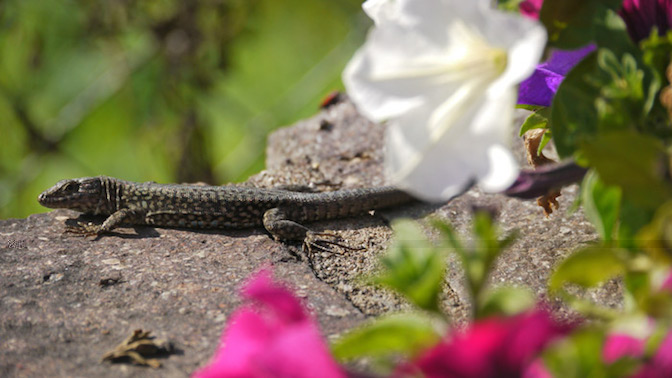 After a walk with philosopher Matthias Abram to visit 10 spirits of Bolzano we went to the other side to meet the ice cream master Paolo Coletto. Backlit hexagons offer tastes like avocado with goat milk, a blend of sud america, mango dal pakistan, liquirizia, …
Just outside of his shop we went into a deep conversation of spirits. "I'm a spirit! Some people don't know about that. People are more and more like machines, because they only live on the surface. First of all you are made of spirit. If you go inwards, it is scary. You need courage to dive through your toilet, your shit. All your defects come from many generations. Those, who live on the surface, are not living a real life. If you have grace, you can live in a different state, in a state of ecstasy. The experience leaves a trace in you. This creates a longing to search for your inner light. I'm not part of any religion, any association or party. Why should I believe in the divine, when I can touch the divine inside myself?!"
Back inside to choose some flavours of ice cream. There is something else transmitted than just milk, sugar and the other ingredients. As we ask for the price, he tells us, that it costs his life. "I'm putting my life into my ice cream!" He is putting also love and passion to make people happy. He is not a machine, he is human. He puts intensity and information, even the ingredients come from personal connections with whom he interacts via a channel. The spirit is passed on into his ice cream. It's absolutely real: "This is me and this is you. We can touch!" The spirit is a door way for human connections, the spirit is to be ready for life. The real ghost is a physical being.
"Everything is a play. There is nothing serious!"