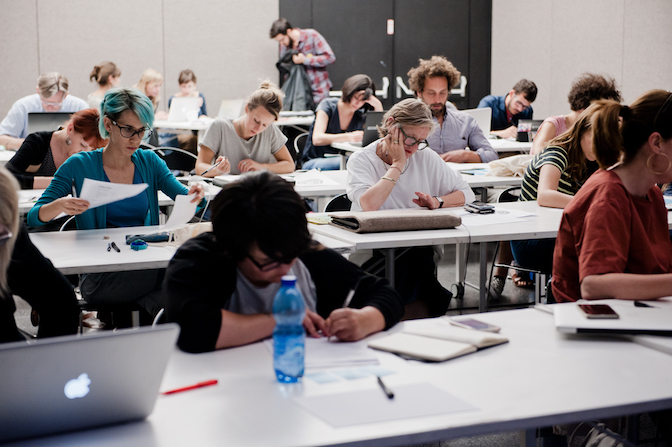 October 11, 2017
La Banda dei Bandi: WS Explora 5 – Raising Culture
Weigh Station – il progetto dedicato alla community di giovani professionisti della cultura e della creatività in Alto Adige – propone due giornate di formazione dedicate a chi è alla ricerca dei fondi per i propri progetti culturali e creativi. L'appuntamento è al Centro Trevi con i docenti di The Fundraising School.
Il settore delle imprese creative e culturali e dei freelancers (liberi professionisti) sempre in questi campi rappresenta una fonte di nuova occupazione giovanile che, anche in Alto Adige, è in continua espansione. Importante diventa quindi acquisire competenze e nuove skills anche al di fuori dei classici percorsi universitari, per portare avanti i propri progetti affidandosi a degli esperti di livello nazionale. Proprio da questa esigenza nasce il ciclo di workshop WS explora, proposto dalla community Weigh Station, un progetto sostenuto dalle Politiche Giovanili della Provincia Autonoma di Bolzano attraverso il bando LED e dal Comune di Bolzano.
Dopo lo scorso workshop di giugno a tema storytelling, il prossimo appuntamento in programma del ciclo Ws explora è "WS explora 5 – Raising culture: come scovare risorse per le organizzazioni e i progetti creativi e culturali attraverso il fundraising" previsto per il 13 e 14 ottobre al Centro Trevi di Bolzano.
Si tratta – come tutti gli explora – di un momento di alta formazione pensato per creare occasioni di approfondimento rispetto alle tematiche più attuali dell'innovazione culturale dedicato ai waller (gli iscritti alla community dei creativi e dei professionisti della cultura), agli enti che si occupano di cultura, arte e creatività a Bolzano e in tutto il Territorio del Trentino Alto Adige e ai singoli interessati. 
Il fundraising (traducibile con "raccolta fondi") è sempre di più lo strumento indispensabile per garantire la sostenibilità delle imprese culturali e dei progetti creativi nel lungo periodo, a patto però di non improvvisare e di conoscere le tecniche del mestiere. Da dove si comincia, quindi, a "fare fundraising"? Il corso di WS, con i docenti di The Fundraising School", propone un approccio innovativo per poter fare raccolta fondi nel settore della cultura con approfondimenti puntuali su tecniche e modalità di coinvolgimento di diverse categorie di possibili sostenitori. Alla lezione frontale verranno intervallati momenti per esercitazioni pratiche.
Nata nel 1999, The FundRaising School è la prima scuola italiana dedicata unicamente alla raccolta fondi con lo scopo di far acquisire ai professionisti delle Organizzazioni Non Profit strumenti, metodologie e competenze necessarie per garantire la sostenibilità dei propri progetti. 
Due le giornate, 16 le ore in aula, il 13 ottobre con la docente Martina Bacigalupi si parlerà di "Fundraising internazionale per le organizzazioni e i progetti culturali": dopo un breve cenno introduttivo su cos'è il fundraising e i diversi mercati, ci concentreremo sulle opportunità internazionali offerte dalle fondazioni di erogazione e dai fondi europei. Vaglieremo i do's e don'ts nello sviluppo di proposte e analizzeremo le modalità di sviluppo di una idea progettuale. Il 14 invece, con docente Marianna Martinoni il tema sarà: "Donatori e sostenitori per la cultura: mercati, strategie e strumenti per fare fundraising in questo settore": come è cambiato il panorama della raccolta fondi per la cultura in Italia? Quali sono i mercati a cui ci si può rivolgere e come possiamo coinvolgere nuovi sostenitori delle nostre organizzazioni culturali? Proveremo a rispondere a queste domande.
L'iscrizione è obbligatoria e aperta ad un massimo di 20 partecipanti, per garantire una buona efficacia del percorso, il costo è di 50 euro totali per entrambe le giornate (30 se si è iscritti a WS wall). Tutte le info per l'iscrizione sul sito weighstation.eu o scrivendo una mail a hello@weighstation.eu. 
Il workshop è presentato anche nell'ambito dell'iniziativa "European Freelancers Wekk" che in ottobre propone 9 giorni di eventi dedicati ai liberi professionisti di tutta Europa per ispirare, connettere, promuovere l'attività dei freelancers e delle nuove professioni.
Foto: WS