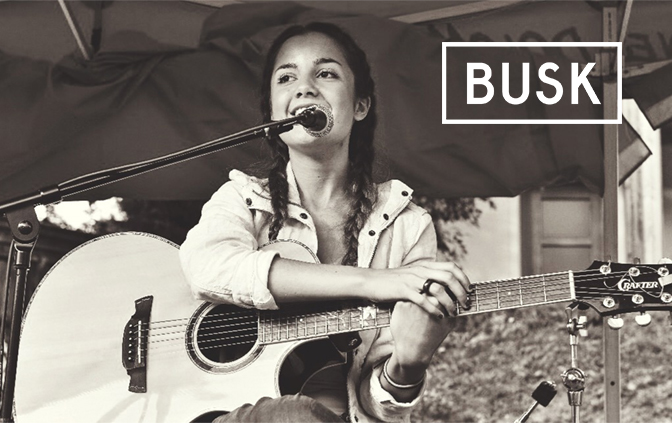 June 15, 2017
BUSK 2017: Martina Iori
On September 9th 2017 we're bringing again buskers and their music out to the streets of Merano. VOTE this profile and YOUR FAVOURITE MUSICIANS by clicking on the facebook like button at the end of the article (this result will be added to a selection made by an expert group). Spread the music!
Nome
Martina Iori
Genere
Cantautorato ladino/pop-jazz/acustico
Luogo di provenienza
Canazei (Val di Fassa)  
Età
21
Il primo contatto con la musica? 
Da sempre fin da piccola in famiglia e in particolare a 8 anni, partecipando allo Zecchino d'Oro con il brano "Magico".
Che cosa ti piace del suonare per strada? 
Buttarsi, scegliere il posto migliore, avere paura di cominciare e allora chiudere gli occhi, preparare le dita sulla tastiera, schiarirsi la voce e pronti via, chi ci ferma più. Mi sento libera, nessuno mi conosce e nessuno è obbligato ad ascoltarmi. Chi vuole si ferma, mi ascolta e forse s'innamora. Il mio pubblico è il più vero e sincero di tutti e alla fine mi batte le mani. Sono tutte immagini e sensazioni che ho nella mente, perché non ho mai fatto l'esperienza di suonare per strada, ma è nella lista de "Le cose da fare" che ho attaccata al frigorifero, e non vedo l'ora.
L'artista o il concerto che ti ha colpito di più e perché?
Un quartetto di ragazzi del Conservatorio di Bolzano con il "Quatuor pour la fin du temps" di Messiaen. Sensazioni ed emozioni fortissime, non so dire se fu il più bello, ma sicuramente fu quello che mi toccò più nel profondo e con un'energia incredibile. Alla fine non riuscivo a muovermi, nemmeno per applaudire. Che forza la musica!
La colonna sonora della tua vita ora? 
La colonna sonora della mia vita ora come ora è "Do it the hard way" di Chet Baker, che pur parlando d'amore, può essere letta in tante altre chiavi e a me ha ispirato molto! Se fai una cosa, falla come si deve, falla bene. A fare le cose un po' così, alla buona, nella versione soft, sono capaci tutti e forse serve a poco. Prendi le tue decisioni e impegnati, ecco il segreto!
Cosa significa per te essere musicista? 
Per quanto possa suonare cheesy, la musica è la mia vita. Essere musicista per me vuol dire respirare, fare quello che amo e offrirlo agli altri, vuol dire mettere in musica la mia lingua che è il ladino e farla conoscere alla gente del mondo, girarlo questo mondo con la mia musica ed essere grata a quel qualcuno che si fermerà ad ascoltarmi. Fino a quando ci sarà qualcuno che mi ascolterà, io suonerò e canterò.
Cosa ne pensa la tua famiglia della tua scelta di fare musica? 
La mia famiglia tutta mi supporta e mi dà la carica per non mollare mai e per continuare a seguire il mio sogno di vivere con e per la musica.
Concerto dei sogni – concerto impossibile: chi vorresti sentire? 
Il concerto impossibile, perché ormai è davvero impossibile, sarebbe quello di Little Walter per le strade di qualche città in Louisiana con la sua armonica a bocca e la sua voce strepitosa. Quello un po' meno impossibile è un concerto di Justin Timberlake.
Aneddoti: la migliore o peggiore esperienza della tua carriera musicale? 
Il concerto più bello e particolare è stato a San Sebastian, nei Paesi Baschi (Spagna), dove insieme al mio trio ho suonato in un ex garage dei vigili del fuoco rivoluzionato e trasformato in un piccolo teatro per concerti e spettacoli. 
Photo: Martina Iori