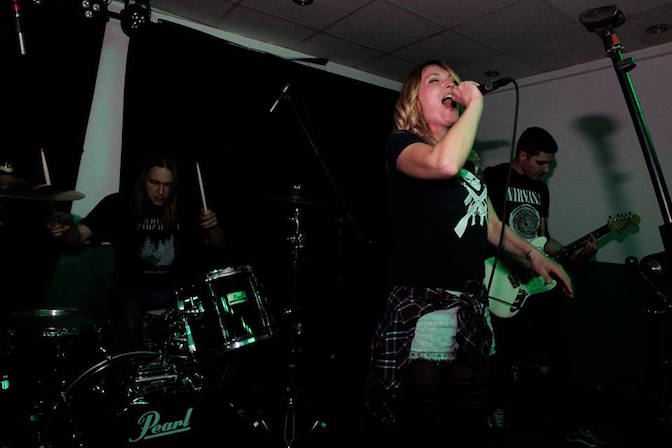 May 30, 2017
Island Of Punk: Resümee eines unvergesslichen Punk-Abends
Man kann mich jetzt als Musikbanause hinstellen, aber ich habe sie nicht gekannt und noch nie live gesehen – die erste Band beim Island of Punk am 5. Mai 2017 in der Insel in Völs, I Jack's Mai aus Meran. Umso größer war dann die Überraschung, als sie die Bühne betrat und mit Leib und Seele ihren Garage Punk raus posaunte, die Besucher aus ihrem ewigen Hin- und Her-Getaumel zwischen Klo und Theke riss und zum Headbangen animierte. Was mir auch sehr gut gefiel, war, dass im Gegensatz zu vielen anderen Punk-Bands, eine Sängerin in das Mikrofon sang, und zwar so, als hinge ihr Leben davon ab – ein gelungener Start in einen geilen Abend.
Während ich dem lieblichen Klang der Gitarren beim Sound Check der nächsten Band lauschte, versuchte ich mich als Thekensurfer, was mir auch ziemlich gut gelang, und hörte immer wieder, wie die Bandmitglieder fluchten, das Mikrofon kreische … Das Problem ließ sich anscheinend nicht so schnell beheben, also legte die Band einfach los, während der Sound Manager sein Bestes gab und es schließlich auch schaffte. An Mikros und Instrumenten standen nun Cementery Drive. Ihr Konzert riss mich, jetzt ehrlich gesagt, nicht so sehr vom Hocker wie die vorhergehende. Der Pop Punk, den sie zum Besten gaben, war mir zu langsam und schwappte nicht so über. … vielleicht hat ein bisschen Schwung gefehlt …? – Aber ich bin auch nicht allwissend und mag niemanden beurteilen – es war eben so. … vielleicht hat mir persönlich auch der Pop-Einfluss nicht so gefallen, diese Art von Musik scheint zum Mainstream Punk zu gehören – sofern es diese Bezeichnung gibt – und nicht so mein Geschmack zu sein. Der "Wow, what the fuck"-Moment hat etwas gefehlt.
Mir entsprechen eher "abgfuckte" Bands, die ihrem Ärger Luft machen, egal was das Publikum davon hält, bei jedem Auftritt die Bühne in den Boden stampfen und dann mit einem zufriedenen Lächeln verlassen. Genauso eine Band waren als dritte an diesem Abend Average aus dem Sarntal: Sie gingen auf die Bühne und rissen sie ab – so soll es sein. Der Sound war perfekt, sie brüllten ihren Ärger raus, dazu noch ein paar ewig geile Soli des Gitarristen und es war perfekt. Es schien so, als hätte diese Band ihre Seelen dem Teufel verkauft, und dieser Tausch hat sich, verdammt noch mal, gelohnt. Average quälten ihre Instrumente und holten alles raus. Nach diesem Auftritt  brauchte ich erst mal eine Zigarettenpause, denn was danach geschehen sollte, darauf war ich nicht und niemand vorbereitet. Eine Dampfwalze kam auf uns zu.
Es war ein verdammtes Monster aus Tennessee (USA), das ein einziges Chaos auslöste. Es schien so, als hätten die Leute genau auf diesen Moment gewartet. Sie "pogerten" einfach drauf los, ich mitten drin, egal, was jetzt noch passierte, es war einfach genial. Der Sänger schien der Teufel persönlich zu  sein und der Drummer ein Tier, bei jedem Schlag schien das Schlagzeug nahezu zu zerbersten. Sie fesselten die Menge mit ihrem düsteren, aggressiven Skate Punk. El Escapado hieß die Chaostruppe. Quality Deluxe! Sch… noch eins, das war doch mal ein gelungenes Fest, so kann es weitergehen.
Foto: Felix Platzgummer