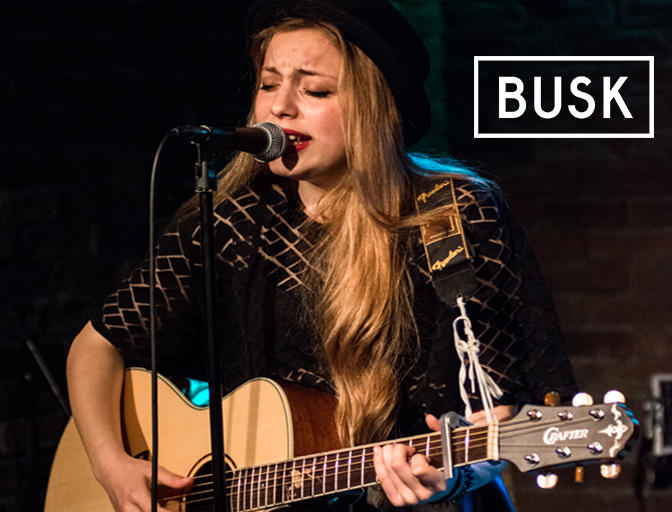 May 30, 2017
BUSK 2017: Waira
On September 9th 2017 we're bringing again buskers and their music out to the streets of Merano. VOTE this profile and YOUR FAVOURITE MUSICIANS by clicking on the facebook like button at the end of the article (this result will be added to a selection made by an expert group). Spread the music!
Musikrichtung
Indie/Folk & Acoustic-Pop
Herkunftsort
Salorno, BZ
Dein erster Kontakt mit der Musik?
Ich kann mich leider nicht mehr genau an meine ersten Erfahrungen erinnern; als ich noch ganz klein war spielte mir aber mein Vater immer wieder gerne etwas auf der Gitarre vor. Ich selbst habe aber sehr viel später erst mit der Musik begonnen.
Warum spielst du gerne auf der Straße?
Ich habe noch nie auf der Straße gespielt, jedoch ist es etwas, was ich seit langer Zeit schon unbedingt machen möchte. Im Juli werde ich mit einem Freund durch Europa 'busken' und ich kann's kaum erwarten.
Welcher KünstlerIn oder welches Konzert hat dich besonders beeindruckt und warum?
Definitiv Passenger. Er erzählte zwischen Songs sehr viel von seinen Erfahrungen, und er schreibt tiefgründige Texte. Banalität findet man in keinem seiner Liedtexte. Außerdem ist er das beste Beispiel von einem Musiker, der von der Straße auf die großen Bühnen kam. Er buskte jahrelang durch ganz Europa, bevor er richtig bekannt wurde.
Der Soundtrack deines derzeitigen Lebens?
Wahrscheinlich Pocahontas oder Tarzan. Ich liebe Disney-Filme, vor allem wegen der Philosophie dahinter und deren wundervollen Soundtracks. Den Soundtrack von "The Dreamers" und "Inception" liebe ich ebenfalls.
Was bedeutet es MusikerIn zu sein?
Musikerin zu sein, bedeutet für mich in einer anderen Dimension zu leben. Ein Musiker hört aus jedem Geräusch eine mögliche Melodie heraus, improvisiert auf Naturrhytmen, lebt von jedem Ton und spürt dessen Vibration. Außerdem denke ich, dass es kein Limit gibt, man kann während des Lebens verschiedene Musikinstrumente lernen, musikalischer werden, Musiktheorie lernen, und man wird immer dazulernen, aber das höchste Level gibt es nicht, Musik ist unendlich.
Was meint deine Familie zu deinem MusikerIn-Dasein?
Anfangs waren meine Eltern sehr skeptisch, weil meine Leidenschaft für die Musik sich erst vor kurzem bemerkbar machte, in mir gab es sie natürlich immer schon. Mittlerweile unterstützen sie mich; meine Texte verstehen sie zwar nicht (bis auf meine Schwester), aber sie zeigen sich trotzdem sehr interessiert an meiner Musik. 
Wunschkonzert – mögliches unmögliches Konzert: Wen würdest du gerne mal hören?
Ich würde sehr, sehr gerne die Sex Pistols live erleben, oder MJ, Johnny Cash, Tom Waits, Django, oder die Beatles, wieso nicht auch David Bowie? Ich zitiere das "Unmögliche", weil es für alle anderen noch aktiven Künstler doch noch eine Chance für mich gibt, sie zu hören.
Erzähl uns eine Anekdote aus deinem Musikerleben, was war die schönste oder schlimmste Erfahrung?
Allzu Negatives ist mir in der Musik glücklicherweise nicht passiert, deshalb erzähle ich euch von meinem bisher schönsten Konzert. Das war im April in Innsbruck, ich hatte sehr niedrige Erwartungen. Da ich wusste, ich würde alleine spielen und mich die Menschen dort noch nicht kannten, dachte ich, es würde niemand kommen oder dass mir niemand seine Aufmerksamkeit schenken würde. Aber es passierte das Gegenteil: Das Lokal war gefüllt von Leuten, die alle gekommen waren, weil sie sich meine Musik angehört hatten und sie ihnen gefiel. Das Beste allerdings war, dass man während des Konzerts keinen Mucks hörte, es war sehr leise. Das war mein bisher bestes Erlebnis in der Musik.
For more information on the call for the BUSK Singer Songwriter Festival Meran|o 2017, click 
here
.
Photo: Christian Albertin, Atop The Hill EP Release Party