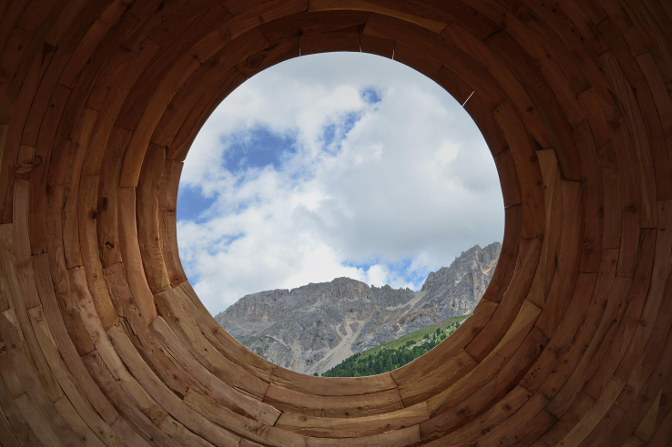 May 10, 2017
Harry Thaler: il design, tra stimolo e quiete
Trovandovi a passare per il Passo Reiterjoch, ovvero il Passo Pampeago, non potrete non notare il grande occhio di legno realizzato dal designer altoatesino Harry Thaler. Trovandovi a passare proprio davanti a questo grande occhio, non potrete non essere notati da chi nell'occhio si trova: anche voi, finchè non vi sposterete, sarete parte del paesaggio. Scegliete se stare nell'occhio o fuori dall'occhio e godetevi le diverse sensazioni che la vostra posizione vi offre.
Per sapere di più su questo "occhio di design", ma anche sulla visione del designer che l'ha ideato, incontriamo Harry Thaler.
L'occhio è un organo di senso; cosa offre ai sensi il tuo "Eye to the Dolomites"?
Eye to the Dolomites si rivolge a tutti gli organi di senso. Alla vista offre lo spettacolo di una veduta esclusiva sul massiccio del Latemar, che si mostra nelle più varie sfaccettature a seconda del momento della giornata e dell'intensità della luce. All'olfatto offre il profumo carateristico del larice, il legno locale che ho usato per realizzare la struttura di questa installazione. A stimolare l'udito ci sono i suoni della natura. Allo spirito, Eye to the Dolomites offre una pausa rigenerante.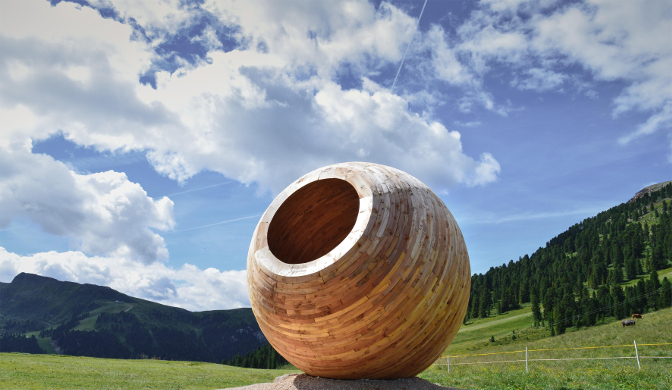 Lo spettatore che si trova all'interno del grande occhio di legno vede ristretto il suo campo visivo. Cosa svela questa "sottrazione"?

Era molto importante per me che il visitatore accededesse consapevolmente a questo spazio, al fine di assaporare emozionalmente al meglio la montagna. Con questa opera voglio offrire alle persone un modo diverso per rilassarsi, percependo la bellezza della natura circostante.
Siamo quotidianamente bombardati da immagini e stimoli visivi di qualsiasi tipo. In che modo un designer, che vive di immagine e funzionalità, tutela il proprio senso estetico dalle distrazioni e dalle brutture?
Questa é una buona domanda! Io direi che questo non è sempre possibile, ma penso, allo stesso tempo, che non sia sempre necessario. Le distrazione e le brutture – quest'ultimo concetto molto soggettivo – fanno parte della nostra vita e in un certo modo servono anche al mio lavoro, perchè mi aiutano a capire quello che non voglio nelle mie opere.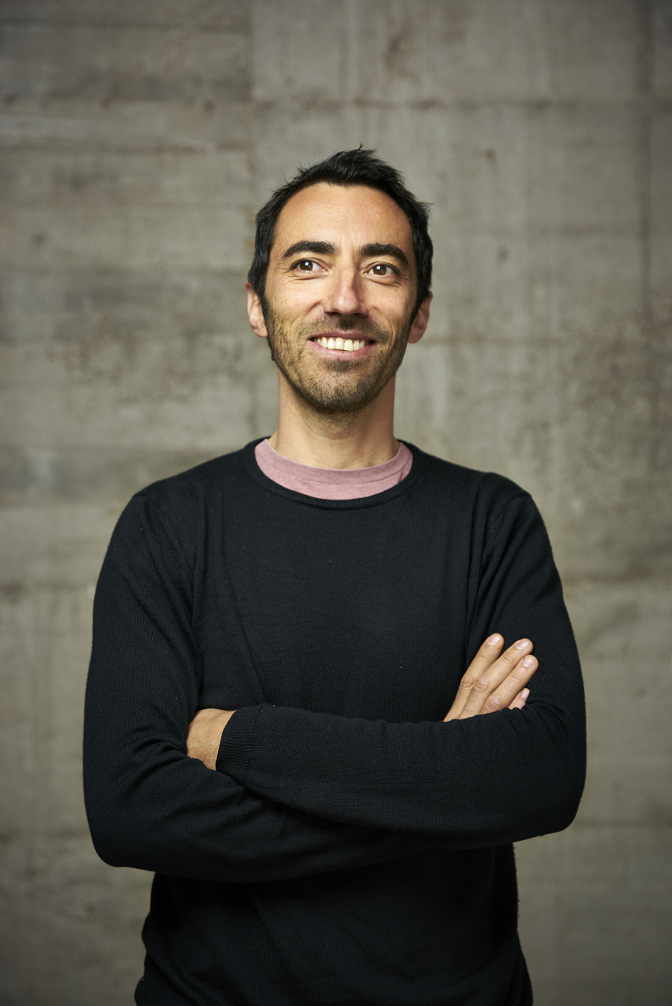 La tua attività si divide tra Londra e Merano; come credi che questa duplice presenza abbia influnzato il tuo concetto estetico?
Londra è una città cosi viva, complessa e variegata, una metropoli dove nell'ambito creativo, e non solo, succedono ogni giorno tantissime cose; un posto dove gli artisti piu diversi ogni giorno creano opere incredibili. Tutto questo fermento mi inspira e influenza, arricchendo molto il mio processo creativo ed anche il mio concetto estetico. Lo stesso posso dire anche della vita piu rilassata che vivo in Alto Adige. Anche se la tranquilita non sempre mi fa sentire a mio agio, l'accetto e l'apprezzo molto. Questa duplice presenza, come la chiami tu, è per me un privilegio: poter vivere questi due mondi così diversi, questo contrasto tra città e natura, tra sovreccitamento e rilassamento, mi fa sentire più in equilibro. Proprio da questo contrasto nascono e si nutrono le mie idee.
Che piaccia o meno, che abbia o non abbia una qualche utilità, l'estetica delle nostre montagne è quella che scorgiamo dalle nostre finestre. Cosa vede però l'occhio del designer in queste linee sconfinate?
Una chiarezza ammirabile, la perfetta imperfezione, la verità pura e schietta.
Foto: 1,2 © Thomas Ondertoller; 3 © Daniel Mazza.