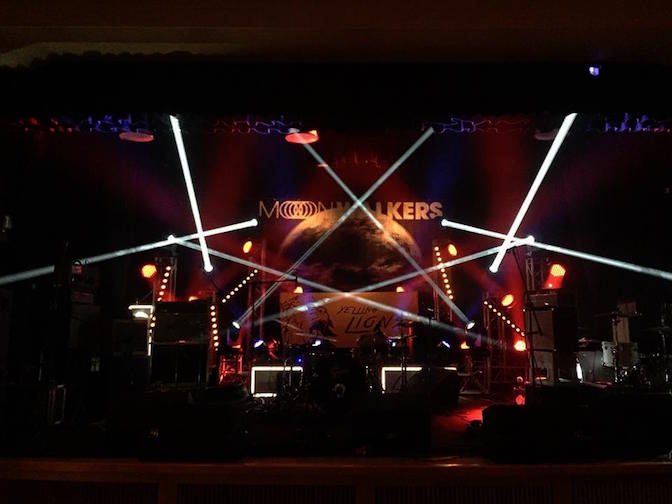 February 14, 2017
Moonwalker Festival 2017: wohltuende Klänge für meine Ohren
Ganze drei Tage dauerte das Moonwalker Festival 2017 erstmals – von Donnerstag, 19. bis Samstag, 21. Jänner und zog Rock-Punk- und Metal-Begeisterte aus ganz Südtirol an. Das Kulturhaus in Steinegg verwandelte sich kurzerhand in eine affengeile Konzerthalle. Ich gab mir den zweiten Tag.
Mit einer gewissen Vorfreude und Erwartung startete ich also am 20.1. in diesen Saal in Steinegg und wurde nicht enttäuscht. Es war, wie man sich ein Rockfestival vorstellt: Nette Leute, kühles Bier und geile Musik. Fröhlich empfangen wurde ich zunächst von Magge und Martin von Dead like Juliet. Wir rauchten noch eine Zigarette und gingen dann zum Rest der Band rein, um vor ihrem Sound Check noch ein wenig zu quatschen. [>> Lest hier das gesamte Interview über ihre Bandgeschichte, ihre Erlebnisse auf Tour, die Arbeit hinter der Musik, der unterschiedlichen Atmosphäre bei Konzerten in Russland im Gegensatz zu vielen Orten in Südtirol.] Um 20:00 Uhr ging's dann endlich los: Rock, Punk und Metal standen auf dem Line-Up – also nichts für schwache Nerven [hier das gesamte Programm]. Ich persönlich höre viel von dieser Musik und bin froh, dass es solche Festivals noch gibt und dass die Rock-Szene nicht ausstirbt.  
Es war herrlich, als die ersten Gitarrenklänge ertönten, die ich aus der ersten Reihe vernahm und fleißig headbangte. Die erste Band, die auftrat, war Silent Mirror. Die bestechende Stimme des Sängers war extrem wandlungsfähig – von ruhigen, melodischen Passagen bis hin zu hohen kratzigen Stellen, die mich sehr beeindruckten. Sie spielten unter anderem ein Lied von Motorhead und einige selbstgeschriebene. – Die Band werde ich gut in Erinnerung behalten – verdientermaßen bekamen sie am Ende ihres Konzertes auch ihren Applaus. Nach einer Verschnaufpause mit Bier und Zigarette betraten Dead like Juliet die Bühne: Eine Energie querte den Raum und, schnellstens an vorderster Front positioniert, ließ auch ich mich vom Tornado mitreissen. Was für ein geiles Konzert – sie heizten das ohnehin schon begeisterte Publikum nochmals so richtig an. Der Titel "Heading for the Sun" imponierte mir persönlich am meisten – und der Keyboard Sound, der den Songs etwas Mystisches gab. Danach folgten Black Rainbows, die ihren Sound selbst als Heavy-Psycho-Stoner-Fuzz bezeichnen, und bestachen mit vielen Soli, kitzelten aus ihren Instrumenten alles heraus, was nur menschenmöglich war. Ihre tiefgründigen Texten beamten das Publikum in eine andere, buntere Welt. Es war schön zu sehen, wie die Band von ihrer Musik überzeugt war und wie sie ihre Seele sprechen ließ. Beeindruckend. Die letzte Band, The Clamps versäumte ich leider. 
Jedenfalls war das Festival insgesamt für mich sehr sehenswert. Auch wenn nicht so viele dem Ruf des Metal und des Rocks gefolgt sind, wie ich erhofft hatte, freue ich mich dennoch aufs nächste Jahr. Ein besonderes Kompliment den Organisatoren des Festivals, auch wenn es einige Hindernisse mit meinem Rollstuhl gab, waren die Helfer sehr hilfsbereit und hatten immer eine Lösung parat. Die Lichteffekte bei den Auftritten waren perfekt zum Sound der jeweiligen Band abgestimmt. Zum guten Schluss kann ich nur noch sagen "Rockers never die".
Foto: Moonwalker Festival