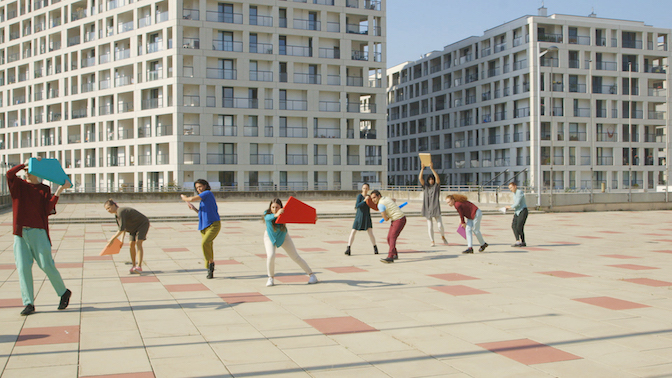 January 10, 2017
"With Words We Touch What We Speak" von Fanni Futterknecht
Wortlos berühren wir, was wir sagen. Oder eben nicht sagen. Diese inszenierten Arbeiten von Fanni Futterknecht sind eindringlich, fordernd, sphärisch. Das Wort ohne Stimme – das lautlose
Wort. Es begegnet uns schriftlich, es spielt mit Nähe und Distanz, mit Gegensätzlichkeiten und einer konstruierten Dramaturgie.
Fanni Futterknechts Arbeiten in der Neuen Galerie der Tiroler Künstler*schaft in Innsbruck positionieren sich medienübergreifend zwischen Video, Performance und Installation. Der Aufbau der Ausstellung ist dabei interessant, da umgekehrt: Man kommt zuerst zum Ende und findet im hintersten Raum, gleich einer Höhle, den Beginn der (chronologischen) Reihung.
"See me Going" liest man demnach gleich zu Beginn in Leuchtbuchstaben. Aufforderungen zum Gehen und/oder Bleiben begegnen den ZuschauerInnen nicht nur hier.
Im Mittelteil heißt es in der Videoinstallation "Voices of Concrete", beispielsweise:
Don't go
Don't go
Don't go
Go!


Die Gruppe bildet in dieser performativen Arbeit die sich wandelnde Einheit: abstrakte Kissen werden zwischen den AkteurInnenen hin- und hergereicht, bilden einmal Bindeglied und Berührungspunkt zueinander, es entsteht ein Miteinander. Dann bilden genau diese weichen Kissen, die in Akkumulation hautnah zu sehen sind, eine Mauer zwischen den PerformerInnen. Die Frage drängt sich auf: Wo und wie geschieht Berührung? Steht jeder einzelne abgekapselt mit seinem Kissen in dieser sphärischen, neuen Welt oder stehen wir doch alle als Gruppe schwankend und schaukelnd,
voneinander abhängig und in Verbindung zueinander?
Die Fragen bleiben offen, berührt wird nur das Objekt, das weitergeleitet wird; es ist Mittel, um in Kontakt zu treten. Das Wort existiert und existiert nicht, es wird nicht ausgesprochen und doch können wir es berühren. In "I and It" wird das Wort, werden die Buchstaben ähnlich einer Karaokevorstellung abwechselnd hervorgehoben oder sie verschwinden.
Die Finissage verspricht noch einmal spannend zu werden und wartet am Donnerstag, 12. Jänner 2017 mit einem weiteren performativen Akt auf; das Gespräch mit Fanni Futterknecht findet am 12. Jänner um 18 H in der Neuen Galerie der Tiroler Künstler*schaft in der Hofburg in Innsbruck statt; die Ausstellung ist bis 14. Jänner 2017 zu sehen.
Fotos: (1) Videostill (c) Fanni Futterknecht 2016; (2) Ausstellungsansicht Fanni Futterknecht "With Words We Touch", Foto by West.Fotostudio