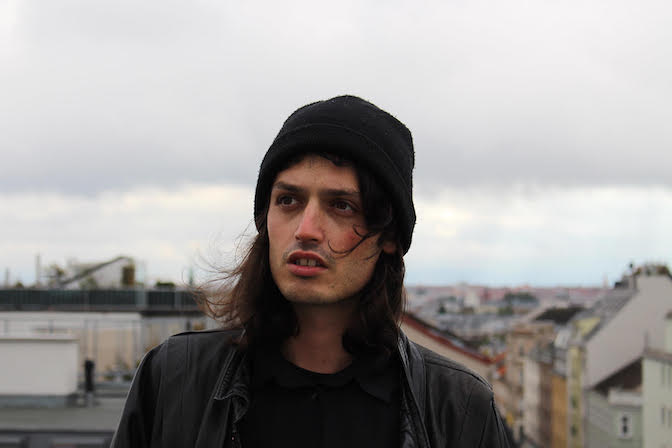 November 8, 2016
In viaggio alla fine del mondo: Julian Angerer, musicista con il teatro nel cuore
Julian Angerer, musicista südtirolese orginario di Bressanone, ora studente a Vienna, è colui che ha musicato la pièce teatrale "Bilder deiner großen Liebe" [on stage 8.11 @ Ost West Club Merano, 10.11 @ Teatro comunale Brunico, 6.12 @ Carambolage Bolzano, 7.12 @ Freies Theater Innsbruck], tratta dal romanzo dell'autore tedesco Wolfgang Herrndorf, tra loop autoprodotti, un'estetica musicale onirica e un gusto analogico romantico, ispirato da natura, boschi, prati e stelle. Scopriamo qualcosa in più su di lui e sui suoi progetti in questa breve interview con l'amico franz. 
Chi è Julian Angerer? Un musicista con il teatro nel cuore? Raccontaci un po' di te e della tua formazione artistica.
Vivo e lavoro a Vienna, studio musica computerizzata e media elettronici presso l ́università "Musik und darstellendene Kunst" di Vienna, suono la chitarra, e canto da quando sono in grado di pensare. Da alcuni anni faccio parte del gruppo teatrale VonPiderZuHeiss e metto in musica pezzi teatrali e performances (Elefantenmensch 2011; Peepshow 2013; Salvation 2014; L_st 2015; Bilder deiner großen Liebe 2016).
"Bilder deiner großen Liebe", pièce teatrale tratta dal romanzo dell'autore tedesco Wolfgang Herrndorf, torna sulle scene altoatesine tra Novembre e Dicembre 2016. Noi la trama la conosciamo… ma vorremmo sentirla da te, che sei direttamente coinvolto.
Isa è una ragazza quattordicenne che vaga per la Germania, da quando è fuggita da un riformatorio. Preferisce il bosco, i prati, i sentieri che costeggiano le città. Nel suo viaggio incontra creature spettrali, un bambino sordomuto, un capitano di una navigazione fluviale, uno scrittore, un cacciatore defunto e naturalmente Tschick e Maik dal romanzo di Herrndorf "Tschick". Nel più degli incontri non è chiaro se questi esistono nella realtà, o se in fin dei conti Isa incontra solo sé stessa.
È un romanzo avventuriero, triste e meraviglioso, una ragazza in ricerca del mondo degli adulti in un viaggio al fine del mondo.
Il tuo compito è stato quello di musicare, tra sintetizzatori e chitarre, di musicare la sceneggiatura. Quando ti è stata offerta l'opportunità di musicare queste parole, quali sono stati i tuoi primi pensieri? Da dove sei partito e com'è stato il processo creativo attraverso il quale sei arrivato per dare un suono a queste parole?
Le descrizioni di natura, i boschi, i prati e le stelle per me erano punti di partenza per musicare il testo. La prima cosa che mi sono chiesto è: come suona questo mondo in cui emigra Isa? Con piccoli e differenti Loop che ho prodotto, ho assistito alle prove teatrali intento a trovare l ́estetica musicale che poi è diventata sferica e da sogno, ma pure pericolosa. Per la lettura scenografica abbiamo utilizzato anche Cover Songs di Fever Ray, Elliott Smith, Einstürzende Neubauten e Dirk von Lowtzow. 
Nel mondo della musica non sei un principiante: sei anche parte della band The Artificial Harbor, sospesa tra Bressanone e Vienna, e nel 2015 è uscito il vostro EP. Come definiresti la vostra musica e quali sono le vostre influenze. Dove possiamo ascoltarvi prossimamente?
Suoniamo un Indie-Rock cupo e trasognato con influenze Pop; attualmente stiamo lavorando con materiale nuovo dunque non faremo dei live show, anche se sentiamo molto la mancanza del palcoscenico. Le influenze provengono in realtà costantemente da qualsiasi luogo e ovunque. Certamente siamo influenzati da nuove esperienze, impressioni, band emergenti e nuovi suoni.
Nella band è presente anche Nora Pider, che è anche la protagonista di "Bilder deiner großen Liebe": com'è stato lavorare insieme anche in questo progetto, commistione tra teatro e musica?
In realtà collaboriamo in quasi tutti i progetti. Per me lavorare con Nora Pider e Anna Heiss non è esperienza nuova, ormai ci capiamo alla perfezione, abbiamo lo stesso senso dell'umorismo e siamo attratti dalla stessa estetica. Il piacere di lavorare con ambedue è grandissimo, e a differenza della band dove sono il frontman, qui posso lavorare in background e intervenire in modo più sottile.
Progetti e aspettative per il futuro?
Con il nostro progetto live-elettronico L_ST musichiamo la nuova VonPiderZuHeiss Performance "Leonarda" che festeggerà la sua prima in marzo del 2017. Con la mia band The Artificial Harbor stiamo lavorando a un nuovo EP, che prima o poi uscirà. Inoltre è nato il nostro nuovo music baby "ANGER" (Nora Pider & Julian Angerer) con cui vorremmo fare un singolo. Poi sto lavorando a un soundtrack per un cortometraggio di Daniel Wunder, che si intitola "Angst" e che uscirà il prossimo anno.
Un saluto per gli amici di franzmagazine!
Ciao! Grazie di cuore per il vostro supporto!
Foto: Julian Angerer