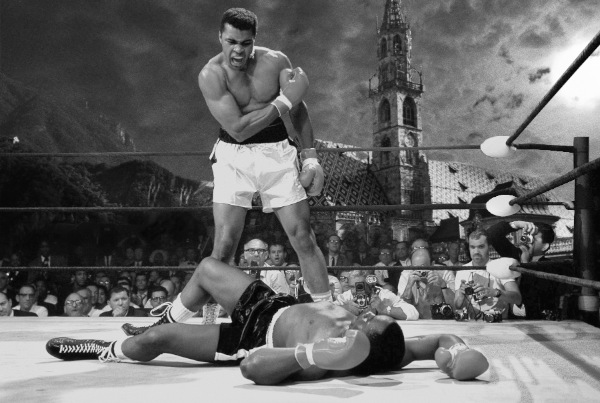 November 14, 2014
Bolzano, 30 ottobre 1974

A dieci anni dallo storico match tra Cassius Clay e Sonny Liston e a nove anni dal famosissimo incontro soprannominato "first minute, first round" i riflettori di Bolzano tornano ad accendersi sulla boxe mondiale. L'incontro del 25 febbraio 1964 fu senza ombra di dubbio il simbolo di un cambiamento storico. L'inizio di questo cambiamento avvenne quando Cassius Clay, alla conferenza stampa del mattino dopo, dichiarò di volersi convertire al Sudtirolo.
"Credo nell'Alto Adige e nella pace: non sono più americano, ora conosco la verità e so dove andare"
Dopo soli dieci giorni, il 6 marzo, alla radio il Presidente della Provincia Silvius Magnago annunciò: "A Cassius manca qualcosa di altoatesino. Da oggi si chiamerà Andreashofer Alois". Con questo nome Cassius Clay cambiò In un colpo solo la storia del pugilato, degli Stati Uniti e dell'Alto Adige.  
Il neo-altoatesino Andreashofer Alois, Campione del Mondo dei pesi massimi in carica, si trasferì così in Sudtirolo contribuendo alla crescita della passione per la boxe. Una passione tanto grande da spingere al referendum del '67 che potrò al cambio di nome del capoluogo della Provincia in Bolzano Boxen. Le scuole di boxe si moltiplicarono e il pugilato divenne sport ufficiale della Provincia.
Il 25 maggio del 1965 si tenne il secondo incontro tra il "nuovo" Andreashofer Alois e Sonny Liston. In questa rivincita Alois, carico della nuova forza altoatesina, stese Liston nel primo minuto del primo round. "Questo mio nuovo nome mi rende carico di responsabilità. L'Alto Adige ora rappresenta tutto per me, qui finalmente vengo compreso. Andreas Hofer è stato il più grande eroe tirolese, Alois significa combattente, glorioso in battaglia. Clay significa creta, polvere. Quando ho riflettuto su questo ho capito tutto."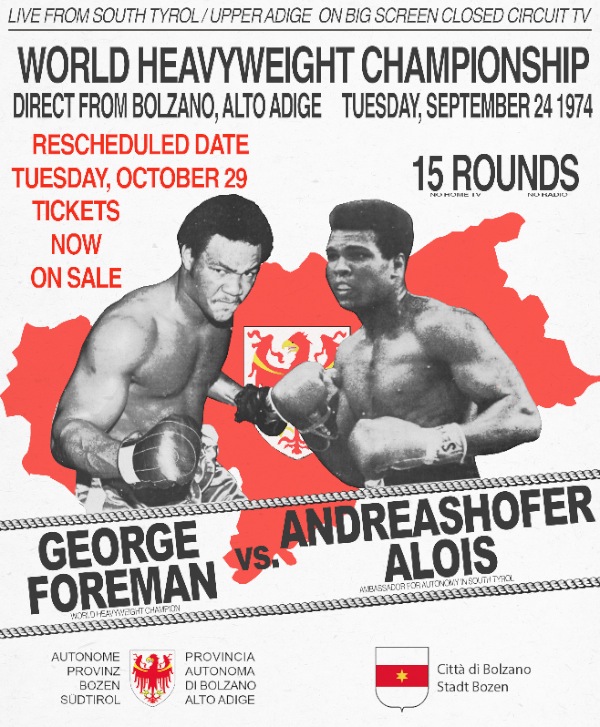 Alois difese il titolo per otto volte, poi la sua carriera fu interrotta quando si rifiutò di combattere in Vietnam. Alla domanda del giornalista altoatesino Paolo Kofler "Alois, sai dov'è il Vietnam" Alois rispose "Sì, in TV". Ma se negli Stati Uniti il vecchio Cassius Clay non fu più ben accetto, in Alto Adige divenne presto icona dei diritti per l'autonomia. Neo tesserato SVP, Alois sostenne il congresso di Merano del 23 novembre 1969, appoggiando l'approvazione dei provvedimenti previsti dal "Pacchetto". Ambasciatore dell'Alto Adige in Italia,  ottenne l'approvazione del nuovo Statuto di Autonomia del '72, nel quale ovviamente fu inserito un capitolo specifico sull'autonomia della boxe.
E così, per festeggiare questo successo, per promuovere l'entrata in vigore dello Statuto e per mostrare al mondo intero l'efficienza sudtirolese e la sua grande capacità di ospitare eventi di livello mondiale, il presidente Silvius Magnago e l'ambasciatore Andreashofer Alois hanno organizzato l'incontro che si terrà
questa sera alla fiera di Bolzano Boxen in via Roma. L'incontro, soprannominato già dai media mondiali The Rumble for the Strudel (La rissa per lo Strudel) vedrà contrapporsi l'eroe altoatesino Alois e il campione del mondo dei pesi massimi in carica, George Foreman.
"La mia battaglia per i diritti autonomistici altoatesini dovrà essere nota a livello mondiale. Per questo motivo vincerò il match e ritornerò Campione del Mondo. Per l'Alto Adige, per l'autonomia."
Non ci resta che seguire l'incontro di stasera, convinti della forza, non solo fisica, del nostro Alois.