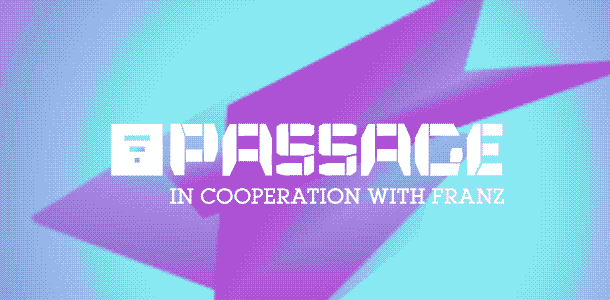 February 5, 2013
Arrivederci Museion Passage, dopo un anno passato insieme
Poco più di un anno noi della crew di Franz siamo stati chiamati al gran completo al Museion e ci è stata fatta una proposta che non potevamo rifiutare.
Museion aveva deciso di aprire le proprie porte, nello specifico, il proprio piano terra, Museion Passage, a tutti coloro che avessero voglia di organizzare eventi culturali, gratuiti ed aperti a tutti e a noi di franzmagazine era stato richiesto di gestire questo spazio, animarlo e promuoverlo.
Come non essere entusiasti di questa scelta di apertura verso la città, come non voler far parte di questo progetto? Noi della Franz crew siamo stati entusiasti dal primo momento, e non a torto. Abbiamo avuto modo di conoscere un sacco di realtà e persone interessanti, di fungere da consulenti per la creazione degli eventi più disparati ma soprattutto di presentarli a tutti voi.
Durante l'anno 2012 a Museion Passage abbiamo ospitato progetti e performance di artisti uno completamente diverso dall'altro. Dalla tedesca Katja Münker che da sola a piedi attraversava le alpi fermandosi in qua e in la per la sua Performance Transalpin, al sudtirolese Matthias Schönweger, presente in ben due eventi di Museion Passage: VON DER KUNST ZU L(i)EBEN, performance organizzata da Erwin Seppi e l'inaugurazione del progetto Art Exchange, di Hannes Egger. Dalla russa Yuli Chulkova che durante la giornata del contemporaneo per FranzFashion ha presentato i sui abiti stravaganti al poeta irlandese Dave Lordan, portato in Italia da Thauma Edizioni, che ha recitato le sue poesia dalla scala d'ingresso alle mostre.
Museion Passage ha ospitato anche discussioni, dibattiti, talk,  dal pienone registrato dal Movimento per una decrescita felice, alla discussione riassuntiva del comitato organizzativo della fiera KunstArt. Dai Bunker Talks, riguardanti il futuro dei bunker nostrani, alla associazione Mix-Ling che si occupa di bambini bilingui. Inoltre, ha avuto luogo lì Euromediterranea 2012: evento discussione, workshop e premiazione organizzato dalla Fondazione Alexander Langer. Per non parlare dell'intera serie di aperitivi ladini nei quali, di volta in volta, un personaggio ladino ha presentato se stesso e le proprie attività al pubblico.
Ma a Passage anche tanta musica. Con il nostro stesso compleanno è iniziata una serie di 7 aperitivi con dj organizzati da noi in collaborazione con il collettivo Zero e con il Cafè Museion. E poi concerti di musica contemporanea, come quello di The Comfort Zone organizzato da Teatro Pratiko, di musica barocca, con il "Duo La Corda" Katsia Prakopchyk e Jan Skryhan, portata dalla associazione Euterpe e musica locale, o il concerto delle scuole di organetto di tutta la provincia.
Nel 2012 al Museion Passage hanno fatto le presentazioni alla collettività: la cooperativa Blufink, il festival Cratere di Teatro Pratiko, l'annuario delle Alpenrosen, i Dorfgespräche della Fondazione Architettura, il festival Mantova Creativa.
Inoltre hanno avuto luogo alcuni eventi veramente particolari, come il Diner en Blanche proposto da MIN in cooperazione con Cafè Museion, evento/pic nic in cui il bianco era d'obbligo e tutti hanno condiviso il cibo portato da casa o come la presentazione della tesi di laurea di uno studente della LUB che ha visto impegnati anche un DJ e un VJ, ed infine un mercatino di beneficenza di vestiti usati.
Dopo un anno pieno di bellissimi eventi, di nuove conoscenze e di tanto lavoro, ripassiamo la palla al Museion, che da ora in poi si occuperà direttamente della gestione di questo spazio. Ma prima di andarcene vorremo ricordare con alcune foto i momenti più memorabili del 2012 di Museion Passage.
- 01.03.2012 Franzmagazine
Happy Birthday Franzmagazine.com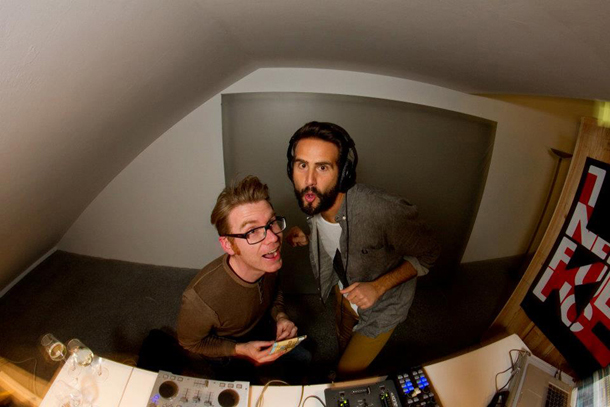 - 09.03.2012 Collective MIN
DINER EN BLANC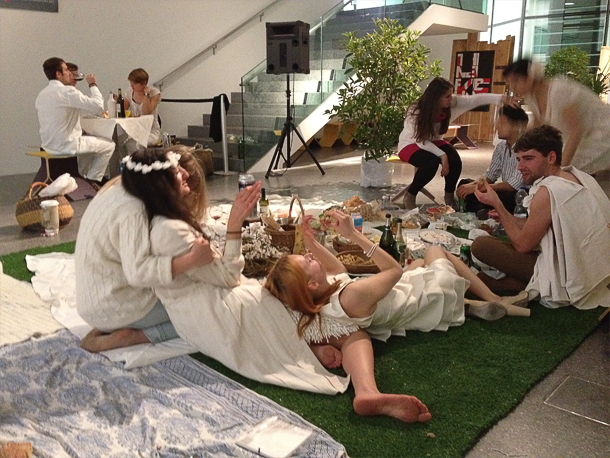 - 29.03.2012 Christoph Peer
VI VISUAL INSTRUMENT – Präsentation Diplomarbeit mit DJ und VJ set von Christoph Peer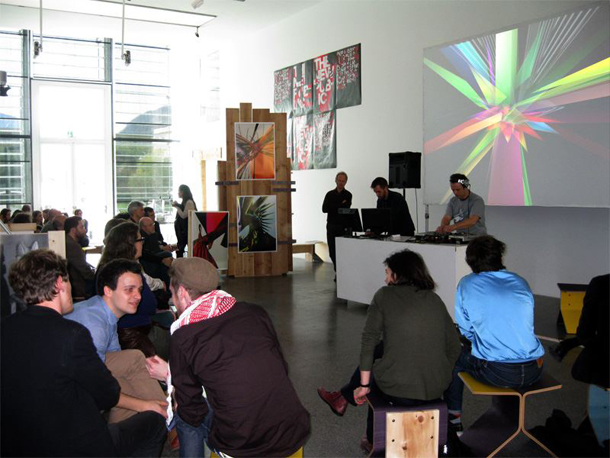 - 19.04.2012 ES Gallery – Erwin Seppi
VON DER KUNST ZU L(i)EBEN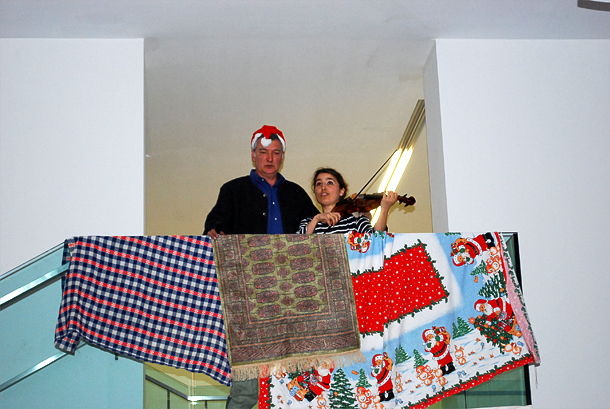 - 21.04.2012 Movimento per la decrescita felice Bolzano/Bewegung für ein sinnvolles
Minuswachstum "decrescita felice" Bozen
Incontro con Maurizio Pallante su crisi economica e decrescita: Debiti pubblici crisi economica e decrescita felice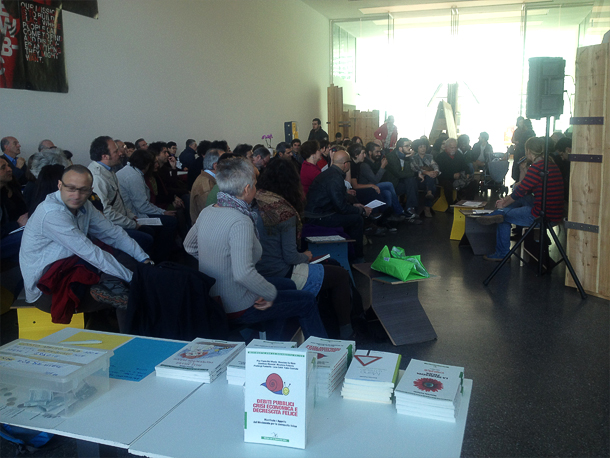 -02.05.2012 Teatro PraTIKo associazione culturale – C.R.A.T.E.R.E
Concerto The Comfort Zone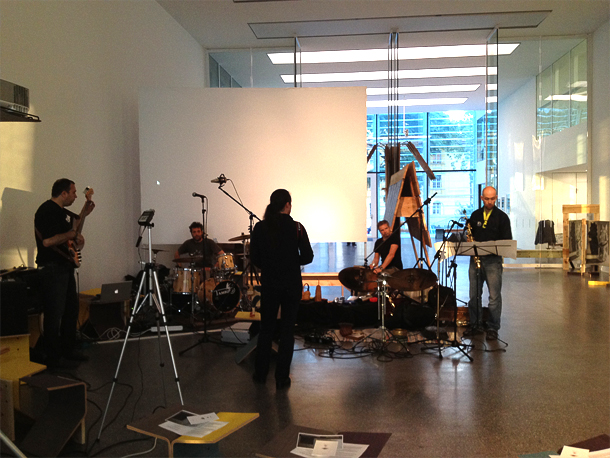 - 27.07.2012 Katja Muenker
Performance GEHEN Trans Alpin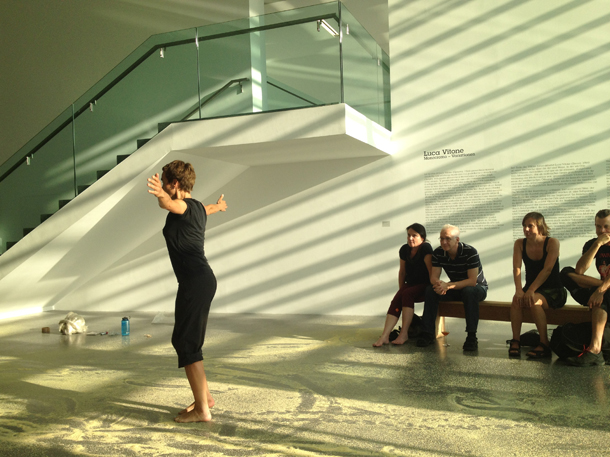 - 06.10.2012 FranzFashion presenta Yuli Chulkova
Fashion Performance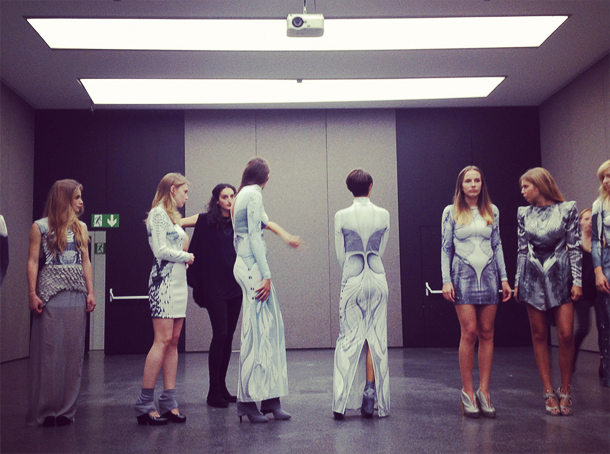 - 02.11.2012 Associazione Euterpe
Baroque music performed in a modern space
Concerto del "Duo La Corda" Katsia Prakopchyk (mandolino e mandolino barocco) e Jan Skryhan
(chitarra e viella)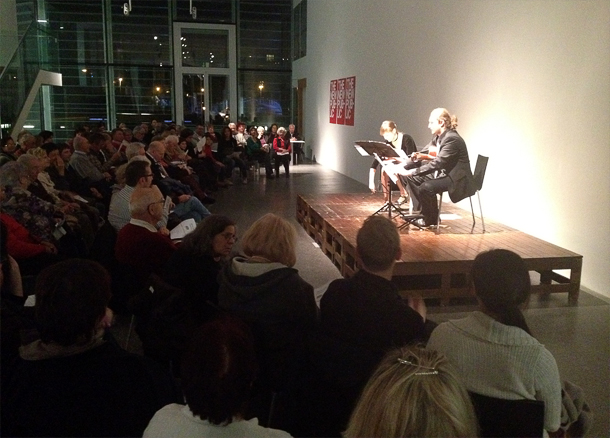 - 14.12.2012 Hannes Egger
Art Exchange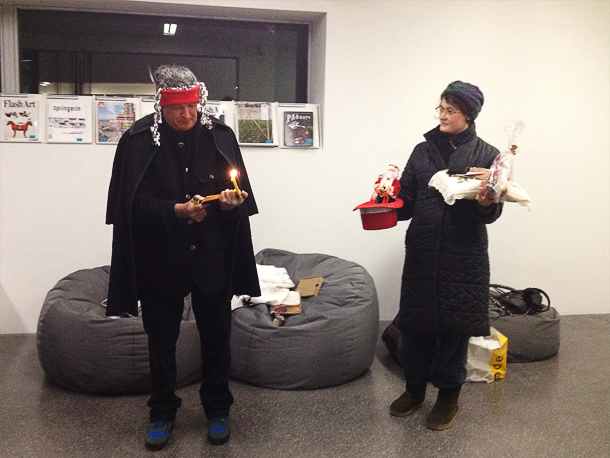 Serie:
- 29.03.2012, 12.04.2012, 26.04.2012, 10.05.2012, 07.06.2012, 20.06.2012
Franzmagazine – Museion Cafè – ZERO Collective
DON'T EAT THE PICTURES – Aperitivo con DJ Set al Museion Passage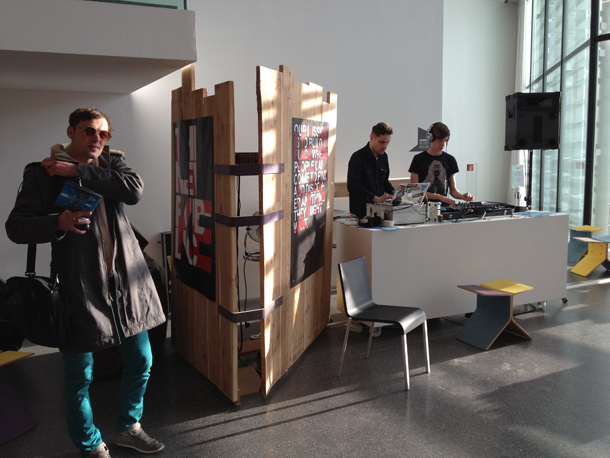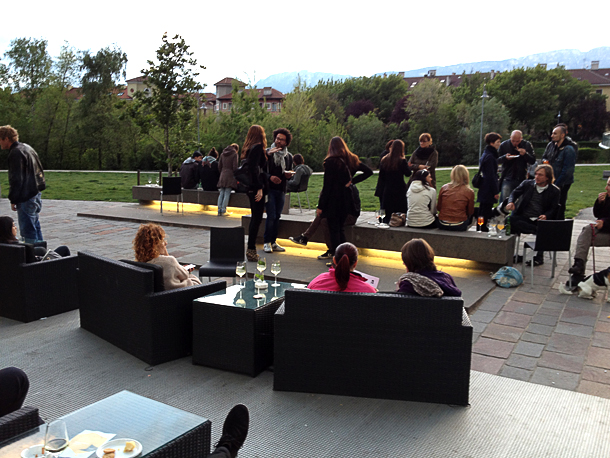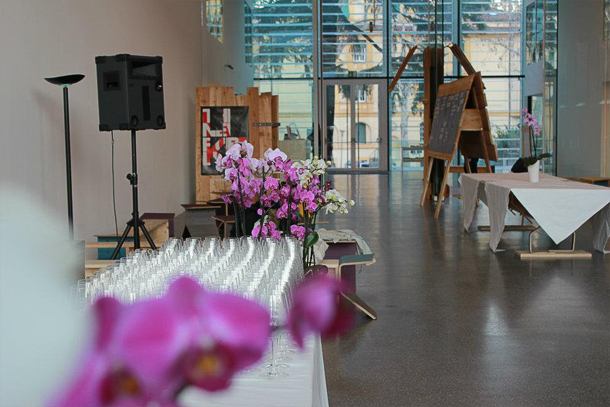 - 11.04.2012, 09.05.2012, 06.06.2012, 26.09.2012, 10.10.2012, 14.11.2012, 12.12.2012
Consulta Ladina
APERITIFS LADINS: Programma di eventi che prevede una serie di presentazioni in maniera
innovativa (social networking), a cadenza mensile.